Virginia Is For Wine Lovers


Travel and Leisure magazine's Bruce Schoenfeld proclaimed Virginia one of five up-and-coming wine regions (along with areas of Chile, Italy, Spain and New Zealand) that "should be on the must-visit list of any adventurous wine traveler." And in The Atlanta Journal and Constitution, a reviewer wrote that "Virginia is making Cabernet Franc and Viognier wines that are world-beaters", citing a Saveur article in which wine critic Paul Luckas named two Virginia Viogniers among the best available. Also getting national recognition are Virginia Cabernet Franc, Petit Verdot and Virginia's native Norton.


Virginians have made wine for more than four centuries. The Jamestown settlers had such hopes that Virginia would become a major source of wine for the British Empire that in 1619 they signed into law a requirement for each male settler to plant and tend at least ten grape vines. Every effort to grow vinifera, or vines of European origin, met with failure from the Aphid Phylloxera that feed on the roots of grapevines and cuts off the flow of water to the vines. The booming tobacco trade diluted British interest in the possibilities of American wine.

In the 1820s, wines made from Native American grapes met with great success. A Virginia Norton wine was named "best red wine of all nations" at the Vienna World's Fair in 1873. The discovery in the late 1800s that native and European vines could be grafted gave Virginia's wine industry a lift – but in the early 20th centtury, Prohibition promptly brought it to a standstill.

In the late-1950s, experimental plantings of vinifera showed promise. With the establishment of six new wineries in the 1970s, the recovery was officially underway. A renewed effort to grow a European Chardonnay succeeded at the Waverly Estate in Middleburg in 1973. Then in 1976, Italian pioneer vintner Gianni Zonin hired Gabriele Rausse to grow and harvest vinifera grapes near Charlottesville. He established Barboursville Vineyards and then helped other vineyards do the same. By 1995, Virginia had 46 wineries. By 2005, 107. At 143 wineries and counting today, only California, New York, Oregon and Washington have more wineries than Virginia.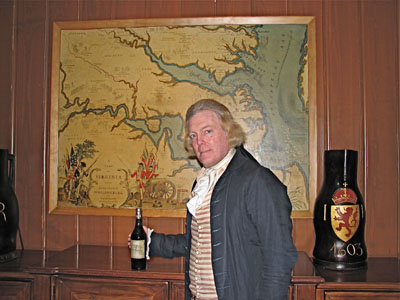 Bill Barker as Thomas Jefferson
Virginian Thomas Jefferson had a major role in the establishment of the wine industry in America. He called wine a "necessity of life". As our nation's second ambassador to France (he replaced Benjamin Franklin who introduced him to French wines) he loved everything French, and visited vineyards in Bordeaux and Burgundy, purchasing wine for his enjoyment. He planted vineyards at his home at Monticello and experimented with grape growing in his Paris garden. Before going to France, Jefferson met Dr. Philippo Mazzei in Williamsburg in 1773 and encouraged him (and his nine other Italian vignerons) to plant vines near what is now known as Jefferson Vineyard. Jefferson invited Mazzei to Monticello and gave him 152 acres for that purpose. Unfortunately, that enterprise failed. Jefferson cultivated European grapes for more than 30 years yet his Monticello vineyards never produced a single bottle of wine. He wasn't alone in trying. After 11 years of efforts at Mount Vernon, George Washington, too, had nothing to show for it. Jefferson accurately predicted that America would, some day, make wines as good as those of France. He was a wine advisor to Presidents Washington, Madison and Monroe.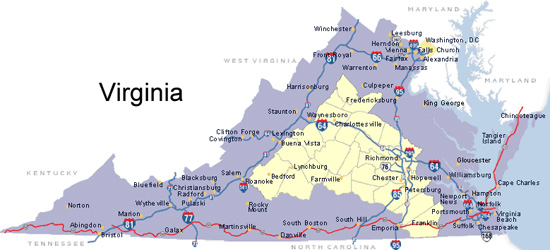 Each of the state's five main land regions – the Appalachian Plateau, the Appalachian Ridge and Valley Region, the Blue Ridge, the Piedmont, and the Atlantic Coastal Plain – boasts vineyards and wineries. Granite-based soils in western areas of the state and sandy loam soil in the eastern both offer prime grape-growing ground. And good drainage can be found on all landscapes at all elevations.

Virginia's five distinct climate regions – the Tidewater, Piedmont, Northern Virginia, Western Mountain and Southwestern Mountain – provide a temperate climate that's not too hot or cold for extended periods. Virginia's varying weather patterns see the mountainous southwest and Shenandoah Valley average a 160-day growing season; and east of the Blue Ridge, an average of 200 days.

Six of the United States' 190 American Viticultural Areas, or AVAs – grape-growing regions defined by geographic features that influence the wines they produce – are in Virginia: The Eastern Shore, Monticello, Northern Neck, George Washington's Birthplace, North Fork of Roanoke, Rocky Knob and Shenandoah Valley.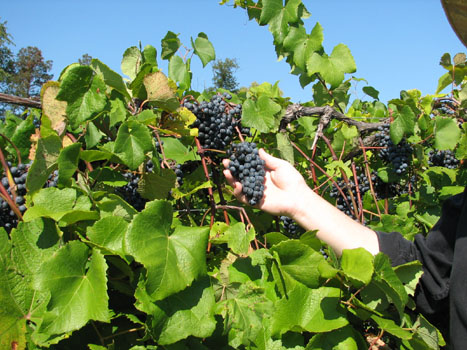 Norton grapes
I visited the Northern (Washington, DC Wine Country), Central (Monticello) and Hampton Roads wine growing regions of Virginia.

The Metro Washington, DC area has over 5 million residents and some 21 million visitors a year. Loudoun County is located about five hours from New York City. It is also known as DC's Wine Country (23 wineries) and is in the heart of the hunt and horse country. It is bordered by Washington, DC and the Atlantic Ocean on the East; Maryland to the North; North Carolina and Tennessee to the South and West Virginia and Kentucky to the West.

In Virginia Chardonnay is the most planted varietal, followed by Cabernet Franc, Merlot, Cabernet Sauvignon and Viognier. French-American hybrids and Native American grapes are about 20% of the total plantings.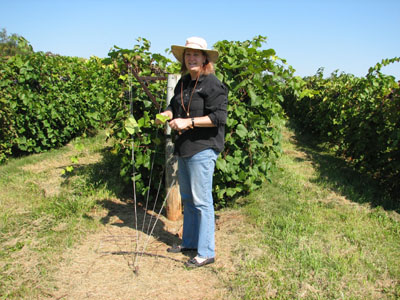 Jennifer McCloud, owner Chrysalis Vineyards
I learned all about the Native American varietal Norton at our first stop- Chrysalis Vineyards. Owner Jennifer McCloud's mission was to celebrate the Norton grape. It dates back to 1820 but was almost destroyed during the Civil War and Prohibition. They have the largest plantings (69 acres out of a total of 209) and sell grapevines to other wineries. Every September the National Norton Wine Festival is held in Missouri, the other state growing lots of Norton. Jennifer told me she grows what makes sense in Virginia. In early October there's a Norton Wine & Bluegrass Festival at the winery; artisans, music, food and Norton wine.


At Swedenburg Estate Vineyards I learned that in 2005 the late Juanita Swedenburg won a five-year battle in the US Supreme Court to allow Virginia wineries to ship out of state to consumers. Although family-run wineries cannot sell direct to local restaurants and retailers. They must use a wholesaler. Corcoran Vineyards changed its name from Waterford when the crystal company sued. They are located outside the town of Waterford that was founded in 1733. Their tasting room is a 1750s restored log cabin. Breaux Vineyards produces 17 varietals on 100 acres of its 400-acre property. We met with the founders daughter-Jennifer Breaux-Blosser. The tasting room reminded me of one in Napa during a summer weekend. Bluemont Vineyard is located over 1,000 feet above the family's Great Country Farms, which is a popular family attraction. On a clear day you can see Washington DC. I tasted a few wines with partner & winemaker Bob Rupy. Sunset Hills Vineyards is brand new. Its 45 acres produces Bordeaux style all vinifera wines. The tasting room is in a 130-year-old restored barn. Tarara Winery is on the bluffs overlooking the Potomac River. Their 475-acre farm includes U-Pick fruit & berries as well as grape vines. There is a 6,000 square foot cave that houses the winery and gift shop. By the time we got to Hillsborough Vineyards they were closed for the day. The view from the winery is spectacular.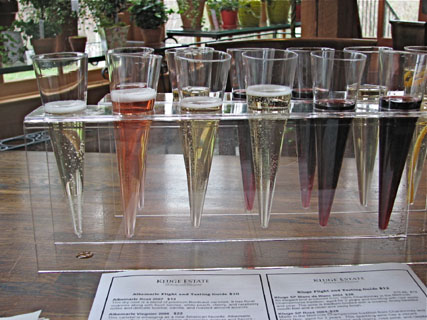 Kluge Estate Winery sparkling wine tasting
The natural beauty of the Blue Ridge Mountains and the charm of historic Charlottesville lore thousands of tourists to the 22 wineries comprising The Monticello Wine Trail. My first stop was Kluge Estate Winery. This 2,000-acre estate (200 acres of vines) was started in 1999 by Patricia Kluge. Most of the vineyards are at elevations around 1,000 feet, overlooking Monticello. The boutique Jefferson Vineyards has exclusive rights to the Thomas Jefferson signature bottles. 80% of the 6,500 case productions are sold at the winery, many to Monticello visitors. King Family Vineyards, started in 1998, sells 95% if its 5,000 case production on site. Winemaker Matthieu Finot came from the Rhone Valley of France 5 years ago and never returned home. Located in Crozet about 15 minutes outside Charlottesville, nearly all its fruit is estate grown. My last stop was another family owned winery Veritas Winery, started in 2002. Located in Afton, also at the foothills of the Blue Ridge Mountains, 80% of its 8,000 case production is sold at the winery. Although in the next county it is still in the Monticello AVA- American Viticulture Area, similar to the French AOC regulations. I did not get to a few wineries that I have visited in the past: Afton Mountain Vineyards, Barboursville Vineyards, Horton Vineyards and Prince Michel Vineyards.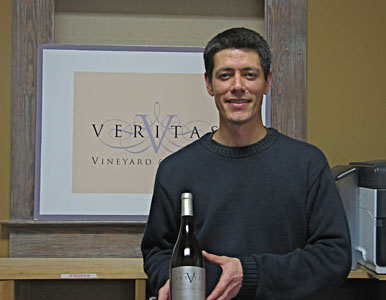 Thomas Roberts, Sommelier- Veritas Winery


The Williamsburg Winery was established in 1985 by the Duffeler family. The first wine produced, Governor's White, was released in 1988 and won a Gold Medal. Today, it is the most popular wine made at the winery, which is the largest in Virginia with sales over 60,000 cases.


I was on my way to the state capitol Richmond and stopped at New Kent Winery (15 minutes outside Richmond and opened in May 2008) to see how vineyards and a winery can be selling points for a new luxury development. Homes, shops, golf course and spa are all being developed around the vineyard plantings. The winery was built from materials reclaimed from buildings and structures over a century old.

I have concluded that Virginia makes excellent Petit Verdot and Cabernet Franc, two of the 5 grape varieties allowed in Bordeaux (Merlot, Cabernet Sauvignon and Malbec are the other three). Viognier is a Rhone Valley varietal that also does well. Merlot, Chardonnay, Cabernet Sauvignon and Sauvignon Blanc do less well here.


Before you go, visit:
Virginia Tourism
Virginia Wine and Wineries
Visit Loudoun, DC's Wine Country

Disclaimer: This section of the website is intended for visitors 21 years of age and older.
If you are not of legal drinking age, please exit by clicking here.


Comments or questions welcome, please e-mail to: Ron@TheFiftyBest.com