Don't see your favorite?
Make a suggestion.

Domestic Vodka 2018
Best Domestic Vodka - 2018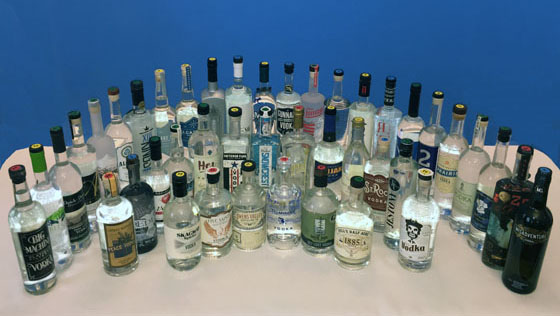 The Fifty Best held a "blind" tasting of 49 American-made unflavored craft vodkas with 17 members of our spirits judging panel. Strict tasting rules were applied. The order of service was established beforehand by lottery. The vodkas were poured into fresh glasses from new sealed bottles, and served at slightly above room temperature. Only ice water, neutral unflavored crackers and chips were available to cleanse the palate.

The judges wrote down their impressions of each product on score sheets. The scoring was done on a 5-point system, with 5 as the best. Double-Gold, Gold, Silver and Bronze medals are awarded according to a set range of final point scores received from the judges. The tasting notes that follow are summaries of the judges' opinions, with all replicated commentary eliminated. The states of origin are given, with a few tidbits added for each brand. All of these vodkas are 80 proof, unless otherwise indicated.

DOUBLE-GOLD MEDAL WINNERS

Bedlam Vodka
(Graybeard Distillery, North Carolina)
Distilled from rice.

Nose: White chocolate, vanilla bean, light cocoa, candy apple, banana candy, ripe bananas, subtle cherry, grapefruit, citrus, lime, Juicy Fruit gum, subtle grain, basil, anise, cedar, woody pine, forest.
Palate: Sugarcane, sugar, powdered sugar, toffee, light cocoa, French toast, coffee, grain, bready, wheatberry, banana, deep purple grape, lime zest, potato skin, white pepper, minerals, balanced, rich, zesty.
Finish: Vanilla, cream, sugar, grape, lime zest, white pepper, mineral water, interesting, complex, clean, crisp, approachable, zesty, velvety, delicious.

Double Gold Medal






Get Lost Vodka
(Green Door Distilling Company, Michigan)
Distilled from 100% corn.

Nose: Caramel, vanilla crème brûlée, banana bread, Juicy Fruit gum, lime, floral, oats, wet grains, rye, mineral.
Palate: Toffee, brittle, sugarcane, chocolate, vanilla candy, banana candy, floral, pastry dough, wheat, bread, creamy pot pie, creamy sake, light sweetened rum, black pepper, peppery, mineral, clean, fresh, delicious.
Finish: Cream, melon, green banana, grassy, ripe leaves, floral, sugarcane, light minerality, cool mouthfeel, refreshing, extra smooth, elegant.

Double Gold Medal






St. Roch Vodka
(Seven Three Distilling, Louisiana)
Distilled 5x from grain. Filtered for 5 days.

Nose: Cream, grain, herbal, mossy, cut grass, mint, cigar, cigar box, new wood, oak, rushing waterfall, brook.
Palate: Vanilla, vanilla paste, whipped cream, cashew butter, buttery, creamy, cocoa powder, potato, black currant, grape, lime zest, grassy, black pepper, nutty, cereal grains, dusty, chalky, minerals, wet stones, fresh water, clean, silky.
Finish: Peppercorn, light mineral, wet stone, rich, soft, smooth, delicate, clean, vibrant, lively.

Double Gold Medal






Jestony Vodka
(VL American Republic, Florida)
Distilled from grain, 6 times.

Nose: Sugarcane, fresh summer citrus, grapes, wheat, cereal grains, grass, agave, cactus, herbs, sage, mineral, cachaça.
Palate: Sugarcane, vanilla, cocoa powder, honey, pomegranate, apple fruitiness, grape, green banana, creamy, milky, coconut meat, orange, soft silky citrus, bold peppermint, floral, potato skin, grains, wet grains, rye, pepper, spring water, rum, cachaça, balanced, rich, smooth.
Finish: Sweet vanilla, toffee, sugarcane, cachaça, floral, strong mint, spice, complex, bright, smooth.

Double Gold Medal






QKA Kismet Vodka
(Krooked Tusker Distillery, New York)

Nose: Toffee, butterscotch, brown sugar, burnt sugar, maple syrup, cocoa, vanilla, Juicy Fruit, floral, nutty, fennel, light sake, beautiful.
Palate: Caramel, butterscotch, toffee, molasses, vanilla milk, cocoa, mocha, melon, grape, floral, grassy, roasted cashews, almonds, mixed nuts, amaretto, mineral wet stone, balanced, rich, silky, smooth, absolutely lovely.
Finish: Pancake batter, unsalted French fries, raisins, grapes, honey, floral, peppery, whiskey barrel, mineral, wet stone, clean, soft, super-delicate, wonderful.

Double Gold Medal






Ryze Vodka
(Lock 1 Distilling Company, New York)
Distilled from NY winter wheat and rye. 3x distilled. Triple filtered through volcanic rock and active carbon.

Nose: Honey crisp apples, citrus, lime, lemon zest, strawberry, floral, spearmint, rye, nutty, peppery, peat, stone, fresh, lively.
Palate: Sugar cane, vanilla bean, creamy, strawberries and cream, creamed corn, pastry dough, chocolate, cocoa powder, bread, grains, green banana, hearts of palm, white peppercorn, rum, cachaça, neutral, smooth, vibrant.
Finish: Sweet corn, green banana, grassy, herbal, peppery, dusty, smooth, easy, clean, fresh, rich, delightful.

Double Gold Medal






J. Carver Premium Vodka
(Lake Country Libare Distillery, Minnesota)
Distilled from grain.

Nose: Sweet buttered toast, fresh potato, cucumbers, bubblegum, light citrus, well water, ocean mist.
Palate: Sugarcane, sweet corn, potato, grain, almond, fresh melon, lime, lime zest, vanilla rosewater, herbal, hot peppers, dusty, earthy, wet stone, sweet, balanced, soft, smooth.
Finish: Almond milk, creamy, almond, zesty peppermint, lime zest, wet stone, well-balanced, smooth.

Double Gold Medal






Hell's Half Acre 1885 Vodka
(Panther City Distillery, Florida)
Distilled from cassava root. 6x distilled.
Texas charcoal filtered, then freeze filtered.

Nose: Sugarcane, lemon cake, citrus, lemon zest, light sweet grains, heather, clean wet grass, fresh rain.
Palate: Caramel, milk chocolate, cocoa, cream, powdered sugar, lemon curd, vanilla, lime, citrus, fresh grass, mint, creamy smooth grains, rye, roasted nuts, brown spice, peppery, cigar, dusty, minerals, wet stone, hint of wood.
Finish: Brown sugar, lime, citrus, peppermint, light menthol, wet stone, morning dew, clean, soft, smooth, delicate, refreshing.

Double Gold Medal






GOLD MEDAL WINNERS

Tree City Vodka
(Heathermeade Distillery, New Jersey)
Distilled from locally farmed corn.

Nose: Fruity, creamy, light sweet grains, nutty, light coffee, yeast, musty.
Palate: Vanilla, creamy, cocoa, powdered sugar, honey, papaya, ripe fruits, fig, raisins, corn, grains, wheat, sweet tamales, sweet citrus, lime zest, mint, mineral, smooth, silky, tangy.
Finish: Lemon candy, orange peel, lime zest, vanilla, grain, sodium, mineral, balanced, soft, smooth, assertive, zesty.

Gold Medal






Owens Valley Distilling Kapel' Vodka
(Owens Valley Distilling Company, California)
Distilled from molasses.

Nose: Chocolate, cocoa, brown sugar, powdered sugar, vanilla, maple, cream, pastry dough, toast, sushi rice, grain, rye, lime zest, floral, mossy, forest floor.
Palate: Vanilla, vanilla cream, creamy, sugarcane, powdered sugar, sweet roasted corn, grainy rye bread, cherries, floral, vegetal, pink peppercorn, cigar box, complex, lively, tangy, zesty.
Finish: Powdered sugar, floral, peppery, mineral oil, mineral water, balanced, smooth, lively, vibrant, assertive.

Gold Medal






Monkey In Paradise Vodka
(Florida)
Distilled from corn, 7x distilled.

Nose: Macadamia nuts, nutty, white pepper, subtle grain, bread, mineral water, rushing river, soft mineral, wet stone.
Palate: Melon, pineapple, citrus, lime zest, powdered sugar, cream, pastry dough, grain, rice, potato skins, herbal, mint, cashews, coffee, peppercorn, peppery, mineral, wet stone, clean, crisp, delicate, approachable, great straight up, silky, smooth.
Finish: Lemon curd, raw potato, minty, spicy, balanced, complex, smooth, delicate, zesty, tasty.

Gold Medal






Timber Creek Florida Vodka
(Timber Creek Distillery, Florida)
Distilled from 100% Florida Red Soft Winter Wheat.
100% natural Florida limestone spring water. 4x distilled.

Nose: Lemon custard, vanilla, lightly floral, grain, grassy, cucumber, vegetal, green olives, brine, sparkling water, clean spring water.
Palate: Vanilla, creamy, honey, floral, wheat, green beans, vegetal, grassy, dried leaves, white pepper, saline, clean water, funky, fresh smooth, palate pleasing.
Finish: Creamy, fresh water, fresh snow, dried leaves, nicely balanced, clean, soft, smooth, zesty, refreshing.

Gold Medal






Vail Valley Vodka
(808 Distillery, Colorado)
Distilled from select wheat grains, 12x distilled,
triple filtered through activated charcoal.

Nose: Banana crème, banana Laffy Taffy, ripe banana, cherries, plum, plum wine, sweet corn silk, lemon, lime, lilac, hint of floral, perfume, rice wine, sake.
Palate: Banana Laffy Taffy, bananas Foster, bananas, plums, melon, passion fruit, red grapes, powdered sugar, toffee, creamy, pastry dough, cocoa, herbal, wet stone, zesty, smooth, fresh.
Finish: Juicy Fruit Gum, melon, green banana, cocoa, coffee, wet stone, complex, zesty, approachable, soft, smooth, delicious.

Gold Medal






Five Saints Vodka
(Five Saints Distilling, Pennsylvania)
Distilled from Pennsylvania corn.

Nose: Pineapple taffy, lemon curd, Juicy Fruit gum, marzipan, quince paste, honeydew melon, underripe cantaloupe, ripe bananas, strawberry, citrus, honeysuckle, corn, wheat bread, heavy grain, tree nuts, peppery.
Palate: Cane sugar, cane stick, cocoa, Corn Pops, light caramel, honey, lemon meringue, bubblegum, tutti fruity, honeydew melon, sweet grains, cereal, rye, nuts, black pepper, rum, cachaça, wet stone, smooth, up front, intense.
Finish: Cocoa, melon, rye, cachaça, complex, silky, smooth

Gold Medal






Her Spirit Vodka
(Minnesota)
Distilled from grain.

Nose: Light sweet cream, potato, bread, light citrus, anise, floral, almond oil, new wood.
Palate: Sugarcane, creamy smooth sweet grains, simple syrup, honey, light citrus, lime zest, grassy, minty, hard potato, nuts, almond oil, white pepper, bread, rye, dusty, balanced, crisp, bright.
Finish: Vanilla, candy apple, citrus, lime zest, grassy, dry hay, toast, nutty, almond oil, oysters, dusty, fresh, delicate, very lively.

Gold Medal






Gunnar's American Farm Series Potato Vodka
(Gunnar's Distilling Company, Florida)
Distilled from Idaho Russet potatoes.

Nose: Citrus, light lime, fresh cucumber, arugula, almond oil, anise, potato skin, pastry dough, bread, dust.
Palate: Sugarcane, molasses, powdered sugar, vanilla cream, creamy, crème brûlée, herbal, anise, white pepper, black pepper, mineral, balanced, clean, crisp, smooth, very approachable.
Finish: Cashew milk, cream, mineral, faint smoke, crisp, simple, soft, smooth, easy, approachable.

Gold Medal






Peace Vodka
(Catskill Distilling Company, New York)
Distilled from locally grown wheat & Catskill Mountain water.

Nose: Caramel, toffee, mocha, cocoa, whipped cream, vanilla cream, hot crème brûlée, honey, sweet corn, pineapple, subtle citrus, pastry dough, potato skin, almond oil, cashew, nuts, salty, dust, mineral.
Palate: Chocolate, Mexican hot chocolate, creamy, sweet pastries, citrus, lime zest, white grape, mint, almonds, nutty, rye, light pepper, dusty, sodium, wet stone, Frangelico, whiskey-like, smooth, rich, approachable, tasty.
Finish: Lime zest, pink peppercorn, dusty, mineral, wet stone, rich, zesty, tasty.

Gold Medal






Nauti Spirits Vodka
(Nauti Spirits, New Jersey)
Distilled from sweet potatoes and New Jersey corn.

Nose: Cocoa, cantaloupe, citrus, lime zest, grassy, sweet grains, almond oil, nutmeg, cinnamon, spice, deep rye, woody, clean.
Palate: Vanilla power bar, brown sugar, banana, cantaloupe, sweet beets, roasted sweet corn, lime zest, herbal, chai tea, potato skins, almond oil, warm spiciness, rum, mineral, wet stone, smooth, silky.
Finish: Floral, anise, lime zest, mineral, wet stone, well-balanced, soft, smooth, assertive, intense.

Gold Medal






Farm Horse Vodka
(Dutch & Dewey Distillery, California)
Distilled from grapes.

Nose: Ripe pineapple, dried pineapple, blueberry, blackberry, strawberry, citrus, dried cherries, Kool-Aid, fruit punch, honeysuckle, pancakes and maple syrup, wheat, light anise, grassy.
Palate: Pastry frosting, creamy, powdered sugar, molasses, aged maple syrup, vanilla, pineapple, cantaloupe, watermelon, pear, grapes, dried cherries, citrus, orange zest, sweet floral, anise, bourbon barrel, natural, approachable, yummy.
Finish: Sweet cream, vanilla, cantaloupe, raisins, citrus, peppermint, light, clean, fresh, assertive.

Gold Medal






Red Cedar Vodka
(Red Cedar Spirits, Michigan)
Distilled from apples.

Nose: Strawberry and Cream Lifesavers, raisins, floral, toast, almond oil, lemon, very mineral, wet stone, clean, sea breeze.
Palate: Cane sugar, demerara sugar, lemon, lemon rind, citrus, strawberry, dried figs, floral, anise, grassy, lemongrass, spearmint, cashews, light pepper, cayenne pepper, mineral, wet stone, oak, wood, creamy, velvety, very smooth for easy drinking or mixing.
Finish: Vanilla, mixed berries, blueberries, bell pepper, pepper, spice, mint, leafy, mineral, wet stone, smooth, delicate, gentle, nice sipper.

Gold Medal






Misadventure Vodka
(Misadventure & Co., California)
Distilled from grains. Crafted to remove gluten.

Nose: Lemon, lime, citrus, cane sugar, herbs, mint, wet moss, peppery, bread, mineral, wet stone, a hint of smoke, sweet ocean breeze.
Palate: Vanilla, vanilla fudge, creamy, cocoa, powdered sugar, lemon curd, orange, lime zest, coconut water, floral, mint, sweet pepper, cashews, peppery, white peppercorn, potato skin, mineral, flavorful, smooth, crisp, zesty.
Finish: Vanilla, creamy, lime zest, powdered sugar, wet stones, zesty, clean, easy, smooth.

Gold Medal






Old Dominick Memphis Vodka
(Old Dominick Distillery, Tennessee)
Distilled from corn.

Nose: Chocolate, cocoa, Juicy Fruit Gum, light honeydew melon, roses, rye, bread, grain, wild rice, potato chips, green pepper, cinnamon.
Palate: Brown sugar, creamy, honey, roses, floral, grain, wheat, rye bread, green pepper, grass, anise, mint, cinnamon, cumin, black peppercorn, cedar, woody, a bit zesty.
Finish: Marzipan, Necco hearts, Juicy Fruit gum, cranberry sauce, violets, floral, minty, anise, cumin, long intense pepper, peppery, cigar box, zesty, lively, interesting.

Gold Medal






Cascade Potato Vodka - Recipe 14
(Cascade Street Distillery, Oregon)
Distilled from potatoes.

Nose: Celery seed, hint of amaranth grain, fresh spring or brook, light, subtle.
Palate: Vanilla, whipped cream, creamy, buttery, powdered sugar, honey, pear, citrus, floral, mocha, celery seed, well water, smooth, adaptable.
Finish: Vanilla, celery seed, spicy, light white pepper, clean, fresh, smooth, beautiful.

Gold Medal






Skagway Spirits Vodka
(Skagway Spirits, Alaska)
Distilled from grain.

Nose: Vanilla, citrus, light grains, almond, freshly-peeled potato, wet stone, mineral, clean.
Palate: Sweet cane sugar, creamy, vanilla, pastry dough, grains, rye, almond oil, white peppercorn, wet stone, well-balanced, assertive, smooth, delicate.
Finish: Creamy potato, powdered sugar, lime zest, rye, white peppercorn, peppery, delicate, crisp, bright.

Gold Medal






Quincy Street Distillery Vodka
(Quincy Street Distillery, Illinois)
Distilled from grain.

Nose: Toffee, sweet nougat, vanilla, berries, light citrus, herbal, grassy, potato, salt water, airy, clean, fresh.
Palate: Sugarcane, chocolate, cocoa, powdered sugar, vanilla, pink peppercorn ice cream, cactus piña, lime zest, floral, potatoes, pepper, coffee, nutty, black peppercorn, wet stone, smooth, fresh, easy-drinking.
Finish: Orange Creamsicle, citrus, lime zest, frosting, sweet clean raw potato, black pepper, slight pepper, wet stone, rich, clean, smooth, approachable, refreshing.

Gold Medal






Prairie Organic Vodka
(Ed Phillips & Sons, Minnesota)
Distilled from organic corn. Certified organic.

Nose: Toffee, vanilla, light cream, honey, bread, light grain, almonds, sweet cinnamon.
Palate: Vanilla, creamy, simple syrup, guava, Juicy Fruit gum, floral, sweet grains, pastry dough, rye, nutty, coffee, grassy, spearmint, minty, cloves, peppercorn, mineral, wet stone, smooth.
Finish: Rich croissant, creamy, white pepper, wet stone, soft, easy, delicate.

Gold Medal






J. Carver Lake House Vodka
(Lake Country Libare Distillery, Minnesota)
Distilled from grain. 92 prf

Nose: Vanilla, pears, papaya, honeydew melon, bananas, lychee, citrus, floral, chopped cucumber, almond, rye, whole grain bread, white peppercorn, clean.
Palate: Vanilla, creamy, chocolate, saltwater taffy, guava taffy, Juicy Fruit gum, bananas, lime zest, lilac, herbal, grassy, grains, almond oil, spice, red pepper flakes, peppery, white peppercorn, black pepper, mineral, crisp, velvety, smooth.
Finish: Pastry frosting, guanabana, Asian melon, mint, spicy, peppery, mineral, clean, lively, zesty, intense.

Gold Medal






DO-ME Vodka
(StilltheOne Distillery, New York)
Distilled from New York State select corn.

Nose: Lively sugar, honey, sweet corn, bananas, unripe melon, lemon lime, grape, rose petals, grassy, hazelnut, almond, toasted nuts, tree bark, mineral, wet stone, fresh pond water.
Palate: Sugarcane, marzipan, creamy, cookies and cream, floral, cut grass, wet grass, moss, herbal, rye, nutty, hazelnut, amaretto, peppery, black pepper, mineral, wet brick, wet stone.
Finish: Herbal, mint, nutty, creamy, flavorful, soft, delicate, crisp, powerful, assertive.

Gold Medal






XIII Kings Vodka
(Southern Champion, Texas)
Distilled from corn. 8x distilled. 5x filtered.

Nose: Sugarcane, citrus, dry grains, white bread, musty, airy, subtle.
Palate: Strawberry milkshake, creamy, powdered sugar, coconut, white grape, herbal, floral, almond oil, raw potato, potato skin, rye, chalky, peppercorn, granite, mineral, clean fresh water, babbling brook, zesty.
Finish: Almond cream, hint of mint, chalky, mineral, assertive, soft, clean, fresh.

Gold Medal






Blue Parrot Vodka
(Red Pump Spirits, Pennsylvania)
Distilled from wheat grain. 3x distilled. Twice filtered – first through wood charcoal, then through coconut husk charcoal.

Nose: Vanilla, simple syrup, Bazooka Joe bubblegum, grape skin, apple skin, celery seed, vegetal, grain, slight yeast, spicy, soft, water splashing on rocks.
Palate: Vanilla, creamy, honey, light rose, light lime zest, potato, toast, green plantain, green beans, bell pepper, celery seed, mocha, coffee bean, white pepper, fresh waterfalls, dripping melted icicles.
Finish: Vanilla, lemon zest, floral, bell pepper, pepper, green plantain, celery seed, fresh running water, fresh-fallen snow, easy, clean, rich, very pleasant.

Gold Medal






Archangel Vodka
(Archetype Distillery, Colorado)
Distilled from grapes.

Nose: White chocolate, Ferrero-Rocher, cocoa powder, molasses, brown sugar, candy corn, orange Creamsicle, white flowers, grass, grain, pastry dough, potato skins, nutty, cashews, toasted almonds, coffee bean, hazelnut coffee, chalky, dusty, mineral.
Palate: Toffee, chocolate syrup, vanilla bean, Laffy Taffy, maple ice cream, milky, banana, white flowers, herbal, spicy, woody, soft, ultra-smooth.
Finish: Cocoa, banana, candied grape, tarragon, grassy, very spicy (unexpected), salty, wet stone, earthy, woody, cream, finishing sweet, rich, silky, soft, sexy.

Gold Medal






SILVER MEDAL WINNERS

Tattered Flag Vodka
(Tattered Flag Still Works, Pennsylvania)
Distilled from grain.
Nose: Hot cocoa, almond oil, light lemon, sweet corn on the cob, buttered roll, pastry dough, farro, rice, leather, dust, smoke.
Palate: Vanilla, sugarcane, creamy, light mint chocolate chip fudge, banana, unripe plums, lemon, lime zest, spearmint, rye, nutty, dusty, wet stone, fresh water, hints of sweetness, smooth.
Finish: Lime zest, citrus, raw cashews, peppery, well-balanced, delicate, zesty, lively, super-smooth.

Silver Medal






Kopper Kettle Vodka
(Belmont Farm Distillery, Virginia)
Distilled from corn.
Nose: Grain, light wheat, nuts, light peppercorn, Juicy Fruit gum, subtle citrus, anise, mossy, light wood.
Palate: Toffee, creamy, cream soda, powdered sugar, maple, grape jam, pineapple, Juicy Fruit gum, citrus, herbal, wheat, grain, spicy rye, light spice, light pepper, balanced, smooth, crisp, rich.
Finish: Banana liqueur, wheat, light lemon, light herbal, spicy, light pepper, smooth, zesty.

Silver Medal






ATX Vodka
(Sangiovanni Distillery, Texas)
Distilled from grain with Texas spring water. 10x distilled.
Nose: Melon, unripe fruit, green beans, dough, herbal, mint, grassy, earthy, mineral, rich, soft, complex.
Palate: Honey, agave, vegetal, mint, baked goods, flower petals, herbal, grassy, sap, pine, birch, woody, dried leaves, wet stone, earth, very complex, aggressive, strong personality.
Finish: Cocoa, nutty, vegetal, herbal, grassy, mint, spice, wood, earthy, aggressive.

Silver Medal






StilltheOne Comb Vodka
(StilltheOne Distillery, New York)
Distilled from orange blossom honey.
Nose: Vanilla, cream, rainbow-colored cookies, Juicy Fruit gum, plums, floral, potato skins, grassy, pine tree, wet stone, fresh mountain air, mild.
Palate: Sweet cane, powdered sugar, creamy, vanilla, sweet grains, bread, raw potato, lime, floral, herbal, peppery, mineral, light oak, clean, smooth.
Finish: Creamy, nutty, white peppercorn, pink peppercorn, peppery, mineral, clean, soft, delicate, yummy.

Silver Medal






R'are Vodka
(Citrus Distillers, Florida)
Distilled from corn. 6x distilled.
Nose: Wheat bread, floral, mossy, white peppercorn, chalky, dusty, earthy, damp earth, wet woods, soft.
Palate: Vanilla, cocoa, sweet cream, butter cream, orange, melon, grain, sourdough bread, rosemary, nutty, white peppercorns, sharp pepper, spicy, mineral, wet stone, clean, nice mouthfeel, velvety, vibrant.
Finish: Melon, grape, powdered sugar, peppery, wet stone, clean, smooth, delicate, bold, tasty.

Silver Medal






Just Good Vodka
(Iron Vault Distillery, Ohio)
Distilled from grain.
Nose: Vanilla, lemon zest, bread, mineral, spring water, faint, subtle, clean, fresh.
Palate: Powdered sugar, vanilla, buttery, creamy, wheat, apple skin, anise, celery seed, spicy, peppery, musty, earthy, oaky, clean, delicious.
Finish: Creamy, anise, celery seed, juniper, rye, spicy, peppery, pine, salt, fresh water, clean, rich, elegant.

Silver Medal






Snowcrest Vodka
(Willie's Distillery, Montana)
Distilled from corn, blended with pure Montana water.
Charcoal filtered.
Nose: Nougat, sugarcane, vanilla extract, potato, citrus, peppery, grain, dusty, mineral, clean.
Palate: Vanilla, creamy, honey, sweet grains, pastry dough, herbal, cucumber, unsalted mashed potato, rye, nutty, black peppercorn, mineral, wet stone, surprisingly sweet, rich, great with club soda, smooth, gentle.
Finish: Cocoa, nutty, light spice, peppery, white pepper, menthol, mineral, wet stone, White Dog, well-balanced, bright, smooth, rich, complex, classic.

Silver Medal






Vanjak Vodka
(Local Distilling, Colorado)
Distilled from 100% corn, Eldorado Springs water,
6x distilled, silver filtered. Gluten-free.
Nose: Melon, unripe fruit, green beans, dough, herbal, mint, grassy, earthy, mineral, rich, soft, complex.
Palate: Honey, agave, vegetal, mint, baked goods, flower petals, herbal, grassy, sap, pine, birch, woody, dried leaves, wet stone, earth, very complex, aggressive, strong personality.
Finish: Cocoa, nutty, vegetal, herbal, grassy, mint, spice, wood, earthy, aggressive.

Silver Medal






Forsaken River Vodka
(Forsaken River Distillery, Nevada)
Distilled from locally grown & harvested grains, blended with fresh mountain water.
Nose: Caramel, sugarcane, molasses, cocoa, corn, corn cereal, Amish friendship bread, rye bread, grain, coffee, potato skins, mossy, fungi, dusty, ash, mineral, wet stone, rum.
Palate: Ripe banana, melon, red apple, fruitcake, honey, cotton candy, pastry dough, cocoa, rye, nutty, wet grains, cinnamon, dry rum, Mahia Mediterranean fig liqueur, rum barrel, cedar, smooth.
Finish: Salt water taffy, cinnamon roll with frosting, bananas, sweet raisins, rosewater, mint, rye, dough, bread, mineral, smooth, zesty.

Silver Medal






North Sister Vodka
(Cascade Street Distillery, Oregon)
Distilled from corn, blended with cascade snowmelt water.
6x distilled. Filtered 100x.
Nose: Pastry dough, clean cotton, very faint, clean.
Palate: Powdered sugar, vanilla, buttery, creamy, wheat, apple skin, anise, celery seed, spicy, peppery, musty, earthy, oaky, clean, delicious.
Finish: Vanilla, mint, anise, celery seed, peppery, well-balanced, unassuming, clean, soft, delicate.

Silver Medal






Lazy Eye Vodka
(Lazy Eye Distillery, New Jersey)
Distilled from grapes.
Nose: Faint white grape, grappa, grain, bready, dough, almond oil, Big Red, black pepper, clean, crisp.
Palate: Melon, citrus, mint, nuts, almond cream, creamy, powdered sugar, grainy, rye, spice, pepper, tobacco, mineral, cigar box, wood barrel, smooth, zesty.
Finish: Vanilla, creamy, almond butter, challah bread, black pepper, wet stones, soft, smooth, balanced, zesty, vibrant, lively.

Silver Medal






2Docks Vodka
(Proof Artisan Distillers, North Dakota)
Distilled from potatoes.
Nose: Rye, bread, dough, herbs, parsley, anise, peppery, wet stone.
Palate: Cream, corn, wheat, rye, bread, clean grains, honey peanuts, lime zest, herbal, mint, spicy, black pepper, wood barrel, dusty, soft.
Finish: Rich cocoa, French pain aux raisins, lime zest, peppermint, minty, black pepper, earthy, clean, complex, zesty, easy rider.

Silver Medal






Five Wives Vodka
(Ogden's Own Distillery, Utah)
Distilled from Idaho Russet potatoes.
Nose: Cane sugar, creamy, French toast, grain, citrus, light lemon, pink roses, wet stone, musky, funky, clean, fresh.
Palate: Sweet corn, powdered sugar, rosé cider, honeysuckle, floral, lime zest, wheat, white peppercorn, mineral, wet stone, light, balanced.
Finish: Almond candy, citrus, lime zest, mineral, wet stone, crisp, vibrant, light, subtle, very easy, smooth.

Silver Medal






Persistent Vodka
(Alpine Distilling, Utah)
Distilled from 100% corn. 10x distilled. Kosher certified.
Nose: Vanilla, sugarcane, cherry Lifesavers, breakfast cereal, light wet grains, floral, lemongrass, grassy, cannabis, cinnamon, talcum powder, light mineral.
Palate: Cherry vanilla, sugarcane, Crunchberry cereal, fig, raisin syrup, floral, rose, herbs, spearmint, grassy, herbal, anise, licorice, fennel, peppery, spicy, tobacco, musty, earthy, mineral, cigar box, wood, oak.
Finish: Minted figs, dried figs, honey, licorice, light anise, fennel, tea, pine, cedar, approachable, yummy.

Silver Medal






Ski Town Vodka
(Steamboat Whiskey Company, Colorado)
Distilled from Midwestern corn & Rocky Mountain potatoes,
blended with Rocky Mountain snowmelt. 88 prf
Nose: Zesty citrus, eucalyptus, almond oil, anise, bread, faint sugar, light mineral, fresh water.
Palate: Vanilla, cranberry juice, grape, warm pastry dough, rye, grain, dusty, white pepper, black pepper, cigar tobacco, raw wood, spiced rum, rum, rye whiskey, lightly sweet, flavorful.
Finish: Sweet pastry, peppery, bark, oak, rich, zippy.

Silver Medal






BRONZE MEDAL WINNER
Kalamazoo Stillhouse Vodka
(The Kalamazoo Stillhouse, Michigan)
Distilled from local grains.
Nose: Sweetened condensed milk, sweet French bakery dough, pastry dough, bready, Play-Doh, grape, sweet cinnamon.
Palate: Vanilla, creamy, almond salt water taffy, cocoa,,mixed fruits and flowers, stewed figs, corn, Bar Baloud pistachio French toast, sweet cinnamon, nutty, almond oil, mint, mineral, white peppercorn, wet stone, rich, ultra-smooth.
Finish: Cocoa, minty, soft, smooth, mellow, easy, approachable.

Bronze Medal