The Best of Playa del Carmen
Riviera Maya, Mexico


The Mexican Mayan Riviera is, in short, a public relation dream of a name. One might think, when mulling over sexy, glitzy, romantic, star power, of the French or Italian Riviera, but here, in Mexico, is a formidable challenger that is all about the sand, sun, swimming, and the necessary fourth "s", sex. First and foremost, let's get the geography lesson out of the way; Quintana Roo is a state in Southeastern Mexico on the eastern part of the Yucatan Peninsula with a population of 1.3 million. The Caribbean Sea is to the east, and the nation of Belize is to the south. If the name Quintana Roo is not familiar, look at some of the cities contained within the state; Cancun, Playa del Carmen and the island of Cozumel enhanced further by the Mayan Ruins at Tulum, Coba and Xcaret.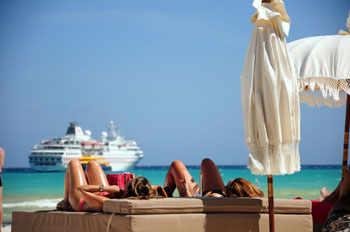 Less than an hour south of Cancun you will discover the Mexican Riviera Maya where Playa (del Carmen) was established by Europeans from Germany, Switzerland and, especially, Italy. Playa del Carmen is named for Our Lady of Mount Carmel, the patron saint of Cancun. In the Mayan time (300-600AD), Playa del Carmen was called Xaman-Ha (waters from the north) and was the departure place for the Mayans who would cross over to the island of Cozumel (Cutzamil) to worship the Goddess Ixchel and bring her offerings. The first modern village was created in the beginning of the 20th Century. It was first touristically discovered by Europeans who found in Playa a tranquil place. The lifestyle is slower with clean white sand beaches, parallel to the Caribbean Sea, surf, coral reefs, scuba, jet skiing, and windsurfing. A 20 block pedestrian street named Fifth Avenue (Quinta Avenida) has a mixture of shops, bars and restaurants (mainly Italian & Mexican, but with many other specialty cuisines). With a population of about 250,000 there are fewer large hotels and the atmosphere is definitely more laid back. The Playa del Carmen government has attempted to retain Playa del Carmen's charm as a small fishing village and artists' colony, without it becoming as large and metropolitan as Cancún. To this end, the city passed an ordinance limiting buildings to four stories.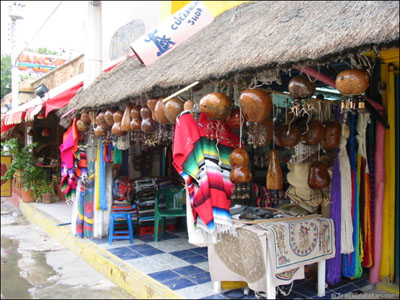 The island of Cozumel can be reached from the ferry dock in Playa in less than 45 minutes. This is where the cruise ships dock. The snorkeling and scuba are great as they are near the Great Maya Reef, which passes between the island and Playa. It is the second largest coral reef in the world including the countries of Belize, Guatemala, Honduras & Mexico (Australia's Barrier Reef is larger). That same 45 minutes will take you to Tulum by road, which reflects the Mayan period of 1200-1520 AD and really must be seen to be appreciated. Great photo opps here. It draws over 2 million visitors a year (the most visited of Mexico's archaeological sites) and was actually "rediscovered" in 1842 by archeologists. It is worth spending an afternoon and/or evening at Xcaret, which is about 15 minutes from the hotel. For US$60 you can get an all day pass or, for US$43, just experience the two-hour evening extravaganza (the history of Mexico with over 200 performers). I spent 3 hours walking through Mayan Village, along the jungle trail, through wildlife, underground rivers & caves (called Cenotes, and they are everywhere), through an Aquarium and several other shows. Bring your Nikes or New Balances and do the same.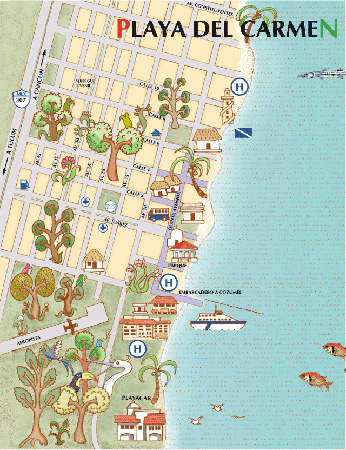 Best Restaurants in Playa del Carmen:

Alux Restaurant & Lounge- Mexican cuisine. Natural underground caverns located 10 minutes from the beach, with live music & dancing. Waiters will give you a private tour of all the hidden underground caves, cenotes (tunnels) and rivers. Great for private dinners & weddings.

Indigo Beach Club & Restaurant- On Indigo Beach next to El Taj Oceanfront Condo Hotel. Menu by chef Jean Paolo Ferrera is inventive and wonderful. Nice buffet breakfast.

El Fogon- Traditional Mexican (called taqueria or Taco Place). Inexpensive, noisy, and crowded with locals. Try the tacos & guacamole.

Los Amigos- Authentic Mexican. Five minutes from 5th Ave. Fresh seafood and grilled meats.


Regional Mexican Riviera Cuisine:

Lime Soup- Shredded chicken, bits of fried tortilla and limejuice.
Poc Chuc- Tender slices of pork marinated in sour orange juice, grilled and served with a tangy sauce and pickled onions.
Pollo Pibil- Chicken marinated in achiote, sour orange juice, peppercorns, garlic, cumin, salt and wrapped in banana leaves and baked.
Panuchos & Salbutes- Pre-cooked tortilla with shredded chicken and garnished with lettuce and onion. Panuchos have refried beans inside the tortilla.
Most Romantic Hotels in Playa del Carmen:
El Taj Oceanfront Condo Hotel-
There are 59 condos between the Oceanside & Beachside properties that are across the street from each other. These are not time or fractional share properties. Each condo is privately owned and can be rented out or not. The beachside has a black mosaic pool & Jacuzzi and is much more laid back. All the furnishings were purchased in Bali & Indonesia by owner Jack Perlman and his wife, and shipped here. The beach chairs, lounges and beds were great for couples.




Mosquito Beach Hotel-
All guests must be over 16 in this 33-room boutique hotel opened in 2006. Italian furnishings in this quiet, secluded hotel right on the beach.





Maya Villa-
Same ownership as El Taj. 17 condos amidst lush vegetation and Mayan art. There is a gecko-shaped mosaic and glass pool and waterfall with the lush greenery making each room private.




Banyan Tree & Spa Mayakoba-
4 miles outside town. 132 private, all pool villas. Float along the lagoons that lead to the Caribbean.






Rosewood Mayakoba-
132 rooms in this 1,600-acre resort just north of Playa. Was #18 in the 2009 Travel & Leisure World's Best Hotels. Go by boat along the lagoons and canals to the spa, restaurants, golf course, or your room.





Esencia & Spa-
Set in 50 acres of gardens they hold cooking classes and wine tastings. There are 29 rooms with 9 in the main house, 2 private houses and 10 garden suites with plunge pools. Very quiet and restful.





Maroma Resort & Spa-
An Orient Express Hotel with 65 rooms for adults only (over 16). Go for the romantic candlelight dinner on the beach. They have their own tennis courts.





Royal Hideaway Playacar-
Located 1-1/2 mile south of Playa with a total of 200 rooms divided into 11 villas of 28 rooms, each with their own concierge. This is a AAA 5 Diamond all-inclusive property for those over 13 years of age. There are 6 restaurants including Japanese, International & Italian, all part of the meal plans.




Before you go, visit:
Riviera Maya Tourism
Mexico Tourism Board- Playa del Carmen
Comments or questions welcome, please e-mail to: Ron@TheFiftyBest.com