Best of Wine & Spirits in Hong Kong & Macau

About 20 years ago I was in Hong Kong (population almost 7 million) during a 6-week journey in Asia. I recently returned to Hong Kong (15 hour flight and a 12 hour time difference) and added Macau to my trip. The good news for US citizens is that they do not need a visa to visit either place, which is not true in the rest of China.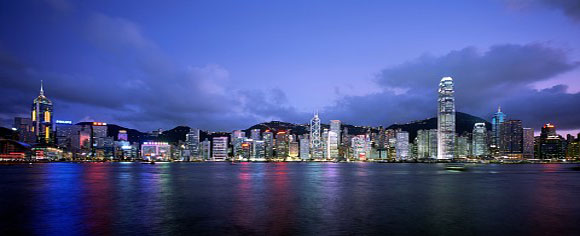 The island of Hong Kong


Best Hong Kong Restaurants:

Spoon by Alain Ducasse at the InterContinental Hong Kong- 450 wines and adding more. It is the sommelier matching food and wine with the chef's offerings that make this a must visit. They're also cooking and wine appreciation seminars (I attended a private class). The wine choices are unusual, but right on. Check out the 550 Murano glass spoons.
The Steak House Winebar & Grill features almost 300 wines and 30 by the glass.
Petrus at the Island Shangri La Hotel- Spectacular view from 56th Floor- almost 1,000 wines.
L'Atelier de Joel Robuchon- 1,150 wines.
Caprice at the Four Seasons Hotel- over 700 wines.
Tokio Joe- Large Sake list.
Aqua Tokyo/Aqua Spirit- Stylish restaurant and bar with spectacular views of the city.
Luk Yu Tea House- Hong Kong's oldest teahouse, known for its dim sum.
Riedel Room at the J.W. Marriott Hotel- First of its kind, with over 100 different Reidel glasses. Part of Q88 Wine Bar with 40 wines by the glass. Fabulous brunch at JW's California and Sushi Bar.
The Chinnery at the Mandarin Oriental Hong Kong- 100 single malt scotch whiskies.
Krug Room- Mandarin Oriental Hong Kong- Large Krug Champagne selection.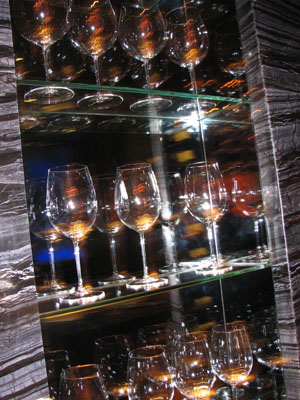 Reidel Room - J.W. Marriott Hotel


Best Hong Kong Bars:

V13 Vodka Bar- 100 different vodkas
Solas - Wine/whiskey/cigars
GBar - NY-styled martini and cigar lounge
Mo Bar at the Landmark Mandarin Oriental - Cocktails served with elegance and sophistication
Vintage Wine Bar
Weinstube Wine Bar - Austrian/German food and wine bar
Bar Butler - Meticulously crafted cocktail creations
California Vintage Wine Bar
Quinary - Comfortable lounge serving new takes on classic cocktails
L'etage - Classic cocktails and cigars
DiVino Wine Bar

Best Retail Wine Stores in Hong Kong:

Crown Wine Cellars- Part of Worldwide Group. Handling and storage in six underground cellars and a private clubhouse.
Berry Bros & Rudd HK- Over 3,000 wines from their UK cellars. Also a fine wine school.
SoHo Wine & Spirits
Rare & Fine Wines- Hong Kong & Kowloon
Omtis Fine Wine & Spirits- Stands for Overseas Marketing, Trading & Investment Services.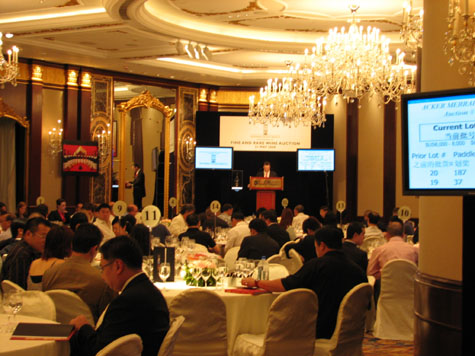 Rare wine auction room

The Island Shangri La Hotel was the site of a recent Acker, Merrall & Condit wine auction, and one of the main reasons I came to Hong Kong. Editors Note- My oldest nephew, John Kapon, runs the AMC Auction Company. Early in 2008, Hong Kong abolished its 40% duty on wine and subsequently saw a 78% increase in volume with a 215% increase in wine values. The room was packed with Chinese and foreign bidders, and received tons of press coverage. This particular auction brought record prices for: a case of 1982 Le Pin- $106,000 USD; a Jeroboam (3 liters) of Dom Pérignon Rose 1996- $31,600 USD; 6 Magnums of Château Mouton Rothschild 1945- $167,4566 USD and a case of Domaine de la Romanée-Conti 1990- $242,300. AMC donated the buyer's premium ($42,000) to Habitat For Humanity, which is rebuilding houses destroyed by the recent China earthquake. The 926 lots fetched $8.2 million, considerably above the pre-auction estimate and were 92% sold.

In the SOHO section of town on a Saturday night, the narrow streets are packed with people filling the many bars and restaurants. Think Havana in the '50's and early '60's; today's South Beach, Florida and NYC's Meatpacking District. Now, close your eyes and you could be anywhere in the world. It is a melting pot of languages, cultures and people.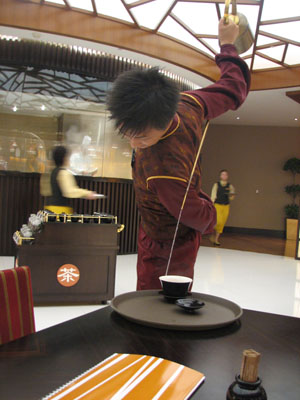 Tea sommelier


Macau

Macau (population 460,000) is now the number one gaming venue capitol of the world, surpassing Las Vegas with its 140 casinos, (Macau has 29). Gaming taxes form 70% of Macau's government income. In 1962, the then Portuguese government granted a company headed by Stanley Ho (now 87 years old) a monopoly on all gambling operations on Macau. That monopoly ended in 2002. In 1999, Macau was returned to China after four centuries of Portuguese rule. Hong Kong was handed back to China in 1997 after having been a British Colony since the middle of the 19th century. They are both referred to as SAR or Special Administration Regions (translation- no soldiers or people afraid to talk to foreigners). Macau has gained UNESCO world heritage status for "The Historic Centre of Macau". The 70-mile ferry trip from Hong Kong takes one hour. All the casino hotels have free shuttle buses waiting for the arriving ferry passengers.

The MGM Grand Macau (opened December 2007) is a partnership between the MGM Mirage group and Pansy Ho Chiu-King, the daughter of Stanley Ho. Their wine list has approximately 800 labels, and the wine cellar in the Aux Beaux Arts Restaurant can accommodate 12,000 bottles. There is another underground cellar that can hold up to 23,500 bottles. Their oldest wine on the list is Château Lafite Rothschild 1870. They were awaiting a direct shipment from the cellars of Château d'Yquem with vintages including: 1934, 1935, 1937, 1939 right through 1982. All will be delivered in individual wooden boxes. There is also a two-story private wine cellar dining area for up to 12 guests. I was told over 30 "Wine Ambassadors" work the various restaurants.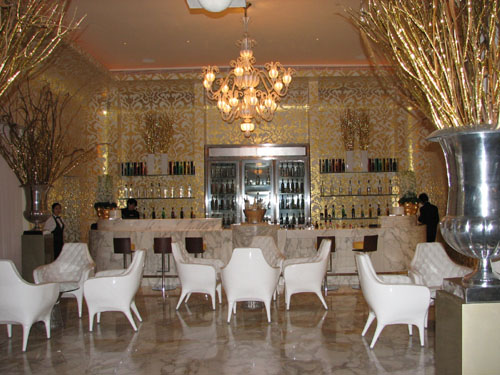 Caviar & Champagne Lounge


Macau's two best restaurants for wine are both on Stanley Ho's property. Robuchon a Galera is located at the older (30 years old but completely renovated) Hotel Lisboa. It is a Wine Spectator Grand Award winner (the first in China) with 3,350 wines on its list.

The highest Michelin-rated restaurant in Southern Italy, Don Alfonso 1890, has come to the Grand Lisboa in Macau. There are over 8,200 labels of wine with Château d'Yquem 1847 the most expensive, as well as the oldest, at US$60,000. A Ramonet Le Montrachet 1983 is US$8,500.

The 600 room Wynn Hotel Casino is two blocks from The Grand Lisboa and one from the MGM.

The Wine Museum of Macau uses maps, texts, photos and videos to trace the history of wine. There are 1115 Portuguese and 28 Chinese different wine brands on display, with a Porto 1815 being the oldest. The Wine Museum is located next to the Macao Grand Prix Museum.

The 15-hour return trip to the U.S. was a lot easier since it was all in daylight (a good tip). No sooner did I learn to say Ni Hao (knee how) which means hello, than was I saying Zai Jian (zay je-an)-- goodbye.



For More Information:

Discover Hong Kong
Hong Kong Tourism Commission
Macau Tourist Board





Disclaimer: This section of the website is intended for visitors 21 years of age and older.
If you are not of legal drinking age, please exit by clicking here.



Comments or questions welcome, please e-mail to: Ron@TheFiftyBest.com