San Diego - America's Beer Capital
Breweries & the Craft Beer Scene - Part 1
by Max Stavis
Amidst the lapping tide, sun-stained sandy beaches and palm tree-studded cliffs of San Diego County is the ever-growing craft beer industry and a Mecca for beer enthusiasts throughout the United States. Since 1982, when brewpubs became legal in California, San Diego has exploded with brew making establishments. A strong home brewing backbone combined with an entrepreneurial spirit and a distaste for large "macro-brewed" beers has since sparked a craft beer revolution here. Boasting nearly 60 breweries, San Diego County is the most populated brewing area code in the nation.

The homebrew and microbrewery scene of San Diego owes its roots to a bill passed by Congress in 1978, which allowed individuals to make small batches of homebrew without being taxed. In the mid 1980's, with the aid of a local California law that allowed retailers to sell small amounts of alcohol to consumers, regardless of where it came from as long as food was served on the premises, brewpubs of California began to blossom. Places such as Pizza Port, the Marsaglia siblings' business venture, soon took off among the more sophisticated beer drinkers who wanted something other than bland, marginal Mexican imports and expensive pasteurized European macro-brands.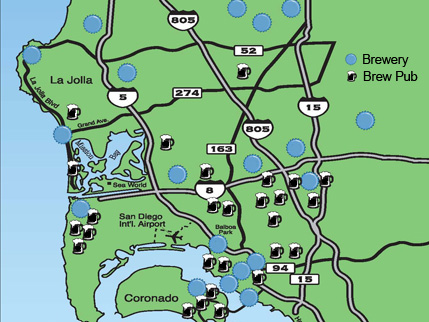 Partial map of San Diego breweries and brew pubs
The bar scene that complements craft beer has assisted in the development San Diego's fervent suds culture. In 1980, Callahans opened in Mira Mesa. This bar, along with a slew of others, converted many locals and tourists into getting on board with the craft beer sensation. One heady sip after another, consumers were won over. In addition, beers from California and other West Coast locales are transported to warehouses in San Diego before being shipped out eastward, allowing San Diegans access to an increasing variety of delicious beers from a multitude of choice producers. The 1990s saw the opening of breweries such as Alesmith, Stone, and Ballast Point– building on the rising tide of craft beer popularity. These brewers are now taking the San Diego scene to a nationwide audience and pleasing taste buds overseas.

San Diegans have also developed a penchant for high IBU (international bitter units), super hopped-up beers. These hop-forward beers have even acquired the moniker of "San Diego Pale Ales," and every brewer in San Diego makes their own version. Besides the bitter and floral bite from San Diego Pale Ale, the brewers of San Diego demonstrate the true passion and love for their craft– driving them to experiment and perfect many great styles. As evidenced in the 2010 World Beer Cup, when San Diego brewers took home more medals than Germany, Belgium and the United Kingdom combined. The future of the brew scene in San Diego is very sunny indeed.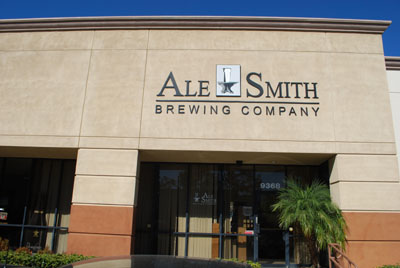 Alesmith Brewing Company entrance
Alesmith Brewing Company

Scattered amongst a slew of different colored award ribbons and various bottles of beer from all over the map that sit aging on a shelf, Peter Zien, the Alesmith Brewing Company co-founder and owner, pulls out a small notebook and flips through the meticulously written details therein contained. This is a homebrew journal, with notes dating back to the 1980s. Home brewing is not only important for inspiration and new knowledge for Zien and the Alesmith team-- according to Zien it is the heart of the entire enterprise.

Based out of a corner office lot in a small business park off of Miramar Road in sunny San Diego, the people behind the world-class beers of Alesmith pay homage to their home brewing roots. Zien allows all of his brewers and employees to mess around on a small brew kit located in the brewery. "The next great Alesmith beer can come from any of our talented employees and we offer the chance to have the best batches on tap in the tasting room. Our roots are in home brewing and we all met at a homebrew club. For years Alesmith was just a home brewing club on steroids."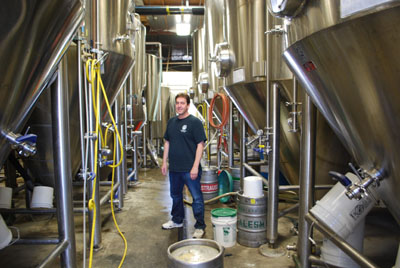 Peter Zien in the midst of his passion project, Alesmith Brewing Co.
Zien started out home brewing, buying brewing supplies from the HomeBrew Mart and Jack White of Ballast Point fame. He is now a level 1 Beer Judge in the Beer Judge Certification Program-- the highest certificate one can obtain in the beer tasting field, and the only brewer in San Diego to hold that title. Zien was also a President of QUAFF, the Quality Ale and Fermentation Fraternity. Alesmith recently won its 14th and 15th medals at the Great American Beer Festival.

Customers can head on out to the cozy new tap room that features beers such as Speedway Stout, a 12% ABV rich, chocolately Imperial Stout. With coffee beans from the local Ryan Bros. Coffee Co., the complex depth of roasty coffee flavors drips through the dark universe that is the Speedway. Get your hands on Decadence, an anniversary brew that allows Alesmith to experiment and switch up every year. The 2011 version is a Maple Smoked Barleywine, and the 2010 version is a barrel-aged English Style Old Ale. The sweet, luxurious malt sugars smother the vanilla and oak essences, while molasses-type goodness oozes into every sip.

Alesmith Brewing Company- 9368 Cabot Drive, San Diego, CA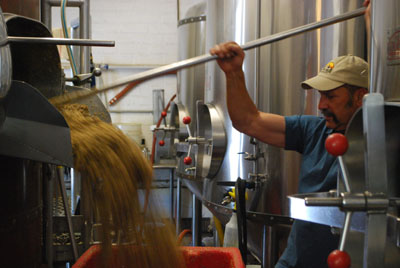 Pat McIlhenney, founder and owner of Alpine Brewing Co raking out spent grains.
Alpine Beer Company

Pat McIlhenney started home brewing in 1993 because "I was really disappointed in the beer that was available. I really wondered why people even drank beer, because it was all lame. It wasn't until the early 80s that I found out European beers were a lot more flavorful. I was opened up to a new world and then I figured out I could make my own beer." In 1999, after a long volunteer stint at Alesmith, McIlhenney started contract brewing the award winning McIlhenney's Irish Red for commercial sale at Alpine, where they were happy to help spread the craft beer gospel.

"I originally opened to take care of the people of Alpine, but people have come from as far as Brazil and Finland to drink Alpine", McIlhenney states humbly. Coming from a career job as an Alpine volunteer firefighter, it's in his blood to be humble and maintain a no bull-taking attitude. The motto is 'Drink Alpine Ale or Go to Bed,' a little spin off on the slogan of a small pub/inn that McIlhenney once visited in Akaroa, New Zealand. "It was like ,'Drink Smitty's or go to bed.' I like it because it has a little bit of attitude to it, which we do, but it's not offensive. That just happens to be who I am. I don't take #@*& from anybody." Alpine Beer Company's actual facility opened in 2002. Now, Pat's son Shawn does all brewing while Patrick makes sure everything runs smoothly.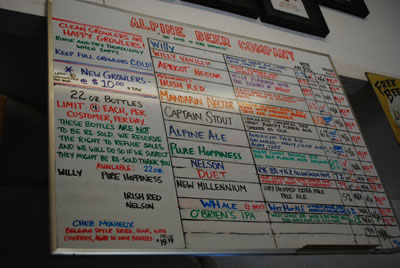 A view of what is available at Alpine's retail portion of the brewery.
A small tasting room with an adjoining Old West-style tavern serves up delicious barbecue alongside Alpine's list of brewing delights, including classic hop forward beers such as Pure Hoppiness, an 8% Imperial IPA that uses so much hops it claims to take you to "hop heaven." The Duet combines Simcoe and Amarillo hops to create a 7% ABV masterpiece. At just over 7% ABV, the Nelson is another hop tour-de-force. A Golden Rye IPA that uses the ripe cantaloupe and fruity white wine characteristics of the Nelson Sauvin hops of New Zealand.

Patrick McIlhenney revealed in mysteriously clouded detail that Alpine will probably contract with a local brewery soon. This brewery was exclusively chosen due to their "very ample, high quality water supply." Alpine is looking to can 16oz twist off cans, bottle 22oz bomber sized bottles and keg more beer for their fans. McIlhenney reiterates, "Our focus is on quality. We don't advertise. Whatever marketing money we would generate by sales goes back toward upgraded equipment and/or ingredients. Quality is number one. I don't care about volume. We just make as much as we can at our high standards. We'll never be a mega brewery. I'm just responding to the people who expressed interest in our beer and keep hounding us."

Alpine Beer Company- 2351 Alpine Boulevard, Alpine, CA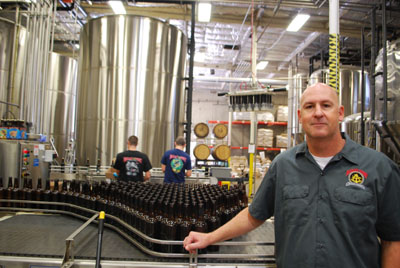 Jack White, one of the founders of Ballast Point Brewing Company
Ballast Point Brewing Company

"I'm sure there's many other great little beer communities. I've been to a few of them, but I know San Diego is special. We have a very strong brewers' guild and we all get along. It's a collaborative atmosphere. We have the good fortune of having this talent pool of incredible homebrewers, which is really just good luck," says Jack White, one of the founders of Ballast Point Brewing Company. Jack White's influence in the collective and connected nature of the San Diego beer community is due in large part to his opening of Home Brew Mart in 1992.

Starting as a small hobby shop, Ballast Point evolved into a current powerhouse in the San Diego beer scene with sixty-five employees producing 85,000 barrels of beer this year. The aroma of spent grain can be picked up for blocks. However, Ballast Point remains true to their homebrew upbringing. Colby Chandler, a current head brewmaster and five year President of The San Diego Brewer's Guild, is always experimenting. For instance, Indra Kunindra is a new twenty-two ounce bomber release. A tantalizing mixture of Madras curry, cayenne pepper, cumin, toasted coconut and kafir lime leaf, this 9% ABV stout started as collaboration with Alex Tweet for one of Holiday Wine Cellars' Anniversary Homebrewers competitions. Or go with one of their staples, such as former gold-medal World Beer Cup winner, Sculpin' IPA, a 7% ABV ale with crisp Centennial hop bite and an apricot-like citrus aroma.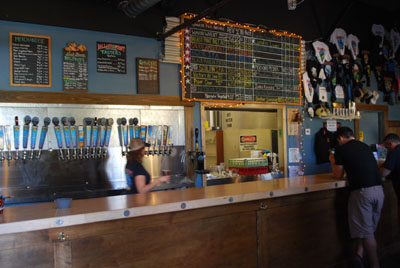 View of Ballast Point's tasting room bar.
The homebrewing foundation remains the key to Ballast Point's ever-growing success. "Fundamentally, we're the brewery with the homebrew shop. That's how we started and we feel it's really important to the roots of Ballast Point. A lot of people who open their own breweries sort of came through Home Brew Mart, and those people went on to do great things. If you want to come through the San Diego beer market, you better do something pretty damn good," says Jack White. Soon the brewery that's been around for twenty years will expand to new proportions by opening a new venue for their beer, somewhere in the city limits of San Diego. This location will feature a restaurant with delectable food pairings and beer dinners by extraordinary chefs. Stay tuned for Ballast Point's next groundbreaking craft beer move.

Ballast Point Brewing Company- 10051 Old Grove Road. San Diego, CA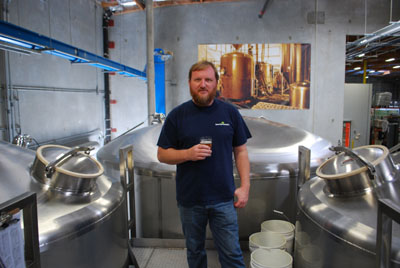 Chuck Silva, Headbrewer of Green Flash.
Green Flash Brewing Company

If Green Flash Brewing Company's Head Brewmaster Chuck Silva was stuck on a desert island, his beer of choice would be Le Freak. According to the liner notes, Le Freak is "A zesty brew with enticing American hops and fruity Belgian yeast aromatics." At the Great American Beer Festival in 2012, Le Freak took home a gold medal for the first time. Silva, the ultra-laid back brewing genius strokes his beard and sips a taster of one of his fine ales. Green Flash is known for their trademark IPAs, and sometimes the Belgian styles are overlooked. Silva is confident that Green Flash is making exceptionally great Belgian styles and is glad of the recognition.

Green Flash West Coast IPA is a complex and piney blend of Simcoe, Columbus, Centennial and Cascade hops bursting with citrusy flavors. Other hop exploits Green Flash has developed is the Palette Wrecker. " It's a new cult favorite for the hopheads that really love over the top hop flavors in their beer. It was the Hamilton's 2nd Anniversary beer that we brewed for them [a reknown local beer bar of high regard] and it really caught on," says Silva.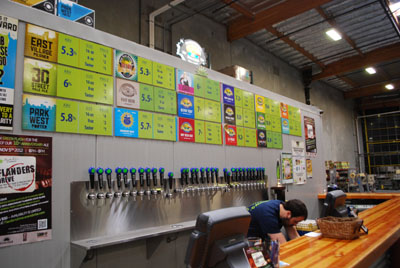 Green Flash's tasting room bar at the brewery in San Diego.
Mike Hinkley, owner of Green Flash, was originally interested in having a beer that was 7% ABV and not over the 9% mark like Le Freak, but would remain hoppy and flavorful. Silva wanted the challenge and excitement of using a new yeast strain that would make for a more unique beer—and Rayon Vert was born. Rayon Vert is a throwback to World War II Belgian brewing circumstances, where just one beer would be the focus of all brewing efforts due to wartime rationing of ingredients and other materials. Rayon Vert is a hoppy Belgian golden with a slightly tart and very dry finish due to the use of Brettanomyces yeast. Some people compare Rayon Vert as the West Coast version of Orval, one of the original Trappist ales from the Abbaye Notre-Dame d'Orval in Belgium. Other great Belgian styles to try from Green Flash include the Trippel, Saison Diego and the collaboration with Belgian brewery St.Fieullen, Bier de L'Amatie or 'Friendship Brew.'

Green Flash Brewing Company- 6550 Mira Mesa Boulevard, San Diego, CA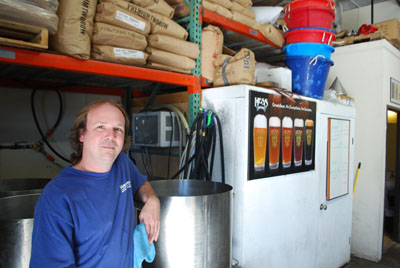 Brewmaster Nate Sampson at Hess.
Mike Hess Brewing

Mike Hess Brewing has stormed onto the San Diego Beer scene with their slogan "Great Beer. No Exceptions. No Excuses." Created and led by homebrewing veteran and namesake, Mike Hess, the small 'nanobrewery' in Miramar is currently only 800 square feet. Though small, there's tons of promise and great tasting beer flowing out of this garage-sized, chilled out tasting room. An interesting food truck is always on hand and a few unique pints up on the board to try.

The company is moving and upgrading to a 30 barrel brewhouse/tasting room on Grim Street, in the heart of the North Park section of San Diego with all of its great bars and eateries. Visitors will be able to enter the brewery and walk up a ramp encased with glass panels. The brewing will be visible to all and in clear view. There are high hopes for distribution plans in the future hopefully extending as far east as New York City.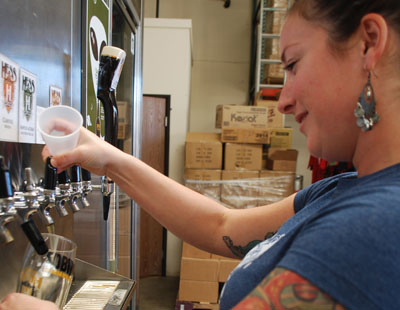 Another Hess, unrelated, pouring a Mike Hess beer.
Nate Sampson recently signed on to head the brewing process and help set up the new location. Sampson is just the man for the job— with a background in microbiology and a three-year stint as the head brewer at one of Rogue Brewing Company's public houses in Eugene, Oregon's Track Town Ales. The five-year President of the Cascade Brewer's Society, Sampson stresses that, "Everyone involved with Mike Hess Brewing has a homebrewing foundation. Within Hess we're all homebrewers. Mike Hess is a homebrewer. I was a homebrewer as well. He and I actually know each other ten years. We used to bounce ideas off each other and share other brewing techniques on this homebrewing forum. We actually met in person for the first time back in January 2012. Now with the expansion and the bigger brewhouse he asked if I would come down and help get it going. I just moved down here a few months ago from Portland, Oregon."

Being small allows for innovation and experimentation. With capabilities to produce both 16oz and 21oz sized cans, Mike Hess will start production of cans and keg some of the core beers such as the Grazias Cream Ale, a 5.5% ABV, a Vienna style that goes down easy with a pleasant note of toasted biscuit malts. Claritas Kolsch is another light offering at 5.8% ABV that refreshes the palate with a zesty breadiness and light nose of flour and dough. Amplus Acerba is the Hess version of a San Diego Pale Ale that clears the way with aggressive hop notes and an 11% ABV.

Mike Hess Brewing- 7955 Silverton Avenue #1201, San Diego, CA
Before you visit, check out:
San Diego Brewers Guild
Disclaimer: This section of the website is intended for visitors 21 years of age and older.
If you are not of legal drinking age, please exit by clicking here.

Please drink responsibly!