Wining, Dining & Touring in California's Central Coast
Part 1
In the past few years, I have traveled to and written about Sonoma, Napa, Livermore and San Mateo, all reachable through San Francisco. Recently I spent a week south of the San Francisco airport. My first destination was San Jose, followed by Santa Cruz, Gilroy, Monterey/Carmel, Paso Robles and Hearst Castle. On my next trip I will start in Los Angeles and travel to Oxnard, Ventura, Santa Barbara, Solvang, Buellton, Santa Maria, Santa Ynez Valley & San Luis Obispo, thus completing my Central Coast odyssey. This story will deal with the wine portion of that trip with a bit of tourism information for those few hours when you will not be thinking about wine and food. First I will try to explain exactly what constitutes "The Central Coast".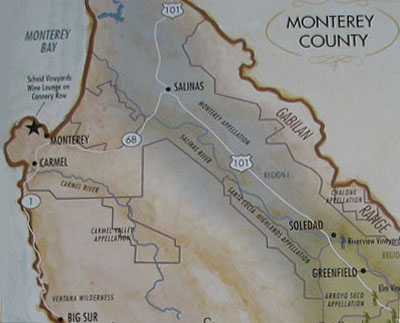 According to Appellationamerica.com-- an appellation is a wine-growing region with officially recognized boundaries. Appellation designations are required on wine labels to identify the origin of the grapes used in making the wine. Vineyard locations rather than winery locations determine appellation. There are two classes of appellations- political boundaries (states, provinces and counties) and appellations defined by geographic boundaries based on topography, climate and soil types. These geographically based appellations are known as American Viticultural Areas (AVAs). It's about the terroir. The concept of terroir is at the base of the French wine Appellation d'origine contrôlée (AOC) system that has been the model for appellation and wine laws across the globe. At its core is the assumption that the land from which the grapes are grown imparts a unique quality that is specific to that region. The U.S. has 194 AVAs in 25 states and California has 108 of those. The Central Coast region I visited has 29 in 7 counties, encompassing vineyards from San Francisco to Santa Barbara, and all that lies between. My trip reached as far as Paso Robles, which is 122 miles from Santa Barbara.

There are about 100,000 acres under vine in the Central Coast. The appellation was granted based on the shared cooling influence of the Pacific Ocean. There are presently over 2,800 commercial wineries in California, with 622 wineries utilizing the Central Coast designation. What I immediately learned was that some of the finest producers don't have tasting rooms and you can visit only by appointment. Conversely, a great many of the wineries I visited sell only from a tasting room and have very small production. If an AVA is listed on a wine label at least 85% of the grapes used to make that wine must have been grown in that AVA. There are over 55 grape varieties grown in the Central Coast region with Syrah, Chardonnay (largest), Cabernet Sauvignon, Merlot, Pinot Noir, Sauvignon Blanc, Pinot Gris, Zinfandel and Viognier the main choices.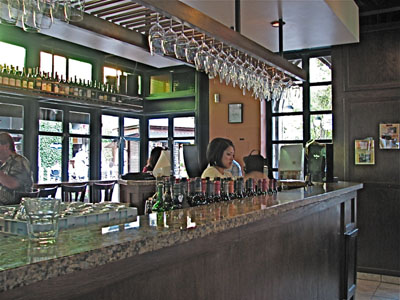 Vintage Wine Bar, Santana Row, San Jose
First stop in San Jose (less than an hour from the San Francisco airport) was Santana Row, a Mediterranean-style retail and entertainment district filled with trendy eateries (their words), fashion boutiques and bars. There are 70 shops and 20 restaurants. It seemed perfect for the Silicon Valley crowd that appeared to fill every place. I spent an hour at Vintage Wine Merchants at Santana Row and their sister operation Vintage Wine Bar. Their artisanal cheese & charcuterie plates complimented the 25 wines by the glass. A block away was my dinner at Village California Bistro & Wine Bar, with artisan seasonal ingredients & 400 wines, including 85 half bottles (a great idea for the solo or couple diners).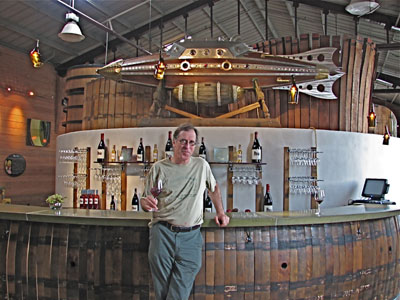 Randall Grahm -- Bonny Doon, Santa Cruz
My wine adventure began in Santa Cruz, 30 miles southwest of San Jose. My first wine stop was on the Wharf at Vino Prima Wine Bar that features California-only wines by the glass, bottle or flight. There is Thrifty Tuesday with a "buy one glass of wine, get one free" plus 2 hours of free parking. The wharf stretches 1/2 mile into Monterey Bay and is lined with fish markets, restaurants and gift shops. I was off to meet one of my favorite wine people- Randall Grahm, owner of Bonny Doon Winery. He had recently sold his mountain winery & several of his high volume labels to concentrate on his small production wines. His new tasting room is right outside of downtown and we talked about his book called- "Been Doon So Long: A Randall Grahm Vinthology". Dinner was at Crow's Nest, along the waterfront on Monterey Bay Marine Sanctuary, which stretches 276 miles and is a federally protected marine area. The next morning I walked to downtown Santa Cruz & Vinocruz Wine Tasting Room. They house a selection of over 200 wines made by more than 65 wineries, all within the Santa Cruz Mountains AVA. Another 2-block walk and lunch was at Center Street Grill. On my way out of town I stopped at Bargetto Winery in Soquel, the longest continuously operated winery in the Santa Cruz Mountains, celebrating their 76th anniversary. They still produce a line of dessert wines under the Chaucer label that I have enjoyed for years. I discovered their La Vita (the life) a blend of Dolcetto, Nebbiolo and Refosco.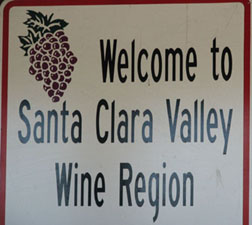 An hour's drive up scenic (windy & scary) Route 152 (Hecker Pass Highway) and I arrived in Gilroy, the southernmost city in Santa Clara County. Along with the city of Morgan Hill there are 21 boutique wineries with almost all of the sales coming from tasting room visitors. I visited Sarah's Vineyard, Solis Winery, Clos La Chance, Jason-Stephens Winery, and Kirigin Cellars. Gilroy is known for its Garlic Festival that takes place in late July and is in its 31st year. I even had a chance to taste garlic ice cream (don't ask). Its nickname as the Garlic Capital of the World comes from the fact that Gilroy Foods processes more garlic than any other factory in the world; most pickled, minced, and powdered garlic come from Gilroy.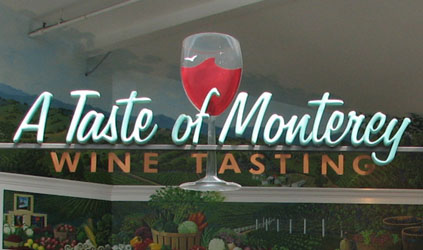 I met with Rhonda Motil, Executive Director of the Monterey County Vintners & Growers Association, at the C Restaurant at the InterContinental Clement Hotel on Cannery Row in Monterey. John Steinbeck's 1945 novel Cannery Row has now evolved to 30 restaurants, clubs and pubs, plus hundreds of shops. Nearby Fisherman's Wharf is a family-friendly collection of waterside restaurants. Rhonda did an overview of Monterey County wines and their 9 AVA's. It is the cooling effect of Monterey Bay, one of the deepest bays in the world, the long growing season and that legendary fog that account for the great wines of Monterey. There are over 40,000 acres of vines (translates to 150 vineyards) and nearly 30 tasting rooms between Cannery Row, Carmel-by-the-Sea, River Road and the Carmel Valley. There are 65 wineries in the county, many specializing in Chardonnay and Pinot Noir (see the paragraph below for a list of winery/tasting rooms visited). We walked across the street to the Scheid Tasting Room. Who knew that Scheid is one of the largest independent growers of premium wine grapes for over 100 wineries? I relaxed in their stylish lounge and comfy chairs while discussing the truism that great wine begins in the vineyards. Back across the street is the Taste of Monterey Wine Shop with over 85 Monterey wineries for sale. This time it was two blocks to the Monterey Bay Aquarium, voted the #1 in the US by Zagat.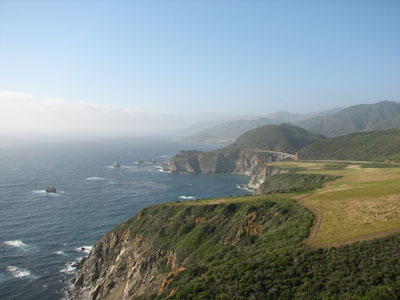 Highway 1-- Carmel/Big Sur
Big Sur is located approximately 30 miles south of Monterey via Highway 1 but don't think it will take you a half an hour. The road zigs and zags and you better hold on to the steering wheel with both hands. I do not recommend this drive at night. It is wild and rugged and maybe the world's most beautiful drive. There are no towns in Big Sur but an assemblage of resorts, restaurants, lodges, campgrounds, art galleries and natural hot springs. I was about to spend the evening 1,200 feet above the Pacific Ocean at the Post Ranch Inn. Dinner was at their Sierra Mar Restaurant where my table overlooked the cliff and ocean. The four-course prix fixe menu is $105, plus beverages, tax & tip. But if one can afford the room rates, which start at $550, why worry about dinner prices (breakfast is included in the room rate). The restaurant held a Wine Spectator Grand Award from 1993 to 2005 (2,700 selections) when ownership of the restaurant changed to the operators of the inn.
Next it was back the 30 miles into Carmel, and this time I did not stop. I visited several tasting rooms and wineries including: Taste Morgan, Chateau Julien Wine Estates, Heller Estate Organic Vineyards & Winery, Boekenoogen Vineyard & Winery Tasting Room, and Parsonage Village Vineyards with lunch (with the winemaker) in the Wickets Bistro at Bernandus Lodge (down the road for the winery of the same name). L'Auberge Carmel in downtown Carmel-by-the-Sea is a luxury 20-room inn built in 1929 and is located 4 blocks from the beach. The 4,500-bottle wine cellar was used to match each course with a wine. I had time to walk 2 blocks to the Ocean Avenue, the main street of the town that is the home to 45 inns and a mecca for artists and writers. There are no fast food restaurants, neon signs or parking meters in town. Remember Clint Eastwood was once the mayor. He "made my day".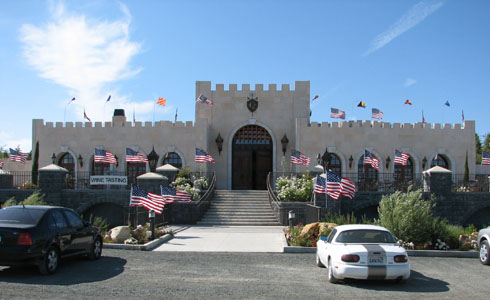 Tooth & Nail Winery, Paso Robles
I was off to Paso Robles, about a two-hour drive along Highway 101; not narrow curves & hair-raising turns, just a normal California road. On the way I stopped in Salinas, the lettuce bowl of the world, to visit Pessagno Winery in the Santa Lucia Highlands AVA. A few miles south is Soledad located in one of the premiere wine grape growing regions of California with over twenty vineyards and wineries within a thirty-mile radius. I stopped at Hahn Estates/Smith & Hook, Chalone Vineyard, & Paraiso Vineyards.

There are over 26,000 vineyard acres and almost 170 wineries in the Paso Robles area. I didn't travel farther south into the rest of San Luis Obispo County, which is the 3rd largest wine-producing county in California with more than 200 wineries. I visited Peachy Canyon Winery, Turley Wine Cellars, Tablas Creek Vineyard, Zenaida Cellars, Lone Madrone, Eberle Winery, Meridian Vineyards, and Tooth & Nail Winery (shaped like a giant European castle). Paso Robles is the perfect blend of fun, relaxation and a luxurious wine-making safari.

Part Two on California's Central Coast covers the area from Los Angeles north to San Luis Obispo.
Disclaimer: This section of the website is intended for visitors 21 years of age and older.
If you are not of legal drinking age, please exit by clicking here.

Please drink responsibly!
Comments or questions welcome, please e-mail to: Ron@TheFiftyBest.com