The King of Beaujolais
BEAUJOLAIS AND GEORGES DUBOEUF - In the 1950's Georges Duboeuf began selling wine from his home in the Mâcon area and delivering his wares by bicycle. In 1957 he met the late Alexis Lichine who encouraged him in his vinous pursuits and purchased wine from him - Georges calls Alexis "one of my heroes".
Journalist Note - In 1964 I was an apprentice at the Lichine owned Château Lascombes and learned much of what I know about the marketing of wine from Alexis. In 1964 Duboeuf started the company that bears his name selling mainly Pouilly Fuissé. Since he needed a red wine for his portfolio he traveled to Beaujolais and discovered his nirvana.

Remember, this is a story about vision, pleasure, eye-appeal and love of the grape. At present over 500 vignerons and 40 cooperatives in Beaujolais sell their wares to Duboeuf, most with only a handshake for an agreement. Presently Duboeuf sells a million cases in the U.S.
(3 million worldwide) through his importers Yale Sager of Winesellers Ltd. and Bill Deutsch of W.J. Deutsch & Sons Ltd. who began representing his wines in 1980. W.J. Deutsch & Sons Ltd. covers the east coast and Winesellers Ltd. the balance of the country.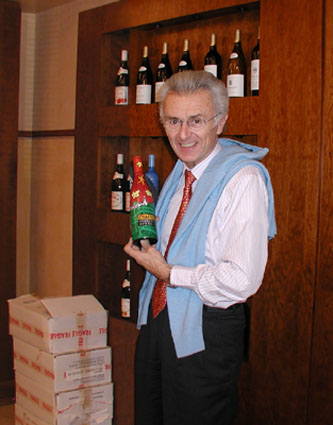 George Duboeuf
History - Beaujolais owes its name to the Sires of Beaujeu, who reigned over this region during the 9th to 11th centuries. Historians believe that wines were first planted here in the Gallo Roman era, dating back to the 4th and 5th century.

Geography - Beaujolais occupies an area 30 miles long and 8 miles wide in the southernmost part of Burgundy with Mâcon to the north and the Rhône to the south. Lyon, the third largest city in France after Paris and Marseilles, is a half hour south. Beaujolais is very hilly with granite mountainsides and its latitude is similar to that of Portland, Oregon. Vineyards, soils and grape variety - 1/3 of the area (55,000 acres) are covered by vineyards with the granite soil in the northern vineyards giving aromas of ripe fruit and faded roses and the clay soil in the south reminding many of red fruits. 98% of the vineyards are planted in Gamay with 2% in Chardonnay, which is used in the small production of Beaujolais Blanc. There are over 4,000 grape growers and 15 million cases of all type of Beaujolais sold worldwide and the U.S. imports about 15% of the total. This area has the highest density of grapevines in the world; over 4,000 vines per acre.

Winemaking - Grape picking is done manually since machine harvesting is not allowed and the fermentation is accomplished by a unique method known as semi-carbonic maceration where bunches of grapes are placed in vats (wood, stainless steel or concrete). The weight of the top grapes makes those at the bottom burst and begins to ferment and this warms the vat, causing fermentation to begin inside the skins of the whole grapes. The result is great fruit extraction and red wines that benefit from being served slightly chilled.

Appellation - Beaujolais - Comes mainly from the southern area of the region with a fragrance of red fruit and berries and are mostly consumed within France and Europe (7 million cases). Beaujolais Villages - The best seller in the US, mostly from the central and northern part of Beaujolais (37 communes). These wines are soft, velvety and fruity (almost 4 million cases).

Crus - the 10 Crus are wines named after 10 northern villages. The cru name will appear on the label, often without the word Beaujolais. Here they are alphabetically: Brouilly - Largest and most southern, grown just below Côte de Brouilly; Chénas - Smallest cru that ages well; Chiroubles - Highest altitude and most feminine; Côte de Brouilly - Steep slopes on Mont Brouilly; Fleurie - The queen of Beaujolais; Juliénas - The name comes from Julius Caesar; Morgon - Improves with age after 1 to 2 years in the bottle; Moulin-À-Vent - Biggest and longest lived, oak aged, named after the windmill, not the village; Régnié - Newest Cru- 1988; Saint-Amour - Most northerly cru. Nouveau - This fresh, fruity wine (raspberry and red current) is bottled in November and released in the US on the 3rd Thursday of November (4 million cases) and is best consumed within 4 months of bottling. Nouveau was first exported in the 1960's and today is 18% of Duboeuf's business.

Georges Duboeuf started in the Mâconnais, just north of Beaujolais, and today sells Mâcon-Villages, Saint-Véran and his first wine- Pouilly Fuissé. From the Côtes du Rhone (northern Rhone just south of Lyon to the southern Rhône near Avignon) come Côtes du Rhône red and white, Côte Rotie, Crozes-Hermitage, Hermitage, Gigondas, Saint Joseph, Châteauneuf-du-Pape, Côtes du Ventoux, Côtes du Luberon and Muscat de Beaumes-de-Venise.

His grape varieties including Merlot, Syrah, Viognier, Gamay and Sauvignon Blanc that come from the Vin de Pays D'Oc in south- central France, on the Mediterranean, the largest wine region in the world. His Loire wines come from Vin De Pay Du Jardin De La France and finally there are the Georges Duboeuf Cuvée red and white table wines.

Moulin-À-Vent

Georges has organized his wines into several categories, including the flower Label which is blended from coops and growers including Beaujolais, the Crus, Mâcon and the classic varieties. The Prestige Label is from the oldest vineyards, the best of plant exposure and limited yield wines including: Juliénas, Brouilly, Morgon, Fleurie, Moulin-À-Vent, Chardonnay, Merlot, Cabernet Sauvignon and Pouilly Fuissé.

The recently launched New Generation Reserves come in very colorful packaging and include Beaujolais , Chardonnay, Merlot, and Shiraz and some are kept for up to three years in barrel. His top of the line wines are the individual domaine producer Beaujolais with the names of each grower on the label. I visited two such growers; Domaine des Rosiers produces 10,000 cases of Moulin-À-Vent plus a small amount of Chénas. He began selling to Georges in 1976 and today proprietor Gerard Charvet sells him 80% of his 10,000 case production. Jean Ernest Descombes has 7,000 cases of Morgon that his daughter Nicole Descombes Savoye insists be bottled on her property. She started selling to Georges in 1968 who today takes 95% of her production.

Duboeuf in Romaneche - Thorin: There are two new buildings; each with a storage capacity of 1 million cases that were built between 1995 and 2000. Yet they still need more room since there are 5 million bottles stored without labels awaiting orders. There are bottling lines with a capacity of 4,000, 6,000, 8,000, 10,000 and one that can even handle 15,000 bottles per hour.

Duboeuf has between 100 and 130 different labels available in the U.S. In 2002 they built their newest building, the Jardin Georges Duboeuf, with winemaking facilities for grapes from the over 80 winegrowers and a capacity of 120,000 cases.
More Information:
www.beaujolais.com
www.duboeuf.com
www.hameauenbeaujolais.com



Disclaimer: This section of the website is intended for visitors 21 years of age and older.
If you are not of legal drinking age, please exit by clicking here.

Please drink responsibly!



Comments or questions welcome, please e-mail to: Ron@TheFiftyBest.com