Chianti Classico

The origin of the word Chianti can be attributed to the Etruscan term clante, a common name given to a person in that language, or to the Latin verb clangor, referring to "the noise of the battle". During the Middle Ages there were fierce battles between Florence and Siena over control of that part of Tuscany. The warring parties built castles and fortresses, which in peacetime were converted to the present day villas and stately homes.

The Black Rooster is the symbol of the whole Chianti region. Florence wanted to fix the boundary line with Siena through the Chianti region and Siena asked to settle the affair by arbitration. A horseman would set out at cock's crow from their respective communities and gallop down the highway. Where they met would be the frontier. The Sienese selected a fine, much-pampered white rooster. The Florentines chose a black rooster and gave it so little to eat that on the appointed day it began to crow long before dawn. As a result, the Florentine rider set out early and met the other horseman at Croce Fiorentina – only 12 miles away from Siena. The boundaries of Chianti Classico have Florence in the north, mountains on the east, Siena in the south and Pisa in the west and cover an area of about 100 square miles.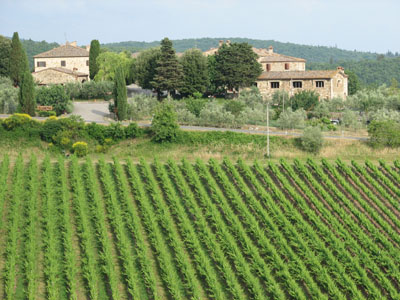 Vineyards at Rocca delle Macie
In 1716, the Grand Duke of Tuscany Cosimo the 3rd established with an edict the boundaries of the Chianti wine's production zone. That proclamation is the first legal document in history delimiting a winemaking area. It was a forbear of the DOC (Controlled Denomination of Origin). As the phylloxera epidemic swept over Europe there was a new interest in Chianti. In May 1924, a group of 33 vintners in Chianti assembled at Radda in Chianti to establish a voluntary association to defend and promote their wine. They adopted the name Consorzio per la difesa del vino tipico del Chianti ("Consortium for the defense of the typical wine of Chianti" and its brand name of origin) and now it is known as the Consorzio Vino Chianti Classico.

Chianti Classico region of Tuscany, Italy
In 1932 the Chianti region was delimitated to its current 173,000 acres. Of the 25,000 acres of vineyards about 17,500 are destined for Chianti Classico DOCG. There are also 20,000 acres of olive plantations. Oak and chestnut forests cover 2/3 of the area. The soil is galestro, layered limestone and sandstone, with much clay and chalk. It has a continental climate with 23°-25° F degrees the low temperature and 86°-95° F the high. The region receives 27 to 31 inches of rain. The altitude ranges from 820 to over 2,000 feet. The wine produced there was given the suffix Classico to distinguish the original, from the other Chianti wines made outside the historical production zone.

In fact, by order of the ministerial decree of 1932, the territory for the production of generic Chianti wines was divided into six new zones, with Classico being one of them. Only after decades of its tutelary consortium's endeavors to get exclusive recognition for Chianti Classico, official approval was given in 1996 for separate production rules for the Chianti Classico appellation, transforming Chianti Classico from a sub zone in the "Chianti" denomination to an independent denomination.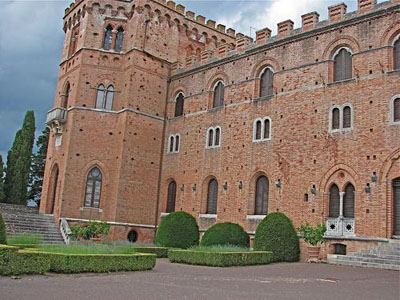 Brolio Castle

The decade of the 1950's, after the Second World War ended, was not a good time for Chianti. The wines that were being produced at that time were of such poor quality, that the consensus among the residents was to turn the vineyards into grasslands. At that time, there were only 4 most famous vintners that produced Chianti Classico Wines - Antinori, Brolio, Frescobaldi, and Ruffino. Almost all of the other wine makers sold their product in bulk.

The 1960's saw the Chianti Classico wine industry in a state of transition. Numerous tenant farmers in the area were walking away from their land to find jobs in town while the larger land owners were selling off their farms to new residents that relocated to the area. Some of these new landowners re-planted the vineyards using the coltura promiscua, which means that rows of grain and olive trees were alternated between rows of grapes. At the time, most Chianti was shipped in squat bottles enclosed in the familiar straw basket, known as a fiasco. Now, the majority of Chianti is bottled in conventionally shaped wine bottles.

Sangiovese grapes
In 1984, DOCG status (highest rank for premium Italian wines) was awarded to the Chianti Classico Wine region. Basically, this required that the wines had to be approved by a tasting panel. A Chianti Classico may be made from a minimum of 80% Sangiovese grapes (up to 100%). The other 20% can be native red grapes such as Canaiolo and Colorino or international varieties such as Merlot or Cabernet Sauvignon. Beginning with the 2006 grape harvest it was no longer permitted to use white grapes such as Trebbiano or Malvasia, formerly allowed to a maximum of 6%.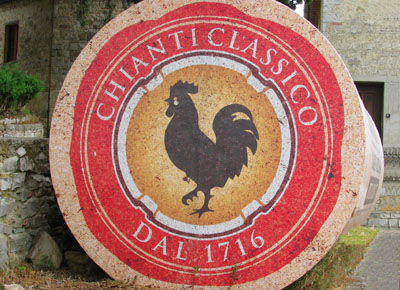 Chianti Classico crest
In 2005 the Black Rooster trademark (previously the symbol of the Consortium members) became the emblem of the Chianti Classico appellation and made compulsory on all bottles of Chianti Classico. To be labeled Riserva the wine has to have alcohol of 12.5% and been matured for a minimum of 24 months, at least 3 of which is in bottle. There are 570 Chianti Classico Consortium members. The US with 27% is the number one market, with Italy at 24% followed by Germany at 12%. In 2014, production of Chianti Classico was over 7.1 million US gallons (35 million bottles). Every year in early June the Chianti Classico Black Rooster Festival includes music, art, history, food, and of course wine tastings.

Recommended Chianti Classico wine producers:
Antinori, Bandini, Banfi, Barone Ricasoli, Bibbiano, Borgo Scopeto, Caparsa, Castello di Brolio, Castello de Monsanto, Castello di Tornano, Castello di Verrazzano, Castello di Volpaia, Don VincEnzo, Felsina, Fontodi, Rocca delle Macie, Ruffino, and Villa Cerna.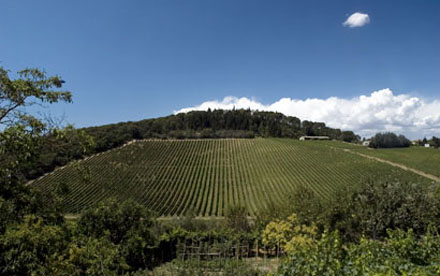 Tignanello Estate Vineyards
Super Tuscan is a marketing term used to describe wines that don't follow the official DOC/DOCG rules for the particular region. These rules specify where the grapes must come from, what grapes must be used, sometimes how long they must be aged, in order to be called Chianti or Chianti Classico. In the 1970s some producers (notably Antinori) started making wines which didn't follow these rules, because they were using other grapes (Cabernet Sauvignon, Merlot and Syrah instead of Sangiovese). As a result they could only be designated as vino de tavola (table wine), the lowest designation in the Italian system. A Super Tuscan can contain anything and indeed can have no Sangiovese. Now they've come up with a new designation, IGT -Indicazione Geografica Tipica to indicate a higher level of quality wine than vino da tavola but which doesn't follow the DOC/DOCG rules. Super Tuscan labels can have information as to region (i.e. the label on Sassicaia will say Bolgheri) but they cannot carry the official DOC/DOCG designations of Chianti, Brunello di Montalcino, etc.

Super Tuscan varieties:
Ornellaia is mainly Cabernet Sauvignon with some Merlot, Cabernet Franc and a touch of Petit Verdot. (Tenuta dell'Ornellaia)
Sassicaia is 75% Cabernet Sauvignon, 25% Cabernet Franc. (Tenuta San Guido)
Solaia is 80% Cabernet Sauvignon, 20% Sangiovese. (Antinori)
Tignanello is 80% Sangiovese, 20% Cabernet Sauvignon. (Antinori)

Super Tuscans can cost $40 to well over $100 per bottle. I have enjoyed many Chianti Classico Riservas that are the equivalent to their Super Tuscan cousins.
For more information:

The Italian Institute for Foreign Trade
Consorzio Vino Chianti Classico





Disclaimer: This section of the website is intended for visitors 21 years of age and older.
If you are not of legal drinking age, please exit by clicking here.

Please drink responsibly!
Comments or questions welcome, please e-mail to: Ron@TheFiftyBest.com