Wining, Dining & Touring in California's Central Coast
Part 2
In Part 1 I covered the Central Coast from the San Francisco Airport south through San Jose, Santa Cruz, Gilroy, Monterey, Carmel, Big Sur, Paso Robles, Hearst Castle & back to the airport. Less than three months later I was on my way to Los Angeles, Oxnard, Ventura, Santa Barbara, Solvang, Santa Ynez, San Luis Obispo & back to Los Angeles. At my farthest point in San Luis Obispo I was only 27 miles from my farthest point during Part 1. Much of the technical wine information can be found by reading Part 1 and I did not want to waste your time by repeating that information here.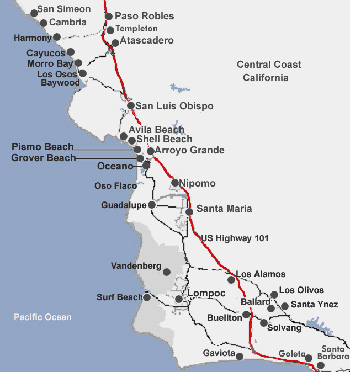 My first stop was less than an hours' drive at Herzog Wine Cellars in Oxnard. Specializing in artisanal winemaking and special reserve wines that happen to be kosher. I ate lunch at the Tierra Sur restaurant on property that serves seasonal Mediterranean cuisine. The city of 200,000 is the largest in Ventura County and is California's largest strawberry producer. With 20 miles of mostly uncrowded coastline Oxnard serves with adjacent Ventura as the Gateway to the Channel Islands, famous for hiking and 2,000 plants & animals. We visited the tasting room of Rancho Ventavo Cellars located in a 1902 house within Heritage Square. This city block has relocated historic houses, which are now used for business and fun, and also has free Friday night concerts.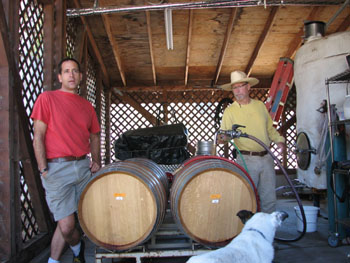 Old Creek Ranch Winery and the skateboard riding dog
It was a short 30 minute drive to Venturas where I had only 4 hours. We did have time to taste wine at Old Creek Ranch Winery and watch their skateboard-riding dog. It is located 7 miles north of Ventura on a working cattle ranch in Ojai Valley. Lunch was on Main Street at Jonathan's, located in a building built in 1877. The menu was a blend of cooking styles from many Mediterranean countries. Stopped for a glass of wine at The Wine Rack, and also Paradise Pantry, both of which have a large selection of Ventura County wines. In an hour I arrived in Santa Barbara for my two-day visit.



Santa Barbara Harbor coastline
Santa Barbara is called "The American Riviera" and is home to 93,000. If you include Montecito (check out the Four Seasons Hotel) & Carpinterra, there are over 200,000 in the Metro area. The waterfront area along Stearns Wharf, the west coast's oldest operating wharf has the famous Dolphin Fountain up front.

The next day I had lunch at Pierre Lafond Wine Bistro and learned that there really is a Pierre Lafond. He and his wife own several high-end fashion boutiques, and operates the Santa Barbara Winery as well as a market in Montecito. His winery was originally opened in 1962 and was the first opened in the county after prohibition. Dinner was at Stella Mare's in the Greenhouse overlooking the Bird Refuge featuring casual French country cuisine. I was there for live jazz Wednesdays. I took the self guided Red Tile Walking Tour throughout downtown and visited several tasting rooms on the Urban Wine Trail.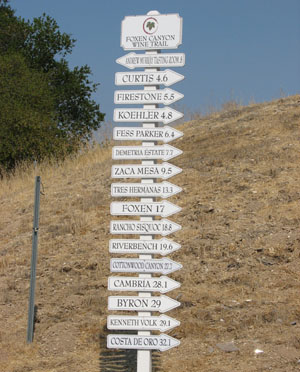 Foxen Canyon wine trail sign
I drove along the narrow and winding San Marcos Pass Road (State Road 154) through the Santa Ynez Mountains with large portions of the mountain range in the Los Padres National Forest toward Solvang and the Santa Ynez Valley. I stopped in the town of Santa Ynez to have lunch and a tour of the area with Jim Fiolek, the Executive Director of the Santa Barbara County Vintners Association. We stopped at the Chumash Casino Resort and he pointed out the various wine trails I could visit. I stopped to admire the Quicksilver Miniature Horse Ranch in Ballard. I took a peek at Michael Jackson's Neverland Ranch. Currently closed to the public, the ranch is located about five miles north of unincorporated Los Olivos, and about eight miles north of the town of Santa Ynez. I picked up a Sideways Map and decided to visit several of the locations featured in the 2004 movie. I stopped at The Hitching Post & Ostrich Land, both in Buellton; Los Olivos Café, Foxen, Firestone & Fess Parker wineries in Los Olivos and Kalyra Winery in Santa Ynez.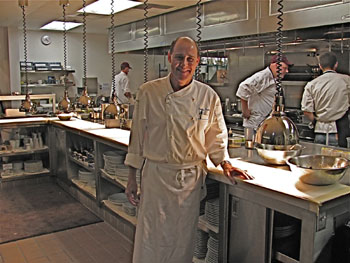 Chef Bradley Ogden

I met celebrity chef (is there any other kind? think super model?) Bradley Ogden, (I have eaten at his restaurants in Las Vegas and San Francisco). Root 246 in the renovated, Chumash Indian owned Hotel Corque, (remember this is wine country) demonstrates his farm-to-table style of cooking. The only thing kept in the freezer is ice cream. He told me he spends at least two weeks a month here. Solvang is the Danish Capital of North America and means "sunny fields" in Danish. More than 200 European-style shops and bakeries and several wine tasting rooms. Tastes of the Valley Wine Bar had 140 wines from the area available for purchase. I spent a few minutes at the Hans Christian Andersen Museum a block from the Little Mermaid Fountain. Santa Maria Valley, Santa Ynez Valley and Santa Rita Hills appellations are the three AVAs (American Viticultural Area) in Santa Barbara County. There are over 100 wineries in the county and five existing wine trails. I visited the Foxen Canyon Road, Santa Ynez, Los Olivos, Santa Maria Valley, Solvang and Santa Rita Hills trails. Father Junipero Serra brought grapevine cuttings from Mexico in 1782 to be planted in the fertile bottoms of Sycamore Creek. The largest mission vineyard, about 25 acres, was located in the San Jose Creek area, and an adobe winery, built nearby in 1804, is now Goleta's oldest landmark. In 1884, Justinian Caire imported grape slips from France and planted a 150-acre vineyard on Santa Cruz Island. A grapevine planted in 1842 on a farm in Carpinteria has a trunk measuring nine feet around, an arbor covering two acres and an annual yield of ten tons of grapes.

The next morning I had an appointment with Brook Williams the CEO of Zaca Mesa Winery on Foxen Canyon Road. Zaca Mesa is a Santa Ynez Valley estate winery, opened in 1973, dedicated to Rhone varieties. All the wines are made from grapes grown on 244 acres of vineyards and are designated as Estate Bottled. In an hour I arrived at my farthest point- San Luis Obispo- 200 miles north of LA. Lunch was at the Cracked Crab in Pismo Beach and I tried to have a light meal. Good luck with plate after plate of delicious seafood appearing on the table. I was ready for a nap but duty called and we started a tour of Pismo Beach. It is known as the "Clam Capital" of California.

Midway between San Francisco and Los Angeles, the SLO (that's what the locals call it) wine region is comprised of three viticulture areas: the Edna Valley, Arroyo Grande Valley and Avila Valley. The small, mostly family-owned wineries are well known for their bottling of Pinot Noir, Chardonnay, Syrah, Grenache, Viognier, Zinfandel and more. The marine influence of the nearby Pacific Ocean provides a mild summer and warm fall, resulting in an unusually long growing season. Combined with the region's rocky volcanic soils, these growing conditions produce fruit with intense varietal character and complex flavors. San Luis Obispo County is the fourth-largest premium grape-growing region in Coastal California, just behind Sonoma, Napa and Monterey counties but ahead of southern neighbor Santa Barbara County. Over the past 20 years, vineyard acreage in San Luis Obispo County has increased to 29,000 acres. By comparison Santa Barbara County has 18,000 acres, Napa- 44,000 & Sonoma- 58,000. As of my visit there were 220 wineries with the most Syrah acreage in all of California. Attending the tasting at Tolosa were: Baileyana Winery, Claiborne & Churchill Vintners, Edna Valley Vineyard, Ortman Family Vineyard, Stephen Ross Wine Cellars, Tolosa Winery and Wolff Vineyards. We managed to catch a few minutes of the free Friday night Concert Series at Mission Plaza and enjoy a cocktail at Corner View Restaurant on the way to dinner at Ciopinot Restaurant with Bob Schiebelhut, co-owner of Tolosa Winery and several other wine people. Bob and I spent most of the evening talking basketball (he played guard at Cal Berkeley). What I admired about the restaurant, besides the food, was the no corkage charge policy.

Morro Bay
My last day in the Central Coast I was given a tour of Morro Bay. The famous Morro Rock was named in 1542 by Portuguese navigator Juan Rodríguez Cabrillo who called the rock El Moro because it resembled the head of a Moor, the people from North Africa known for the turbans they wore. Much of Morro Bay is a state wildlife refuge. There is no public access to the rock itself because it is a reserve for the locally endangered peregrine falcon. A number of restaurants, shops and parks line the Embarcadero and shoreline.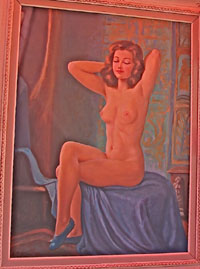 Edna of Edna Valley
My last meal was at Old Edna's where owner Petia Torrence showed me a painting of the topless Miss Edna who was rumored to be a prostitute that greeted men getting off the railroad where Old Edna now stands. This was also a tasting of unique & emerging varietals in the Edna Valley & Arroyo Grande AVAs. Attending were: Claiborne & Churchill, Sausalito Winery, Sextant, Tangent & Trenza. I asked if any of the wineries did a topless bottling. Don't wait for the answer!

It took me less than 4 hours to get back to LA and I was homeward bound. On both my trips, three months apart, I had great weather, never got stuck in traffic and tasted wines that would make Napa & Sonoma take notice.
Disclaimer: This section of the website is intended for visitors 21 years of age and older.
If you are not of legal drinking age, please exit by clicking here.

Please drink responsibly!
Comments or questions welcome, please e-mail to: Ron@TheFiftyBest.com