Don't see your favorite?
Make a suggestion.

Flavored Vodka 2013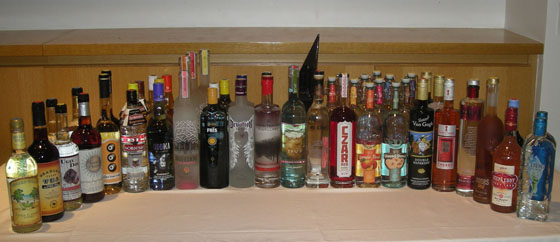 The Tasting:
The Fifty Best held a "blind" tasting with 17 pre-qualified judges for 52 flavored vodkas in five separate categories: Citrus, Fruits, Tea/Espresso, Cake/Candy, and Misc/Spice. The judges were informed of the categories and flavors, but not the brands. Strict tasting rules were applied. The order of service was established beforehand by lottery. Each of the flavored vodkas were poured into fresh glasses from new sealed bottles, and served at slightly above room temperature. Only ice water and neutral, unsalted chips and crackers were available to cleanse the palate.

The judges wrote down their impressions of each product on score sheets. The scoring was done on a 5-point system, with 5 as the best. Double-Gold, Gold and Silver medals were awarded based on a set range of final point scores received from the judges. There were no Bronze medals awarded for this tasting.

The tasting notes that follow are summaries of the judges' opinions, with all replicated commentary eliminated. The countries of origin are identified for each brand.
Flavor Categories:
Deep Eddy Red Grapefruit
U.S.

Ruby red grapefruit, tart, crisp, flavorful, beautiful aroma, refreshing, delightful, delicious.

Double Gold Medal

FRIS Citrus
Canada

Lemon, light meringue, lemon zest, subtle orange peel, easy drinking.

Gold Medal

Belvedere Citrus
Poland

Orange and lemon oil, orange, grapefruit, citrus wildfire, pleasant, smooth, balanced, tart lemon finish, refreshing, dynamic, easy to drink.

Gold Medal

Local Choice Citrus
U.S.

Lemon drop, spicy grapefruit, lemon, hint of lime, floral, lightly flavored, just enough sweetness, refreshing.

Silver Medal

360 Georgia Peach
U.S.

Nice peach aroma and flavor, Peach-O's, honey, floral, tasty, full bodied, crisp, refreshing, delicious.

Double Gold Medal

Moses Date
Finland

Definitely date, honey, vanilla, raisin, hazelnut, very smooth, balanced, unique, sipable, very nice, party on your palate, delightful.

Double Gold Medal

Van Gogh Acai-Blueberry
Holland

Blueberry Hubba Bubba, fruit roll-up, full bodied, balance of flavors, enjoyable.

Double Gold Medal

360 Sorrento Lemon
U.S.

Lemon oil, sweet lemon, lemon-lime, lemongrass, lemon candy, Fresca, honey, ginger, peppery, good balance of sweet and spice.

Gold Medal

FOU-DRÉ
(Pomegranate-Ginger)
U.S.

Ginger, tart, spicy, balanced flavors, nice flavor combination, smooth, refreshing.

Gold Medal