THE BEST OF SONOMA WINE COUNTRY

Walking, Driving, Eating, Drinking & Touring Through Sonoma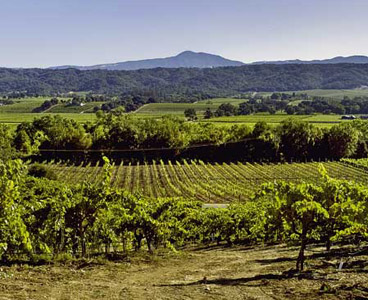 Sonoma hills and vineyards
I decided to spend a few days in Sonoma County renewing acquaintances and seeing what had changed since my last visit there three years ago. My Sonoma five-day tour included vineyard walks in five separate Sonoma appellations: Alexander Valley, Dry Creek, Russian River, Rockpile and Sonoma Valley. By doubling up the walk, I was able to experience all these areas in three days.

I walked and tasted wines at: Truett-Hurst Winery, Michel-Schlumberger Winery, Rockpile Vineyards, Alexander Valley Vineyards, Gloria Ferrer Winery, Silver Oak Cellars, Rodney Strong Vineyards, Paul Hobbs Winery, Saralee's Vineyard and Sebastiani Vineyards and Winery. Principals and winemakers were present to conduct each walk and tasting. I also had lunches at the vineyards or wineries. More Sonoma wineries to visit.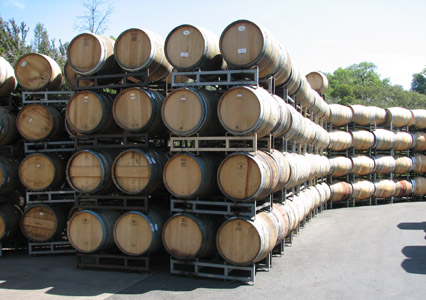 Wine casks at Alexander Valley Vineyards
Sonoma County draws over seven million visitors a year and starts less than 30 miles north of San Francisco's Golden Gate Bridge. With a population a bit under 500,000, the county is home to 13 American Viticultural Areas (AVAs or appellations). There are 350 wineries (250 open to the public) 1,800 grape growers and 64,000 acres of vines. To put it in perspective&ndash: one acre of grapes gives you 3,958 bottles of wine. There are 72 varieties of wine grapes grown with Chardonnay, Cabernet Sauvignon, Sauvignon Blanc and Pinot Noir leading the list. I have my favorite wineries, but my suggestion is plan a four or five day trip and spend two days in the Geyserville area; two in Santa Rosa and one in Sonoma. Or, use Santa Rosa as your central base for the whole trip. Start driving, walking, drinking and touring. Don't forget the designated driver!

Favorite Sonoma Restaurants:

John Ash & Co.- Santa Rosa- 750 wines
Charlie Palmer's Dry Creek Kitchen- Healdsburg- 650 wines
Equus- Santa Rosa- 290 Sonoma wines
Farmhouse Inn Restaurant- Forestville- 650 wines
the girl & the fig- Sonoma- 93 wines
Madrona Manor- Healdsburg- 430 Mostly Californian wines
Rustic- Geyserville- 93 wines, many from Coppola's wineries
Santé- at the Fairmont Sonoma Mission Inn & Spa, Sonoma- 500 wines
Scopa- Healdsburg- 80 Italian & Californian wines
SingleThread Farm Restaurant- Healdsburg- Eleven-course tasting menu with wine pairings. Extensive wine list focusing on rare California wines.
ZAZU- Sebastapol- 80 Californian & International wines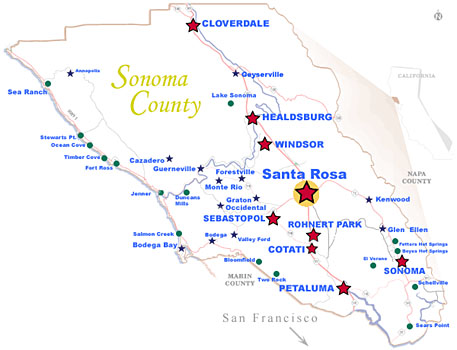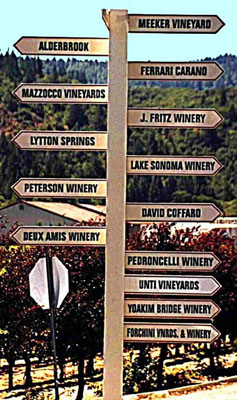 Favorite Sonoma Towns & Places to Visit:

From Sonoma and up Route 12 through Boyes Hot Springs and Glen Ellen. Walk the Sonoma Square; look at the very old and large wooden casks at Sebastiani; Sonoma Mission Inn for a spa treatment.

Santa Rosa- Largest city in Sonoma. Hilton Sonoma Wine County Hotel; Charles Schulz Museum & Ice Rink; Historic Railroad Square for dining and playing; Luther Burbank Home & Gardens

Healdsburg- Walk the Square; take a cooking class at Relish Culinary School; visit the Gallo Family Vineyards tasting room

Geyserville- The Pomo Indian's River Rock Casino

Petaluma- Village Premium Outlets

Freestone- Osmosis Spa- Cedar Enzyme Bath; Bohemian Highway, a 10-mile scenic drive

Jenner by the Sea- Russian River flows into the Pacific.

Bodega Bay- The Tides Wharf & Restaurant

Sebastopol- Apicius - The Culinary Institute of Florence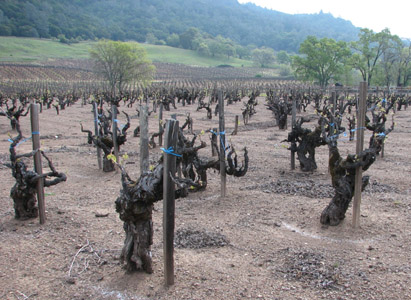 150-years old vines
"I love Napa ; I used to work there. You can spend three days in Napa and a lifetime in Sonoma. Our goal is not only to get visitors to Sonoma County but also to get them into the vineyards. Our organization represents 1,800 wine grape growers in Sonoma County. We believe when wine drinkers know how and where our grapes are grown, they will have a greater appreciation for Sonoma County." - Larry Levine, VP Communications, Sonoma County WineGrape Commission.

For More Information:

Sonoma County
Sonoma Wine
Sonoma WineGrape Commission
Zephyr Adventures
Visit Santa Rosa
Geyserville Inn
Flamingo Resort




Disclaimer: This section of the website is intended for visitors 21 years of age and older.
If you are not of legal drinking age, please exit by clicking here.

Please drink responsibly!



Comments or questions welcome, please e-mail to: Ron@TheFiftyBest.com