Champagne, Taittinger & Reims

The lore of champagne is filled with courageous acts and bold people. Napoleon was a great lover of champagne and personally protected his favorite champagne house from invading armies. Churchill used champagne to elevate his spirits during England's "darkest hours" of World War II and today has a prestige cuvée named for him. The pop of the champagne cork was heard resounding through James Bond's greatest adventures.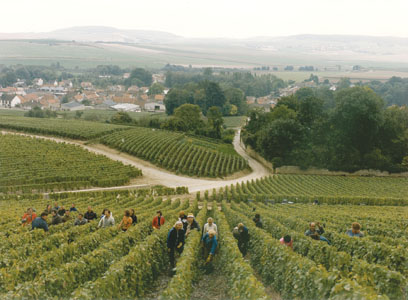 The first wine was made in Champagne about 2,000 years ago. Champagne was already famous in the middle age. But it was not the same wine we use to drink these days. At that time, wine was red or white not sparkling, quite similar to wine from Burgundy.

People used barrels to ship their wines. They noticed that the next spring season following the harvest, the wine tended to foam. It was not good for business. The first Champagne was made in the 17th century. A monk called Dom Perignon was the first to understand the process of Champagne fermentation. He managed to mix red and white grapes from different villages and therefore perfected the way winemakers used to produce sparkling wine. He also invented the cork closure system to stop the bubbles from dissipating as well as produced stronger glass to strengthen the bottles and stop explosions.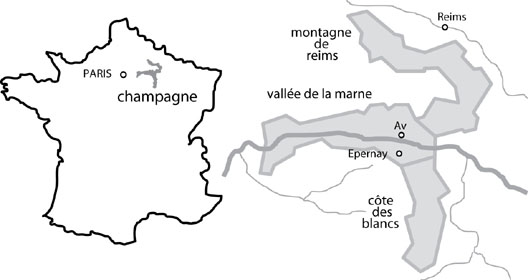 Located 90 miles east of Paris, the Appellation "Champagne" applies only to the wines produced in the Champagne region of France, whose two main cities are Reims and Épernay. The three main grape varieties used in the production of Champagne are Chardonnay, Pinot Noir and Pinot Meunier. There are also limits on yields, pruning, the height, the spacing and the density of the vines, to ensure harvesting by hand and measures have been taken to lengthen the minimum aging time to 15 months for Non-Vintage Champagnes and up to 3 years for Vintage wines.

French law prescribes that all sparkling wines created in that area must undergo a special process called the traditional or champagne method. The French term is méthode champenoise. Champagne alternatives produced in other parts of the world in accordance with the méthode champenoise are referred to as sparkling wines.


Some of the rules in producing quality Champagne:
- Champagne must come only from the region of Champagne in France.
- Grapes must be picked exclusively by hand.
- Yields are limited.
- Minimum period for aging of non-vintage champagnes is 15 months, and 36 months for vintage.
- Only 80% of a year's harvest can be used to make champagne. The remainder must be kept as reserve wine for future blends.
- The label must mention the word "champagne".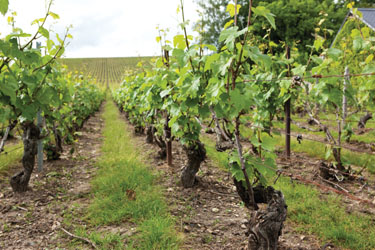 Champagne grape vines
Pinot Noir, a black grape variety with white juice gives Champagne their aromas of red fruits, as well as their strength and body. Pinot Meunier, another black grape variety with white juice, gives Champagne its roundness and fragrance. Chardonnay, a white variety provides finesse and floral overtones. Champagne labeled Blanc de Blancs means only Chardonnay is used. Blanc de Noirs on the label means only Pinot Noir and Pinot Meunier are in the blend.

Brut Non Vintage (about 85% of the total sold) is the wine most representative of a producer's style. It is a blend of wines from multiple years. Vintage Champagne is produced exclusively from the wines of a single harvest. It must be 85% or more of that year and is declared only in exceptional years. Rose Champagnes are produced by either macerating the black grapes or by adding a small amount of still red wine to the blend. Special Cuvees, whether vintage-dated or not, are made from the most subtle and distinctive wines. Demi-Sec Champagnes have a slightly sweeter taste. Extra-Dry Champagnes, despite the name, are not as dry as Brut. Prestige Cuvée or Tete de Cuvee Champagne is a proprietary blended wine that is considered to be the top of a producer's range.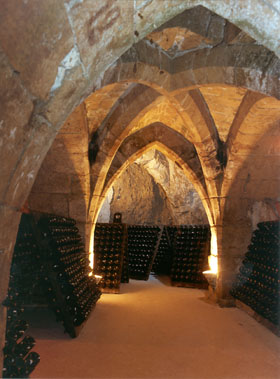 Taittinger Champagne chalk cellars

How Champagne is made
1. Alcoholic Fermentation- The conversion of natural sugar into alcohol, the grape juice turns into still wine.
2. Assembling the wine- Liquid from different harvests, and different areas are blend together.
3. Bottling- The Champagne is put in bottle with yeast and sugar.
4. Secondary Fermentation- The yeasts turn sugar into alcohol and CO2. The carbon dioxide (CO2) cannot escape from the bottle and is dissolved in the Champagne, forming the bubbles.
5. Maturation- Champagne bottles are stored horizontally in natural cool and dark chalk cellar for 15 months to 3 years, or more for Prestige Cuvees.
6. Dégorgement- During maturation, the winemaker rotates the bottles every day to move the sediment (lees) toward the cork. The neck of the bottles is dipped in a freezing solution, turned right side up and the sediment shoots out. The bottles are then topped off and the aging process begins.

People often don't realize that quality Champagne can age for many years. While most non-vintage wines are released when ready to drink, many of the vintage and Prestige Cuvees can hold or even improve for years after release. Most vintage wines will definitely improve with age in a cool cellar.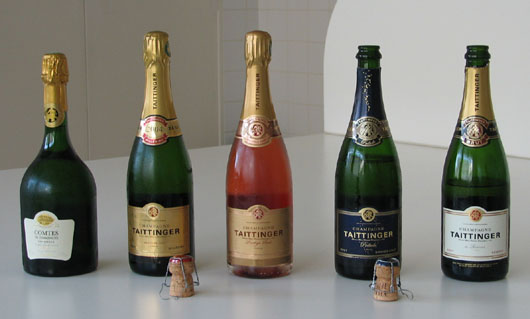 Taittinger Champagnes
Here's how to correctly open a bottle of Champagne:
You've seen it in the movies many times. Someone pops the cork and foam sprays all over the place. Well, that looks great on film but in real life, this technique ruins the champagne.

First, remove the foil and the wire cage from the cork. Now, hold the cork with your left hand and turn the bottle counter clockwise with your right hand. The cork will slip out with the slightest wisp of noise. The bubbles will stay in the bottle where they belong and your drink will taste the way it was meant to. Pour gently down the side of a tall glass to preserve the fizz and the flavor. Don't open the bottle until you're ready to drink it, and always serve Champagne cold (39°F).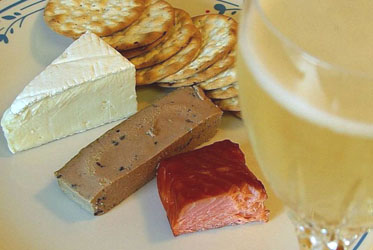 What do Champagnes taste like and what foods do you eat with them?
In general, Champagnes are bright, intense and flavorful, with a lively acidity and sparkle. However, while some may be lean, tight and crisp, others are rounder, fatter and more lush. The great majority of champagnes are Brut, but some are very dry with little sugar added, such as Brut Nature or Extra Brut, while others have an added dosage of sugar to give them a bit more sweetness and softness. Some are very sweet with high levels of dosage (such as Demi-Sec or Doux). Because of the yeast fermentation in the bottle, many have a toasty, yeasty quality to their aromas and flavors that some describe as "yeasty" or "doughy". The richer wines can also often have a buttery quality. Combined with the yeasty, doughiness they can almost be like a nicely buttered toast. The best have a silky elegance to them, with complex aromas and bright lingering flavors.

Although Champagnes are often simply used for toasts and celebrations, there are many uses for these sparkling wines when entertaining. Champagne is the principal ingredient in making sparkling champagne cocktails. Champagne makes outstanding and elegant aperitifs. They can accompany everything from shellfish like oysters on the half shell to baked fish and poultry. They are also great with Asian cuisine such as sushi and spicy Indian fare. There are some foods that are natural and perfect combinations with Champagne such as caviar, oysters, shellfish, and salmon. Try Champagne with turkey, sausages, smoked fish, poultry, pâté, foie gras, dim sum and roast lamb. Also, mild creamy soft cheeses such as brie, camembert and triple crème. Sweet desserts are a difficult pairing with any wine that isn't also sweet, but fruit desserts, gelato, light cakes and soufflés can be enhanced by full-bodied champagne.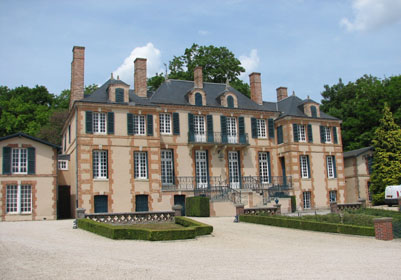 La Marquetterie Castle
The origin of Taittinger can be traced to 1734, when Jacques Fourneaux established a family Champagne business making Taittinger the third oldest champagne house. His son, Jérôme, succeeded Fourneaux who as well as looking after the family business, was also advisor to the veuve (widow) Clicquot. Around 1912, Pierre-Charles Taittinger was running a business involved in the distribution and export of champagne with one of his brothers-in-law. A young cavalry officer during the First World War, he made his first visit to the 13th Century Château de la Marquetterie near Épernay. Its vineyards were planted partly with white "Chardonnay" grapes and partly with red "Pinot", giving the vineyards the appearance of a huge chessboard in the weeks leading up to the harvest. In 1932 Pierre Taittinger succeeded in acquiring this great residence. He decided that Chardonnay was to be the dominant grape for the brand.

At Vitalie Taittinger in its garden, Pierre-Emmanuel said, "We prefer to produce fewer bottles of champagne so that each one, the moment the cork is popped, delights, enchants and demonstrates that excellence is not myth but reality."

The house style at Taittinger is Chardonnay oriented, elegant with creamy richness. The range of wine includes several vintage and non-vintage cuvees, including the Brut Réserve, Taittinger Demi-Sec, Prelude, Taittinger Nocturne, Brut Millésime, the prestige cuvée Comtes de Champagne Blanc de Blancs, and Comtes de Champagne Rosé.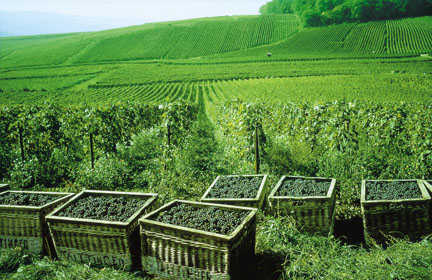 Grape baskets in the vineyard
Other great Champagne houses including large, medium and boutique producers:
Billecart Salmon, Bollinger, Bruno Paillard, Deutz, Egly-Ouriet, Gosset, Heidsieck & Co Monopole, Krug, Laurent-Perrier, Louis Roederer, Perrier-Jouet, Pierre Peters, Pol Roger, Pommery, Ruinart, and Veuve Clicquot.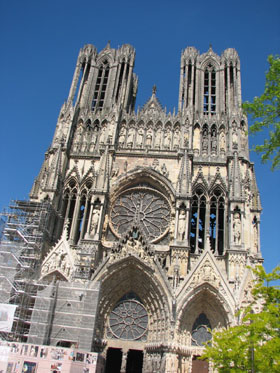 Cathedral of Notre-Dame, Reims
Visiting the Champagne Region:
Reims or Rheims, the center of the Champagne industry, is 45 minutes east-northeast of Paris and 30 minutes from Epernay. Its population of 188,000 is much larger than the 30,000 people living in Epernay, It was the ancient capital of the Gallic tribe of the Remi, and was conquered by the Romans. In the 5th century the Frankish king Clovis was baptized there, and in honour of this occasion, most of the later French kings were crowned in Reims. In Notre Dame Cathedral (13th-14th cent.), Joan of Arc stood next to Charles VII when he was crowned in 1429. The Cathedral is a monument of French Gothic architecture. During World War I, heavy bombing, which nearly leveled the city, destroyed the interior, including most of the irreplaceable stained-glass windows. Restored, partly with funds from the Rockefeller Foundation, the Cathedral was reopened in 1938. It is a UNESCO World Heritage Site and was the scene of 25 coronations and contains 2.300 statues, plus Chagall stained glass and a panel depicting the history and production of Champagne. Think Westminster Abbey. The town hall (17th century) and the old Church of St. Remi (11th-16th century) were also gravely damaged. They are also UNESCO World Heritage Sites. The other UNESCO Site is Saint-Remi Museum, adjoining the Basilica. It is devoted to history, architecture, tapestries and military history. In World War II, On May 7, 1945, German emissaries signed the unconditional surrender of Germany at Allied headquarters in Reims.

Other sites worth visiting are the Vine Museum showing the history and making of Champagne. The Museum of the Surrender, behind the railroad station has an intact replica of General Eisenhower's map room where the German's surrendered. The Museum of Fine Arts has works from the 15th-20th Century.

Reims is a very walkable city (once they finish the trolley) and has many pedestrian only streets. Below ground are the chalk caves and tunnels from the Roman period where the Champagne is aged. The Amazing Race was filmed in Reims by the statue of Joan of Arc and in the offices of Taittinger, and Chateau de la Marquetterie's surrounding vineyards.

For More Information:

Turisme France
Office of Champagne USA
Champagne Pages
City of Reims





Disclaimer: This section of the website is intended for visitors 21 years of age and older.
If you are not of legal drinking age, please exit by clicking here.

Please drink responsibly!
Comments or questions welcome, please e-mail to: Ron@TheFiftyBest.com