San Diego - America's Beer Capital
Craft Breweries - Part 2
by Max Stavis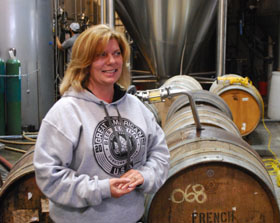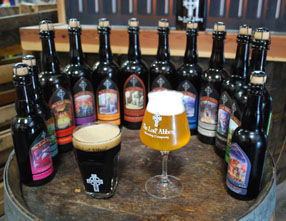 Gwen Conley, Lost Abbey microbiologist works with wild yeast strains. Lost Abbey beers available at the brewery.
The Lost Abbey/Port Brewing Company

Vince and Gina Marsaglia started the Pizza Port brew pubs in Solana Beach, California during 1987. The next brew pub popped up later that year in Carlsbad, and 2003 saw the Pizza Port San Clemente open as well. In 2006, Arthur Tomme, Head Brewer of the Solana Beach Pizza Port, along with the Marsaglia family and Jim Comstock split from the Pizza Port brand name and started the Port Brewing/Lost Abbey located in the old haunts of Stone Brewing Company in San Marcos, California. The Lost Abbey is a separate brewing project that strives to create unique Belgian-inspired ales.

Hospitality Manager Kevin Hopkins states, "We're very proud to be one of the largest breweries in San Diego, but we don't look at our size as an indictor of the brand. We're very boutique and very niche— both the Port Side with the West Coast style ales, as well as the Lost Abbey side getting into the Belgian influenced and inspired beers. The barrel program is very unique, eclectic and diverse." The Belgian-style barrel aged beers are produced using 11-13 different kinds of barrels and usually one or more combinations of Brettanomyces yeast strains that cellar master and microbiologist Gwen Conley intensely monitors. Lost Abbey's giant 10,000 square foot barrel-aging warehouse accommodates 850+ barrels.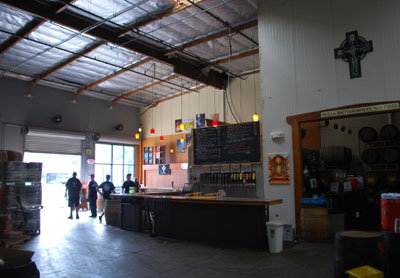 Lost Abbey's bar area interior.
Above the door of Lost Abbey's tasting room is the inscription, "In Illa Brettanomyces, Nos Fides," Latin for "In Wild Yeast, We Believe…". Here is where you can sample their barrel aged beers, and get a peek at one of their small barrel rooms. A good example is Red Poppy, a 5.5% take on the Flanders Red Ale. Sour cherries are added to a brown ale base before aging in over 68 different varieties of used wooden barrels. On the last batch, only 48 of these barrels are used to create the blend that is Red Poppy. All of the Lost Abbey beers are unique since they are all individualized blends from distinctly selected barrels of choice.

Lost Abbey recently released an Ultimate Box Set designed like a classic rock concept album. "Tracks 1-12" are beers that had been periodically released each month for the past year, and includes full sized album sleeves and artwork for each bottles' unique custom labels. Liner notes are included with each bottle in the specialty hand-made case and available only by a lotto drawing. Cost: $450. "All of that helps tell a story. That's why you see the original artwork, liner and label notes that go with all our beers. We're trying to provide an experience that's both sensory as well as visually appealing to all our patrons. San Diego is the hallmark of that", says Hopkins. "Vinnie from Russian River started down here, Tomme started at Pizza Port and everyone down here is really connected. In the San Diego beer scene it's very much a community thing. I think it's not like who makes the best IPA, but what great IPA am I going to drink today. Lost Abbey is indicative of the diversity and how eclectic the brewing culture is here in San Diego. We're not predicated to just one style." Lost Abbey currently distributes to 9 states, about 13 different markets and overseas to Europe.

The Lost Abbey / Port Brewing Company- 155 Mata Way #104, San Marcos, CA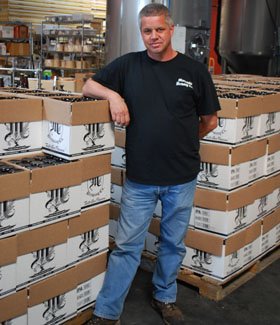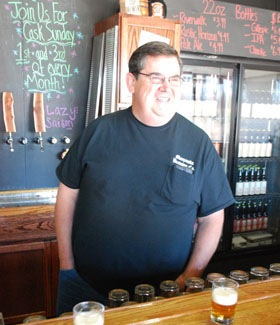 Manzanita brewer & co-founder, Garry Pitman with skids of bottles. Manzanita brewer & co-founder, Jeff Trevaskis in the tap room.
Manzanita Brewing Company

Garry Pitman and Jeff Trevaskis started homebrewing together about nine years ago when they were both employees of Kodak. In December of 2009, after years of business planning and equipment collecting, the two brewers decided to leave Kodak and start Manzanita Brewing Company in Santee, San Diego. Soon to celebrate their three year anniversary, the new 2000 barrel-a-year production facility supplies the San Diego beer market with bombers of their six core beers, along with a few special brews. "We have enough core beers that hit a wide audience. It's amazing, there are six core beers and people still come up to me and say they enjoy at least three or four of them. We have variety, everyone can find a beer here," Trevaskis says.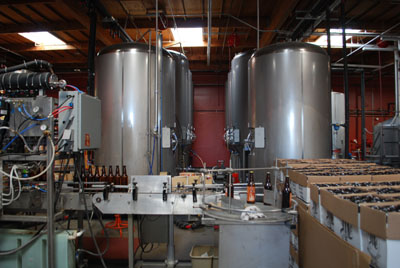 The inner workings of Manzanita Brewing Company.
Coming off a fresh bronze medal win in the Experimental Beer category at the World Beer Cup is their smoked rye ale, Where There's Smoke. Sitting at 7.4% ABV, a palpable heat comes off this dry, smoky ale brewed with chili peppers. Taste the River Walk Blonde, a 6% AB Kolsch-style ale with light, fruity flavors and balanced malt proportions. Pitman proclaims, "I call it a lawnmower beer. But it's really a nice introduction beer for some folks." A seasonal Pumpkin Ale is worthy of the hype. Witch's Hair Pumpkin Ale is a heavy hitter at 9.5% ABV and is brewed using tons of actual pumpkin flesh, not the canned stuff. Fresh spices complete a creamy and satiating Fall brew with a light mouthfeel and a surprising ability to conceal the alcohol.

Twenty-two ounce bottles fill San Diego and North County shelves, while libations will begin flooding into Riverside, Orange and San Bernardino counties. These two brewers are also on the cutting edge of the micro-distilling scene. They feel as if the spirits distilling scene is now where the home brewing industry was in the mid 1980's before it exploded in popularity. During the 2012 holiday season, a thousand-gallon still at Manzanita provided drink to many fortunate imbibing customers.

Manzanita Brewing Company- 10151 Prospect Avenue, Santee, CA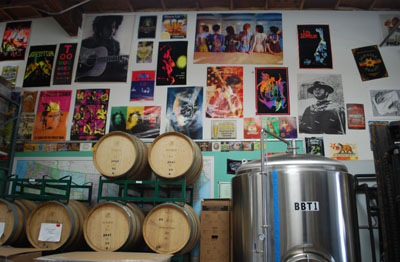 Interior wall of the production facility at Mother Earth Brewing Company.
Mother Earth Brewing Company

Mother Earth Brewing Company was founded in 2008 by three skilled brewers. In 2010, the trio moved their small homebrew supply shop from the brewery to a 6,000 square foot tasting room in downtown Vista. Their barrel-aging program began in the Spring of 2012. The Main Street tasting room is hooked up with exposed bricks and an open patio, enhanced with a vintage beer can collection, banners depicting artwork of the core Mother Earth beers, and rock 'n roll memorabilia. The piece de resistance is the long, modern bar with ten taps running a whole gambit of styles.

At the home base and current production facility, surrounded by vintage concert tour posters and record album art is where you will find Kamron Khannakhjavani, brewing while cranking rock 'n roll music. "The Main Street location is just going gangbusters. So we ramped up our brewing schedule, and we're going to hopefully get back on track for the distribution game soon," says Kamron. Distribution is now in place for selling 22oz bomber bottles of their core beers in the San Diego area.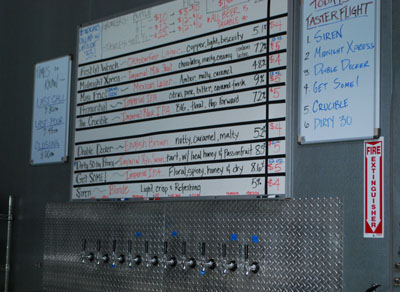 List of what's on tap in the Mother Earth Brewing Co tasting room.
Mother Earth will eventually release the Pin-Up Pale Ale, that Kamron describes as, "a really hoppy beer, which in any other country would be an IPA, but of course, it's a San Diego Pale." He goes on to describe Mother Earth's take on a style which has become the staple of the San Diego beer market. "San Diego Pale is basically taking a Sierra Nevada Pale Ale and amping it up to ten times the hoppiness." Kamron continues, "We actually use Chinook and Citra in our dry-hop, a best way to do a Pale Ale or IPA is keeping it really simple. The key to making it really great is a solid dry-hop schedule."

In the works is "Julie Andrews", a sour that started as a big, malty, barrel-aged English Old Ale. Also look for a new Berliner-Weisse, a collaboration with Lee Chase's Automatic Brewing Company. Another treat is The Cruicible, a 7.2% ABV Black Double IPA, swirling with tropical fruit aromas of hops and white labs yeast. A dark and stormy concoction that's a balanced blend of sweet, fruity and bitter.

Mother Earth Brewing Company- 206 Main Street, Vista, CA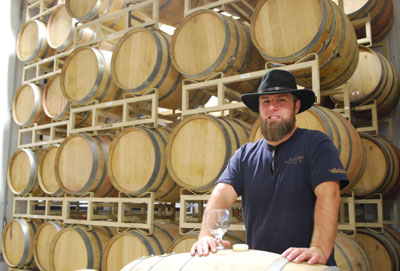 Travis Smith, brewmaster and co-founder of Societe Brew Co. in the barrel room.
Societe Brewing Company

Arriving at the Societe Brewing Company in San Diego is like being transported into a 19th century daguerreotype. The exterior is adorned with crawling hop vines, and the interior evokes an old-timey apothecary vibe. Rustic wooden furniture and bar conjures up images of the past, with silhouettes of folksy images and archetypical characters covering the walls. And yet, the shimmering new metal equipment and bar accoutrements bring you right back to the 21st century.

"Societe is about beer's place in society. It should be a cornerstone. It brings people together across economic boundaries, and so on. Look at the bar on any given day and there will be a dentist with a six-figure income sitting next to a guy that serves fast food. They're both drinking and enjoying beer. It only matters that they're drinking beer, nothing else matters. Beer is the social unifier. And the names of our beers are all different aspects of society taken from a nineteenth century standpoint," says Travis Smith, co-founder and brew master of Societe Brewing Company. Travis studied the art of brewing under the legendary Vinnie Cilurzo, owner and head brewer of Russian River Brewing Company in Santa Rosa, California. It was here that Smith acquired the knowledge of sour barrel-aging and perfectly balanced IPAs. Co-founder of Societe and Smith's brewing partner, Doug Constantiner also has vast experience making exceptional wood-aged beers through his time at the Bruery, a famous Orange County producer. The prominent brewing lineage of both Smith and Constantiner has beer fans salivating for a taste.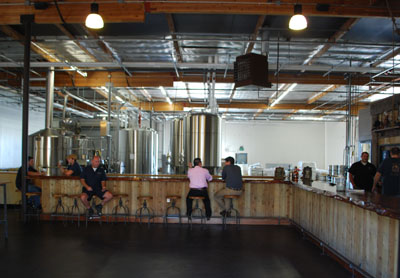 Societe Brew Co's vast new brewery and apothecary-style bar.
"Expectations don't matter. The whole goal is to make a beer we want to drink, and if we like it, other people will too," says Smith. Recently opened to the public, Smith feels that the state-of-the-art tasting room is important to attract customers and helps support the brewery. As of now, Societe is self-distributing to the awesome beer bars in the San Diego area that want to share Societe's product with their clientele. Societe has promised to never be a national brand, ever. They eventually want to go across state lines, possibly to only three or four states. The ample space inside the brewery will provide plenty of room for organic growth in the future. If you can, get a sip of The Apprentice, a 7.6% ABV American IPA, loaded with citrusy grapefruit flavors and hop residues that linger forever. Or try The Harlot, a 6.4% ABV Belgian Golden Ale, with spicy undertones that remains relatively dry and smooth throughout. Beer freaks and geeks should be on the look out for Societe's sour barrel-aged beer bottle releases in the future.

Societe Brewing Company- 8262 Clairemont Mesa Boulevard, San Diego, CA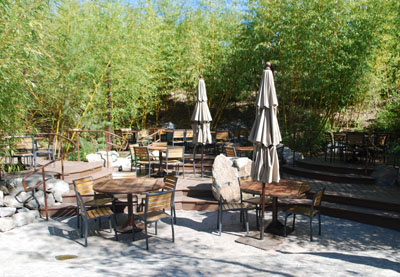 Stone World Bistro and Tasting Garden.
Stone Brewing Company

Greg Koch and Steve Wagner started the Stone Brewing Company in San Marcos, California at the location that now hosts Port Brewing/Lost Abbey. Since the doors opened in 1996, the duo has increased sales exponentially every year and pushed their brand image and beer to epic proportions. In 2005, Stone moved into a bigger facility in Escondido, and in 2006 opened the Stone Brewing World Bistro and Gardens. Stone Brewing Co. is currently ranked the 11th largest craft brewery in the United States and distributes to 36 states, as well as places in Europe and Asia. Stone continues to grow, and has plans to open a brewery in Europe for overseas Stone fanatics, and a bunch of new places in the U.S. Some of these ventures include a Stone Hotel, a Stone catering enterprise and new Stone Liberty Station World Bistro & Garden. Mitch Steele was hired in 2006, a former Anheiser-Busch employee and avid craft beer fan who continues to propel Stone's vision ever forward.

With a reputation for high quality beer and a bad-ass brewing facility, the brewery has been heaped with award-winning recipes and fancy honors galore. Greg Koch was even knighted by the Belgian Brewers Federation in 2010. Stone Brewing Co. also strives to give back to the community both monetarily and environmentally with sustainable business practices and charity fundraisers. Usually playing host for these special Stone events is their one-acre beer garden, voted as one of the top beer places in the world, featuring 32 taps and over 100 different bottles. The food served in this establishment focuses on local, small-farm, organic produce and natural ingredients, and is the #1 restaurant purchaser of those products in all of San Diego.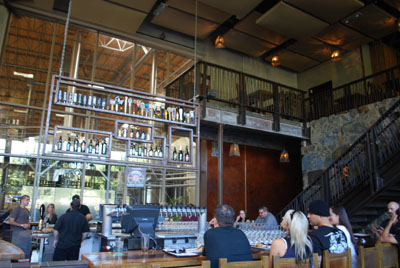 Stone Brewing tasting room.
The superb quality beers place a high emphasis on hop-forward ales. One of the head brewers' Mitch Steele's first job when he joined the team was to revamp the Levitation Ale recipe. Nowadays the Stone Levitation Ale is a hoppy amber ale, with a rich malty back and citrusy undertones. Mitch Steele also created the Sublimely Self-Righteous Ale as the 11th Anniversary release a number of years ago-- a benchmark for piney, Black IPAs. Stone also boasts a series of collaboration ales, which pairs members of their brew team with brewers from around the globe to create new masterpieces. There are about 16 of these releases, starting with Mint Chocolate Imperial Stout as one of the most recent. Working with Ken Schmidt of Aloha Plenty Brewing Company (in Hawaii), and Brandon Sieminski of Iron Fist Brewing Company (another San Diego brewery), Mitch Steele created a 9.6% abv delight for dessert enthusiasts. It's almost like scooping a dab of mint ice cream onto a piece of rich chocolate cake and hitting blend-- very drinkable for such a novel idea.

Stone's idea of good beer usually includes a lot of hops. Enjoy By IPA, a piney, citrus bomb, indicates batch dates on the label title. This date refers to the small window of opportunity to enjoy the ultimate flavors of the IPA while the hops taste their absolute freshest.

Stone Brewing Company- 1999 Citracado Pkwy, Escondido, CA
Before you visit, check out:
San Diego Brewers Guild
Disclaimer: This section of the website is intended for visitors 21 years of age and older.
If you are not of legal drinking age, please exit by clicking here.

Please drink responsibly!