Cheese, Farms & Wine . . . It All Sounds Divine.

I have had the good luck to interview many dairy farmers in Vermont over the past several years. They are a breed of their own– working dawn to dusk seven days a week, 365 days a year. Their commute is a pathway to the barn, their transportation is a 30 year-old John Deere tractor and their office is the milking parlor. Paperwork is not their thing, and computers are typically an unwelcome intrusion in the tried and true ways they grew up with.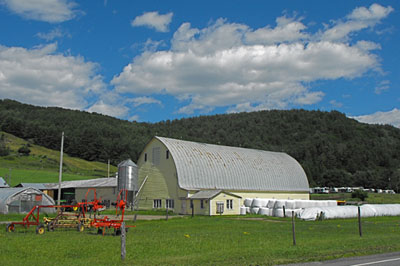 Vermont Dairy Farm
Most dairy farm families trace their roots back generation after generation and many old-timers were born in the same farmhouse where they still live today. They are good neighbors, steadfast stewards of the land and fiercely self-reliant individuals. I love the results of their hard work every bit as much— cheese. And that got me thinking. Why not sever my relationship with the computer for a few days and get some first-hand experience? You know, do the old fashioned thing and take a trip along the Vermont Cheese Trail. I was inspired by the prospect and luxuriated in thoughts of a slow-paced trip visiting dairy farms, imbibing my favorite wines and savoring some of the best cheeses in the country. More research was in order.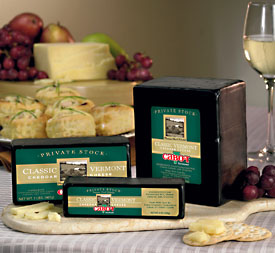 Cabot Creamery 16 month old Private Stock Extra Sharp Cheddar
My first stop was the Cabot Creamery's Cooperative Visitors Center in Waterbury. One of Vermont's brightest stars is Cabot, with their best in class cheddars. A trip to the creamery, where milk is delivered directly from local farms and tenderly turned into edible gold, was at the top of my list. It was a treat to spend a few hours with the alchemists who churn their milk into the "Extra Sharp" cheddar or delectably smooth Monterey Jack.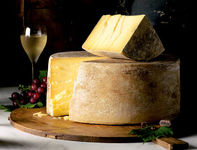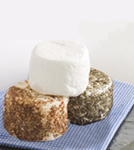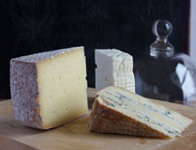 Cabot's Cheddar Cheese Blue Ledge Farm Chevres Bonnieview Farm Sheep Cheese
Cabot Creamery is the crown jewel of the Vermont Cheese Trail, but there are 43 other stops along the way. Famous for their artisan cheese makers, many of whom have studied overseas with the great cheese makers of England and France, the Vermont Cheese Trail offers abundant selections. A prime example is the Blue Ledge Farm in Salisbury. This husband and wife team became a full-time cheese operation in 2002 and they get their milk from their herd of 75 goats which they treat like family. A happy goat is a productive goat, or so they say. This is not your standard milk-based cheese. They are renowned for their Fresh Chevres (a soft goat cheese), their Crottina (a white, mold-covered cheese), and La Luna (an aged raw milk cheese similar to Gouda). This is a seasonal cheese making operation that follows the natural cycle of goats, which is to say they have a busy spring and summer and shut down in winter. It's fun to learn about goat cheese from the experts, plus goats are much rowdier than cows. It would be interesting to see how the family cajoles the herd into good behavior.

If goats are on the itinerary, sheep should be too. That brought me to the Bonnieview Farm, located in Vermont's Northeast Kingdom. The sheep farm is owned and operated by Neil and Kristie Unie and they have 170 milking ewes. Like so many farms in New England, the Unie's spread has been in the family for generations and was first founded in 1890. Like the Blue Ledge Farm, the Bonnieview Farm makes three primary types of cheeses using unpasteurized milk. These are Coomersdal (a semi-hard cheese), Mossend Blue (named after Neil's ancestral farm in Scotland), and Ewe's Feta (a mild, tangy cheese).

More cheese producers to visit: Grafton Village Cheese, Crowley Cheese, Champlain Valley Creamery, Boucher Family Farm, Boston Post Dairy, Neighborly Farms, Plymouth Artisan Cheese, Taylor Farm, Vermont Farmstead Cheese Co., Vermont Shepherd, Willow Moon Farm.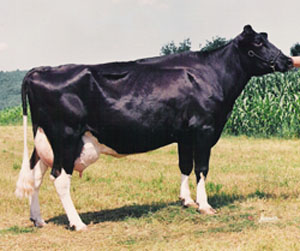 Magic the Holstein Cow at Jericho Hill Farm

So now the question arises: do they actually have any cows in Vermont? Well, indeed they do. Lots of cows and lots of people who make cheese from their milk. I came across Jericho Hill Farm in White River Junction. If that doesn't sound like Vermont, I don't know what does. It's been in the family since 1906, so it's a relative newcomer compared to many Vermont farms. The farm is a modest operation run by George and Linda Miller, and it sits on rolling hills. Their bright red barn stands out against a lush green landscape and the entire family pitches in to help with the cheese making. They send much of their milk to Cabot Creamery for processing, but they also keep a portion for themselves and produce two types of award winning cheeses. Jericho Jack is an aged, raw milk cheese with a firm body. Colby Jack is raw milk cheddar made in the stirred curd style, and I intend to become an expert on both of them.

Vermont Cheese Trail Map

There should be several additional stops along the way, but this seems a good beginning to a wonderful romp along Vermont's Cheese Trail. Plan to do this little journey during the warmer seasons when Vermont has cast off any somber, overcast traces of winter and is once again rejuvenated with lush pastures and vibrant signs of life everywhere. I will savor and long remember many nibbles of these tasty and most distinctive artisan cheeses. Bravo to Vermont and its delectable Cheese Trail!

Total U.S. cheese production in 2011, excluding cottage cheese, was 10.6 billion pounds, up 1.5 percent from 2010. Of that production, Italian-type cheese totaled 4.5 billion pounds, up 3.3 percent from the previous year, and American-type cheese totaled 4.3 billion pounds, down 0.5 percent. U.S. per person cheese consumption was 32.4 pounds in 2010, a slight increase from the previous year. Cheddar cheese and mozzarella cheese remains the most popular varieties of cheese. Americans typically consume about 10 pounds of cheddar and 10.6 pounds of mozzarella per person yearly.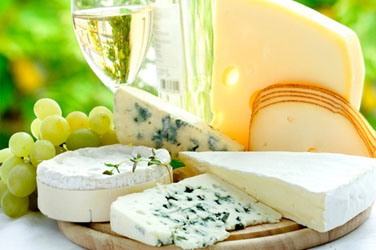 Pairing Cheese with Wine

Cheese goes with a variety of things, including bread, fruit and, of course, wine. A "crackling" fire doesn't hurt. Wine and cheese are companions that bring out the best in one another and, in most instances, cheese makes any wine taste better. The milky proteins and richness of cheese takes the edge off a harsh wine and tames rampant tannins and acidity.

Some guidelines you might want to follow are:
Light cheese (cow, goat or sheep's milk) with light wine; the whiter and fresher the cheese, the crisper and fruitier the wine should be– try Sauvignon Blanc, Chenin Blanc and Riesling. White wines tend to be more cheese friendly because of the relative lack of tannins, that astringent quality of many reds.

A classic pairing is Sauvignon Blanc and fresh goat cheese. Or, alternately, sample a fresh rosé or dry sparkling wine. Low acid, aged cheese needs a low acid white wine– that translates to aged cow's milk with an oaky Chardonnay. Gruyere, Emmenthaler and Swiss pair well with buttery, oaky Chardonnays because the cheeses have a high salt content and earthy, nutty flavors. Heavier, richer, soft or semi-soft cheeses can use a big Chardonnay or a light, fruity red, like Pinot Noir or Merlot.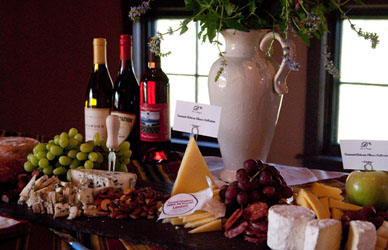 Remember, not all red wines harmonize with cheese. Wines high in tannin, like Cabernet Sauvignon and Zinfandel, are compatible with highly aromatic, darker and harder cheeses. The wash-rind cheese goes with a spicy Gewürztraminer, or robust red such as Syrah. Try a Cabernet Sauvignon with Dry Jack or creamy Blue.

Blue and veined cheeses would work with a Chenin Blanc, or a sweet late harvest Riesling. Sparkling wines are properly suitable with soft ripening Camembert, Brie or Blue Cheese. Don't forget that the cheese influences the taste of the wine more than the wine influences the flavor of the cheese. Sounds simplistic, but it is creamy cheeses that will soften the tannins in wine.

Jonathan Praet assisted in the preparation of this article.
For more information:

Vermont Vacation
Vermont Cheese Council
Vermont Grape & Wine Council
Edible Green Mountains




Disclaimer: This section of the website is intended for visitors 21 years of age and older.
If you are not of legal drinking age, please exit by clicking here.

Please drink responsibly!
Comments or questions welcome, please e-mail to: Ron@TheFiftyBest.com