The World's Third Largest Wine List—
Graycliff, Nassau/Bahamas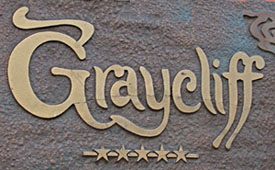 Everyone loves lists, so while visiting the Graycliff Hotel and Restaurant in mid-December I asked owner Enrico Garzaroli how many bottles of wine were in his cellar. He mentioned 250,000 so I researched larger cellars and came up with two names. Bern's Steak House in Tampa, Florida has 500,000 bottles, and La Tour d'Argent in Paris has 450,000 bottles. Graycliff has at least a container load of each of the 10 wines they serve by the glass (that's 40-ft containers). The majority of the wines are direct buys from the winery or several wineries in proximity of each other, so to minimize the transportation costs. They receive wines by the container load, not a couple of cases here and there.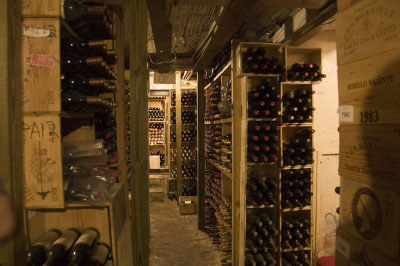 Graycliff wine cellar cognateque
Graycliff has been awarded the Wine Spectator Grand Award since 1988. There are presently only 75 restaurants worldwide that hold the award. They represent 14 countries and 15 US states, with only one other restaurant in the Caribbean represented- The Malliouhana in Anguilla. One can choose to attend a wine & cheese pairing with 8 wines, four red and four white, each paired with cheeses from around the world, along with a tour of their famed wine cellar. I was told Enrico brought over 12,000 bottles of wine with him from Italy. He also bought the cellars of the English living here that left when the Bahamas became independent. Ellex Blanc is one of four sommeliers that passed his certification with the American Sommelier Association. During a one-week period Andrew Bell, the President of the ASA, tested all of Graycliff's potential sommeliers using 400 pages of lessons. All four received their certification. Ellex told me the oldest wine in the cellar is a 1727 Rudesheimer Apostelwein Rheingau (also the oldest wine in the world) and is available for $200,000. The 1875 Chateau d'Yquem is the oldest white wine and priced at $19,500. Chateau Lafite Rothschild 1890 is $18,480 and the oldest red. Margaux 1900 is $22,800. A Mathuselah (6 Liter) bottle of Roederer Cristal 2000 Millenium Cuvee is $14,000. They also have one of the largest menus of bottled water in the world— over 50 brands.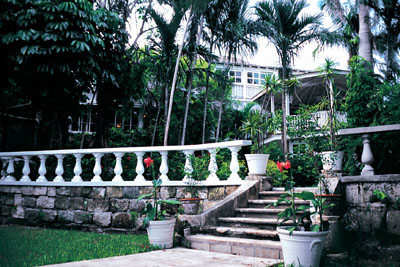 Captain Howard Graysmith, a famous pirate of the Caribbean, originally built the Graycliff mansion in 1740. In 1666 Nicholas Trott became Governor of Nassau and built the first Anglican Church in Nassau at Graycliff. In 1703 the Spaniards destroyed it but segments of the ruins are incorporated in the Graycliff structure. In 1776 the American Navy captured Nassau and Graycliff became their headquarters and garrison. That is the reason the wine cellar still has bars on their windows. In 1844 Mr. Nathaniel French opened Graycliff as Nassau's first inn. During the American Civil War it was commandeered as an Officer's mess for the West Indian Regiment. The Bahamas were headquarters for blockage runners selling southern cotton to British mills in exchange for guns for the Confederacy. During the 1920s Graycliff reopened its doors to the public. It was owned by Mrs. Polly Leach who was a companion to Al Capone. After prohibition, Graycliff was the private residence of Canadians Mr. & Mrs. I. Walton Killiam. They summered in Montreal and wintered in Nassau. They completely renovated the mansion and built the swimming pool and tropical gardens next to the pool cottage. After her husband's death, Mrs. Killiam stayed on at Graycliff until her death in 1964. In 1966 the Third Earl of Staffordshire, Lord and Lady Dudley purchased Graycliff. During that time they hosted the Duke and Dutchess of Windsor, Lord Mountbatten and Sir Winston Churchill. Lady Dudley added an English touch to the décor and collection of antiques that still decorate the guest and public areas. Graycliff is a landmark listed in the National Register of Historic Places.

Enrico Garzaroli
In 1973 Enrico and Ann Maria Garzaroli who turned the private home into the Graycliff Hotel and Restaurant, and in 1997 added the Graycliff Cigar Company and Humidor Churrascaria Restaurant to the property. Enrico also purchased property across the street from Graycliff for the revitalization of West Hill Street – including an old convent, its chapel and the former Mountbatten home-- into a pedestrians-only "old town experience" with cobble stone streets; a fun, immersive chocolate factory and visitor-oriented coffee roasting company; a barista café and bistro, space for local artisans and a new 75-room hotel.

Their son Paolo (he went to college on Long Island) assists his father and mother with the hotel, restaurants and cigar company. Daughter Roberta, also went to college in New York, and is President of The Atrebor Group, a New York City based public relations, marketing and promotion firm specializing in travel, hospitality and culinary accounts.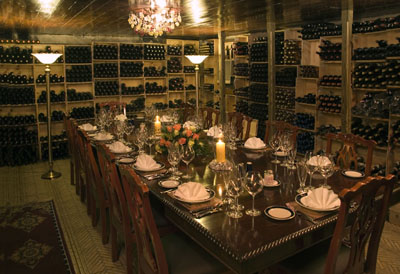 Graycliff Restaurant
I spent some time with Enrico before he joined me for dinner. His family is from Como, Italy. After deciding not to go into his fathers' stocking factory, he enrolled in the hotel school at Lausanne, Switzerland. "In 1972, I was a partner in a hotel in Luxembourg. I used to fly often from Luxembourg to Nassau. On a business trip I was introduced to a lady who told me the English owners of Graycliff were afraid of being kicked out by the new Bahamas government that was coming into power. The island had been ruled by the English, but was becoming independent. They wanted to sell. The moment I opened the house, I transformed it into a club. Understand that, under the old government, this was a forbidden area for most people in the Bahamas. It is one of the oldest, most famous houses here, yet people would pass by it almost in fear; they could never reach that level where they would be allowed inside. I invited all of the new politicians who'd come to power to dine here, to show that it was no longer a place that natives could not enjoy. I retained the workers because they knew how to treat the clientele. I was flooded with guests. I started with just the lounge and the rooms, and after a year and a half, I brought in a chef from my old hotel in Belgium to start doing dinners."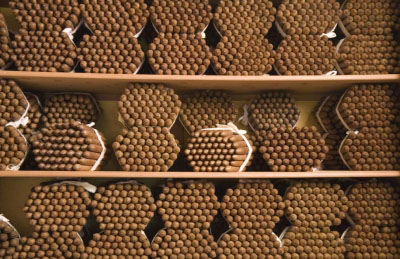 Graycliff cigars

"By the way, I visited Cuba often from 1989-1999 where I imported wine and spirits. That is also where I fell in love with Cuban cigars. The Graycliff Cigar Company began production in January 1997 here in The Bahamas. What then began as a single roller in the restaurant entranceway has now expanded to a boutique cigar company with 16 master rollers. Our factory is right here on the property and we make about 400,000 cigars a year." Enrico has been called the modern day hybrid of Goldfinger and an Italian Daddy Warbucks. He sports a massive gold watch, a thin chain looped around a treasure coin from a Spanish shipwreck, and a print button up shirt tucked into pinstripe pants.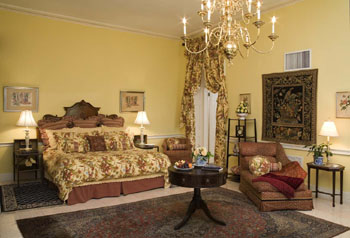 Graycliff Suite
There is a less expensive alternative to the Five-Star, AAA 4-Diamond Graycliff Restaurant with its 180 capacity, and that is Churrascaria Humidor located at the Graycliff Cigar Company. This Brazilian Rodizio barbecue has a prix fixe, all you can eat price of $39.95. Graycliff's factory creates their own chocolate and truffle brands. The hotel has 20 rooms all decorated with antiques and has historic names, not numbers. I stayed in the Baillou Suite Room in the main house. One can walk down the hill a few blocks and be in the center of Nassau. The airport is about 35 minutes away.

If you want 5-Star food, wine, service and comfort, Graycliff is an excellent choice in the Bahamas. You cannot put a price on class and quality.

For More Information:

Graycliff
Bahamas Ministry of Tourism




Disclaimer: This section of the website is intended for visitors 21 years of age and older.
If you are not of legal drinking age, please exit by clicking here.

Please drink responsibly!
Comments or questions welcome, please e-mail to: Ron@TheFiftyBest.com