Don't see your favorite?
Make a suggestion.

Flavored Vodka 2012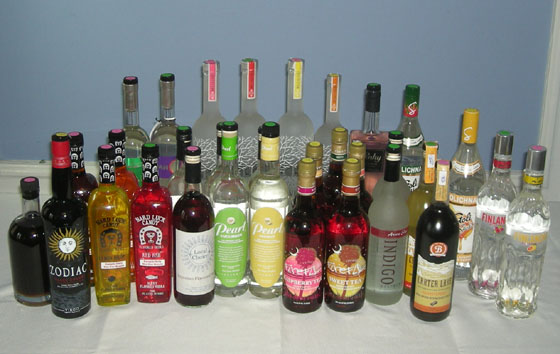 The Tasting:
19 spirits journalists, bartenders, chefs, and vodka aficionados tasted 32 flavored vodkas in seven separate categories: Citrus, Fruits, Tea, Espresso, Soda Pop/Candy, Misc. and Spice. The judges were informed of the categories and flavors, but the products were served "blindly". Strict tasting rules applied. The order of service was established beforehand by lottery. Each were poured into fresh glasses from new sealed bottles, and served at slightly above room temperature. Only ice water and neutral unflavored bar snacks were available to cleanse the palate. The judges tasted through 4 flights of 7 flavored vodkas, plus 1 flight of 4; with food served during a rest period after the third flight.

Impressions of each of the flavored vodkas were written down by the judges on score sheets. Scoring was done on a 5-point system, with 5 as the best. The tasting notes are summaries of the judges' opinions. Double-Gold, Gold and Silver medals are awarded based on a set range of final point scores received from the judges.
The Results:
Finlandia Grapefruit Fusion
Finland

Precise clean grapefruit aroma, real grapefruit palate, good flavor, not too sweet, soft texture, smooth, well integrated, nice crisp finish.

Double Gold Medal

Belvedere Pink Grapefruit
Poland

True grapefruit flavor, citrus elements, creamy, smooth, clean, soft finish, lovely.

Gold Medal

Hangar One Kaffir Lime
U.S.A.

Good lime notes, robust kaffir lime, tart, floral, smooth, delicious, light finish.

Gold Medal

Belvedere Citrus
Poland

Lemon-orange notes, light citrus, mildly tropical, refreshing, clean, crisp, peppery finish.

Gold Medal

Pearl Coconut
Canada

Authentic coconut flavor, smooth, silky, soft, velvety, luxurious, well-balanced, clean, light finish, mixable, perfect, awesome, heavenly.

Double Gold Medal

Zodiac Black Cherry
U.S.A.

Authentic black cherry flavor, strong cherry, cherry lollipop, light cocoa, bittersweet, good balance.

Double Gold Medal

Local Choice Strawberry-Kiwi
U.S.A.

True kiwi/strawberry flavor, nice taste, smooth, subtle, sweet, crisp, light finish, entrancing.

Gold Medal

Indigo Peach
U.S.A.

So peachy, fresh fruit aroma, touch of sweetness, authentic, smooth, great aftertaste, lingering finish, delightful.

Gold Medal

Finlandia Raspberry
Finland

Excellent raspberry flavor, not too sweet, minty, smooth, well-balanced.

Gold Medal