Texas Wine is Alive and That's No Bull

The Texas wine grape industry started in 1650 when Father Garcia de San Francisco y Zuniga, the founder of El Paso, planted vineyards for the production of sacramental wine (he is credited with the first vineyard planted in North America). He planted the Spanish black grape appropriately named 'Mission,' as did most padres who established missionary outposts on the Texan plains. The Franciscans developed irrigation techniques and the vineyards flourished. Viticulture remained an important industry until the early decades of the 1800's. European settlers in South and Central Texas started vineyards using grapevine cuttings brought over from their homelands. Though the post Spanish era increased the population of Texas to around 100,000, for the "gringo", whisky still was king.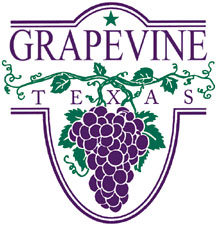 It was not until the late 1960's and 70's that a new wine revolution began, and today the Lone Star State is home to over 200 wineries, and ranks fifth in total wine production in the United States (description from Appellation America). Over one million tourists visited Texas wineries last year. There are presently 8 AVA's (Approved Viticultural Areas) in Texas with Texas Hill Country (just west of Austin and north of San Antonio) the largest with 63 wineries. It is the second largest AVA in the US encompassing 22 counties, 9 million acres and 15,000 square miles. Fredericksburg is an AVA within the Hill Country AVA that specializes in Cabernet Sauvignon and Chardonnay.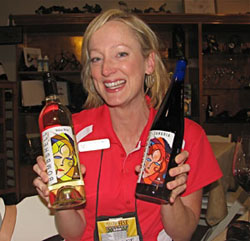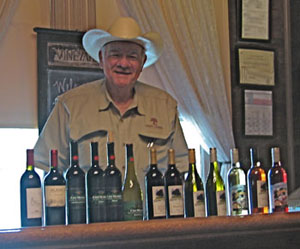 La Buena Vida Winery Cross Timbers Winery
Unappreciative outsiders labeled the Texas wine and wineries "Chateau Bubba" as derision. When a plant louse epidemic called phylloxera attacked vineyards everywhere, a Texas vintner named T.V. Munson found a solution by grafting French vines onto the more disease-resistant Texas grape vines. Munson is still a hero in France and the Napa Valley of California. Before Prohibition started in 1920, there were at least 16 commercial wineries in Texas. The only one to survive Prohibition was Val Verde in Del Rio, near the Mexican border, making sweet fortified wines. It is the state's oldest winery. They closed until the end of Prohibition in 1933, and re-opened after it was repealed. Val Verde remained the only commercial winery in Texas until the 1970's, when a national wine boom started a revival of production in the state. Some of the larger wineries of Texas include: Ste. Genevieve (#1- 600,000 cases), Llano Estacado (#2- 100,000 cases), Becker (#3), Messina Hof (#4) and Fall Creek (#5). Twenty-eight of Texas' 254 counties still remain dry, even today. Harvest time is the end of July, two months earlier than California.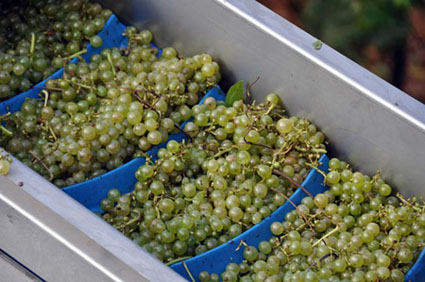 Texas grapes
Cabernet Sauvignon and Chardonnay boast the largest number of plantings in the state. Other Vitis Vinifera grapes commonly grown in Texas include: Red- Cabernet Franc, Merlot, Syrah, Sangiovese and Cabernet Franc. White- Chenin Blanc, Sauvignon Blanc, Viognier, Pinot Gris (Grigio) and Riesling. Due to specific growing conditions in Texas that result in reduced fruit production, some wine makers choose to plant non-vinifera grapevines. These grapes are more resistant to specific challenges presented by growing conditions in Texas. They include: Norton, Blanc du Bois and Muscadine.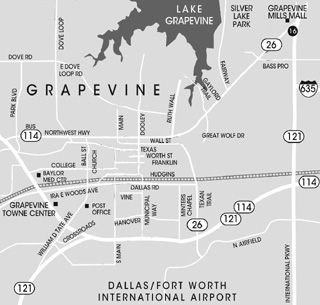 Grapevine, Texas (named for the wild Mustang grapes that were abundant when settlers arrived more than 160 years ago) has hosted the Annual GrapeFest for 25 years. It is the largest wine festival in the Southwest. With a population of 50,000 there are over 6 million people within an hour's drive of the city. Super Bowl XLV took place on February 3, 2011 at Cowboys Stadium in Arlington, which is 15 minutes from Grapevine. Four days in mid-September draws more than 260,000 people to Grapevine. There's a free Grapevine Shuttle that takes you to the local wineries and back to Grapefest, as well as to the free parking lot at the Convention Center. When you land at DFW International Airport, you're in Grapevine.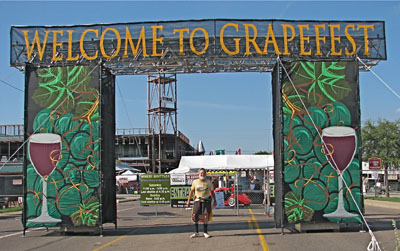 Entrance to Grapefest
The Historic Downtown is on the National Register of Historic Places. The entire town is closed off for the festival and the People's Choice Wine Tasting Classic, the largest consumer judging wine competition in the US, with over 5,000 people voting for their favorite Texas wine (last year there were 31 Texas wineries showing their wares). Central Market Culinary Pavilion had food and wine stands with cooking and food and wine pairing demos. Don't miss the Champagne Terrace where sparkling wines and Champagnes are served. Join in on the GrapeStomp. The Super Wine Experience raises money for charities as you vote for your favorite NFL team (Dallas Cowboys?). The International Wine Pavilion has entertainment and wines from areas other than Texas. There's even a black tie Texas Wine Tribute. Recommended restaurants include: Into the Glass, Dino's Steak and Clawhouse, Main Street Bread Baking Co., and Farina's, all on Historic Main Street within the festival grounds.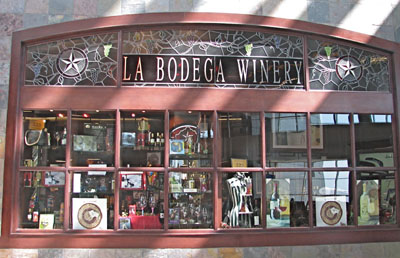 There are carnival rides and a midway area, arts and crafts booths, six stages placed throughout town with non-stop entertainment, a KidZone with interactive games, antique train mini excursions, tennis and golf classic events and plenty of food booths. If wine isn't your thing there is even a draft beer pavilion. The 8 wineries located in greater Grapevine have tours and tastings. Visit La Buena Vida, Cross Timber Winery, Delaney Vineyards, and La Bodega Winery. The last is the only fully licensed winery at a US airport. They have two locations at DFW Airport.

They certainly do everything bigger in Texas.

For More Information:

Go Texan Wine
Texas Wine Trail
Grapevine Wine Trail
Grapevine, Texas
Gaylord Texan





Disclaimer: This section of the website is intended for visitors 21 years of age and older.
If you are not of legal drinking age, please exit by clicking here.

Please drink responsibly!
Comments or questions welcome, please e-mail to: Ron@TheFiftyBest.com