Wining and Dining in Anguilla


Anguilla is situated in the British West Indies, around 150 miles east of Puerto Rico and 9 miles north of St. Maarten/St. Martin. It is the most northerly of the Leeward Islands in the Eastern Caribbean. The name Anguilla means eel, which is perfect for an island that measures 16 miles by 3 miles. The Valley is the capitol and is home to around 600 of the 12,300 island residents. If gambling, nightlife, cruise ships and shopping malls are your thing I would suggest not visiting Anguilla. The island tends to draw a very upscale clientele, much like St. Barts, but without the paparazzi. The government has limited development to small hotels and elegant upscale resorts and villas.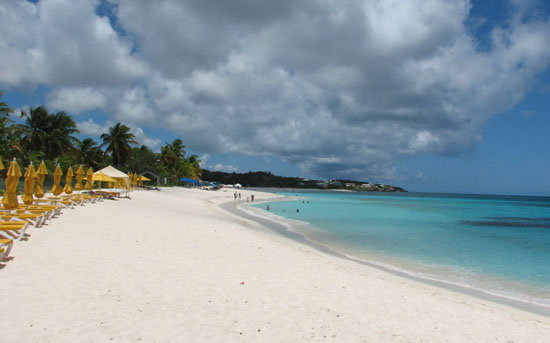 Shoal Bay Beach


In 1825, the British (who fought with the French for control of the island for 150 years) joined Anguilla into a union with St. Kitts-Nevis. In 1980 Anguilla became a British Dependent Territory. There are 33 white-sand beaches on this small island. It is known as the "Wreck Diving Capitol of the Caribbean" with 10 shipwrecks in its surrounding waters. They were sunk on purpose specifically to be enjoyed by scuba divers. There are no direct international flights to Anguilla but American Airlines flies to Puerto Rico where you can catch an American Eagle flight to Anguilla. Other airlines (I flew Continental) fly non-stop to St. Maarten and connect by ferry to Anguilla. The airport is on the Dutch side of the island (shared with the French). By taxi it is 200 feet (it is tough to walk across the highway) to the dock and then one can take a 30-minute ferry ride. I prefer the word speedboat (seats 10). You can also taxi to the French side and take a real ferryboat. But why waste the time? In less than 2 hours after landing, I was in my hotel room. The hotels use 110 volt AC (same as the US) and the US Dollar is accepted everywhere.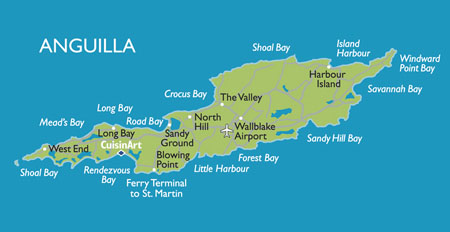 Let's start wining and dining: Seafood is featured heavily with local crayfish, lobster, snapper, swordfish and mahi mahi on many menus. With few vegetables or fruits grown locally (exception to follow) dining out can be expensive. Wednesday is the day that most products arrive by container ship so shop on Thursday or early Friday for the freshest produce. Many of the hotels and villas have kitchens so plan to at least have breakfast in house and maybe a beach prepared lunch.


The Best of Anguilla: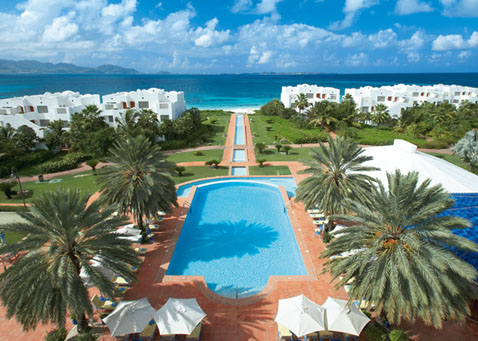 CuisinArt Golf Resort & Spa
The CuisinArt Resort & Spa boasts 93 rooms including 10 villas on Rendezvous Bay with 2 miles of white crystal sand beaches. It has the world's first resort-based organic garden as well as an 18,000 feet Hydroponic Farm that uses water only. The soil-free growing process produces the freshest and healthiest lettuce, tomatoes, peppers, herbs and edible flowers. Harvested daily the farm provides the purest ingredients for their cuisine. There are also 150 species of trees, flowers, herbs and shrubs around the property.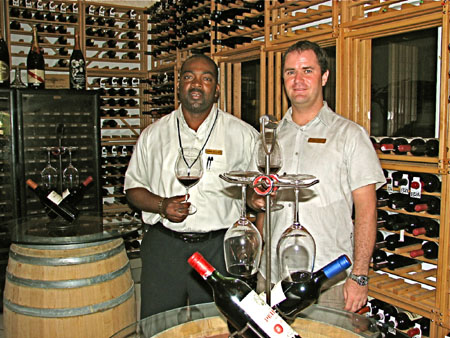 CuisinArt's Wine Cellar


CuisinArt hosts the Le Bistro at Santorini, an AAA 4 Diamond winner that holds a Wine Spectator Award of Excellence for its 860 wines and a 4,000-bottle ever-expanding cellar. Santorini serves dinner 6 nights a week with Tuesday being a lobster buffet. On Wednesdays, the Chef's Table & tasting menu includes 6 courses paired with wines in a private dining area in the kitchen. Two days a week the Chef teaches technique in the Master Cooking Classes. The wine list has 19 wines by the glass as well as 47 Champagnes, 97 French and 83 California white wines. There are 106 California Cabernet Sauvignons, 150 red Bordeaux, 79 red Burgundy and 50 Italian red wines.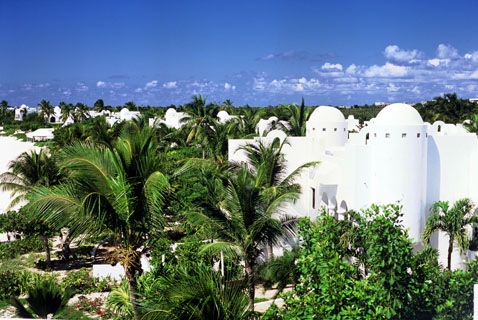 Cap Juluca


Opened in 1988, Cap Juluca has 18 separate Moorish-style beachfront villas and 6 villas with private pool and butlers.
Pimms' at Cap Juluca, a Wine Spectator Best of Award of Excellence winner, features a wine list with over 700 wines including: 22 wines by the glass, 28 Champagnes, 76 French white and 56 California whites. There are 105 French, 106 California and 36 Italian reds. Pimms' has a private wine room that serves a 5-course meal paired with wines.

Blanchard's at Meads Bay, which holds an Award of Excellence for its wine list. Robert & Melinda Blanchard have written a book- A Trip to the Beach- about opening a restaurant. Comfortable, yet sophisticated.

Koal Keel has a Best of Award of Excellence with 425 wines on its list and 25,000 bottles in its cellar. Authentic local Anguillan cuisine set in an historic building that was constructed in the 1700's.

Mango's Seafood Grill is an open-air casual but elegant restaurant that serves only the freshest local fish. It has an Award of Excellence for its 375 wines.

Veya also has an Award of Excellence for wine, beautifully serves dishes blending Indian, Moroccan and Caribbean cuisines.

Hibernia is a small, elegant restaurant by the sea, serving French/Asian dishes using the freshest local seafood and highest-quality imported meats.

Scilly Cay on a tiny private island accessible by ferry, serves fresh grilled lobsters, crayfish and chicken, with their famous rum punch.

Straw Hat is the only restaurant in Anguilla situated above the water on supports. Beautiful views of the neighboring islands at nightfall. It is reminiscent of Montauk or Cape Cod.

Owner/chef Dale Carty of Tasty's started at 16 at Malliouhana's restaurant. Owner Leon Roydon later arranged for him to apprentice in France. In 1999 he started a small café serving local cuisine for breakfast and lunch, and the rest, as they say, is history.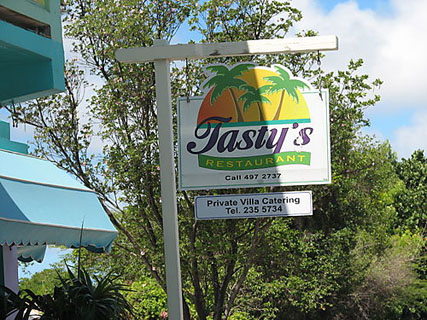 The best place to buy wine on the island is Les Grands Vins de France. Nathalie Le Senechal has run this shop for 18 years and also has shops in St. Barths and St. Martin (French side). She is the agent for many brands and most of the restaurants and hotels buy directly from her shop. She carries 96 California, 44 Italian and of course 162 French wines. There are also high-end spirits.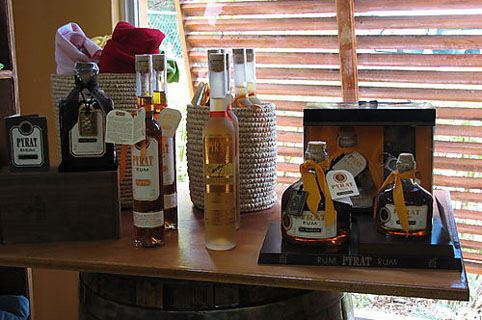 Pyrat Rums

I can recommend a visit to Pyrat Rum. This is the Old English spelling of Pirate. They are owned by the Patron Tequila folks (I am still trying to figure out the synergy there) and offer free rum tasting Monday-Saturday from 9AM-5PM. Pyrat buys rums from many Caribbean islands and ages and bottles them here using French Limousin and American Oak casks. Try the Pyrat Cask that can be aged up to 40 years and is perfect for sipping. The XO Reserve can be aged up to 15 years and is perfect in a rum drink. There is also the 375ml Pyrat Pistol and Savage, their Orange Rum Liqueur.
Before you go, visit:
Anguilla Tourist Board
Covecastles Villa Resort
The Villas at Long Bay Estate
Viceroy Anguilla
Malliouhana (Re-opening Spring 2014)
Comments or questions welcome, please e-mail to: Ron@TheFiftyBest.com