Cognac's Boutique Producers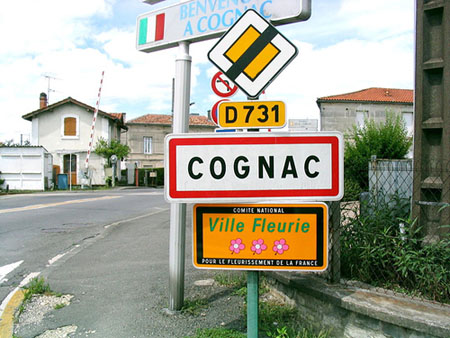 Though distilled wine is made all over the world including Italy, Spain, Portugal, Peru and California, it is France that usually comes to mind when we think of brandy, and Cognac when we think of French brandy. Cognac is brandy at its most subtle and sophisticated level. Simply sniffing its special bouquet can be a transcending experience; the mind's dusty cupboards are suddenly swept clean.
It's a cliché: "All cognac is brandy, but not all brandy is cognac." Brandy is a spirit made by distillation of fruit wines (primarily grape) with probably the most correct definition being the Dutch, brandewijn (burnt wine). Cognac is a brandy made only in Southwest France with the town of Cognac at its center. The chalky limestone soil makes the special acid grapes perfect for brandy.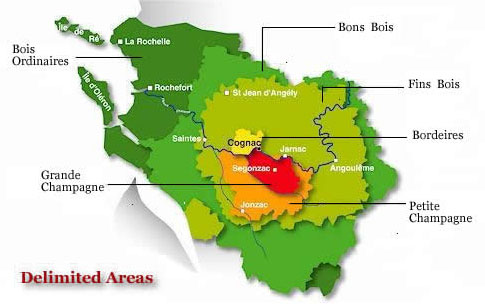 Cognac is a spirit and a place. The town of Cognac, on the banks of the Charente River, about 200 miles southwest of Paris and North of Bordeaux borders the Atlantic Ocean. The Cognac region encompasses roughly 200,000 acres of vineyards planted primarily to Ugni Blanc, Folle Blanche and Colombard. These white grapes produce tartly acidic wines which make excellent raw material for distillation. The region has a hierarchy of six crus, or vineyard designations, with Grande Champagne at the top, followed by Petite Champagne, Borderies, Fins Bois, Bons Bois and Bons Ordinaires. (Note: Grande Champagne has no relation to the sparkling wine produced in the Champagne district. This Champagne means champs or fields.)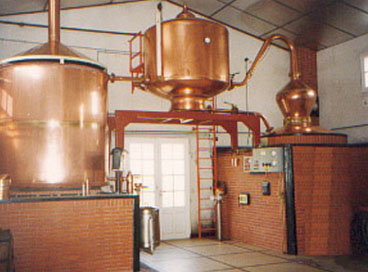 Distillation of Cognac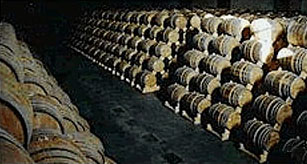 Cognac aging in casks
Cognac wines are distilled twice in small copper pot stills. The raw, clear spirit, called eau de vie, is moved to oak casks for aging. Most cognacs are blends of different eaux de vie from several crus. By law, Cognac must be aged for 2 1/2 years in oak before bottling. The age statement on the label refers to the youngest eau de vie in the blend. VS (Very Superior) or Three Stars average 5 to 7 years in age (minimum is less than 4 1/2); VSOP (Very Special Old Pale), VO (Very Old) or Reserve average age is 12 years (minimum is 4 1/2 to 6); XO (Extra Old), Napoleon (not that old), Extra or Hors d'Age average 20 to 40 in age (minimum is 6 1/2). The later are meant for straight sipping. Also, look for the Grande Champagne designation on the bottle before deciding on your purchase. Many of the larger houses produce products from other lesser districts. If the label says Fine Champagne, at least 50% must come from the Grande Champagne area and the rest is Petite Champagne (still not too shabby).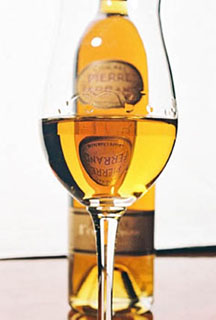 Cognac has been given new life and versatility as an up-to-date trendy mixer to be used for cocktails and long drinks. The producers want to change the image in the minds of consumers and smash the elitist myths surrounding Cognac. This has caused gasps of disbelief in the club rooms of London. Paris and New York, but it has repositioned Cognac for today's "hip crowd."

Because there is no Rémy Martin, Hennessy, Martell or Courvoisier mentioned in this article, please don't infer that they do not produce excellent Cognacs, (these four companies represent about 90% of all Cognac sold world-wide). This is a story about boutique producers and Cognac is often compared to fine wine because of slower distillation methods. Aging can be more precise because the flavors from oak are not overpowering; producers use oak and do not abuse it. The techniques applied to smaller producers often result in a more refined quality product. Many of the smaller houses produce only estate-bottled Cognacs which allow a producer to control everything from viticulture, to vinification, to distillation, to aging.


Here are some favorites:



Cognac Pierre Ferrand, established in 1702, uses only grapes from the Grande Champagne area. They only bottle and ship on order. Alexandre Gabriel and Jean-Dominique Andreu have revitalized the firm, making it the fifth largest selling Cognac in the United States. Ferrand Selection des Anges, average age 30 years- $100; Abel, average age 45 years- $210. Under the Gabriel & Andreu label, all single estates- Petite Champagne, average age 25 years- $75; Grande Champagne, average age 35 years- $110.

Ragnaud-Sabourin Cognac began in 1907 and today the house is managed by three ladies, Denise the founder's wife, Annie her daughter and Patricia, the last generation. Ragnaud-Sabourin Grande Champagne Unblended 10 year old- $45; Domaine La Voute 35 year old- $110. Both are estate-bottled.

Cognac Tesseron was begun in the 19th century, and the great-great grandson of the founder now runs the company (they also own Chateau Pontet Canet and Lafon Rochet in Bordeaux). Lot 76 Grande Champagne- $45; Lot 53 "Topaz" Grande Champagne, almost half a century old- $100.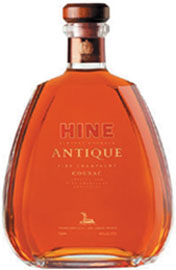 Hine Cognac only makes a little, but makes it perfect. Now run by the sixth generation, cousins Bernard and Jacques Hine. Antique XO, average age 23 years is a blend of more than 40 Cognacs drawn from the Grande and Petite Champagne districts- $100; Triomphe is all Grand Champagne and aged an average of 45 years- $225.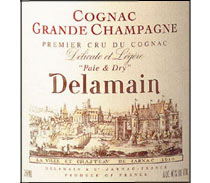 Delamain Cognac produces less than 50,000 cases of Grande Champagne Cognac. Begun in 1824 and they are still a family owned firm that does no blending. In 1920 they launched their standard bearer- Pale Dry XO, average age 25 years- $75; Vespers, average age 35 years- $120; Tres Venerable, average age 55 years- $225.


"Youth," said Bernard Shaw, "is a wonderful thing. What a crime to waste it on children." I feel the same way about Cognac, the older, the better.
Disclaimer: This section of the website is intended for visitors 21 years of age and older.
If you are not of legal drinking age, please exit by clicking here.


Comments or questions welcome, please e-mail to: Ron@TheFiftyBest.com