Puglia Wine, Food and Land

The Puglia region (Apuglia in English) is located between the Adriatic Sea, the Apennines, and the Gulf of Taranto. It makes up the "heel and spur" associated with lower Italy's boot shape. Apulia's southernmost tip, the Salento peninsula, juts out into the Adriatic like a spur on the boot of Italy. Apulia is bordered on the northwest by Molise and its western border is with Campania and Basilicata. Albania is 50 miles across the Adriatic. Most of its foreign visitors come in the summer for the beaches. It was ruled in the early Middle Ages by Goths, Lombards, and Byzantines and achieved its greatest glory under the Hohenstaufen emperors, especially the 13th-century Holy Roman emperor Frederick II. In 1861 it became part of the Italian kingdom.

Today Apulia is a mix of both natural and man-made sights: beautiful beaches, flat plains of wheat or olive groves, nature preserves, large ports and small fishing villages, family run farms— many of which have become Agriturismos ("agriculture" and "tourism" in Italian— is a style of vacationing in farm house resorts). Further south there are olives (Apuglia produces over half of all the olive oil in Italy), grapes, almonds, figs and vegetables.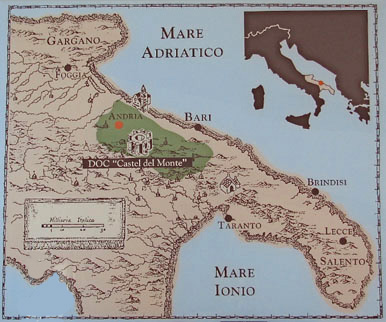 Apulia abounds in castles, churches and ancient ruins— all of them still far away from the major tourist tracks. A must see is the traditional Apulian dwelling known as Trulli. These conical stone houses are built without mortar (see Alberobello, below). The capital of Apulia is Bari; the region has an area of 7,470 square miles and a population of a little over 4 million. Visit in the summer for clear blue skies and beach-life (average July and August temperatures can get above 90 to 100 degrees.) Since Apulia is less than 18 miles across, you will never find yourself far from the seaside. Spring and autumn are moderate, and therefore more climactically accommodating to Northern Europeans. Winter is cooler with temperatures usually around 40-50 degrees.

Food of Puglia
Mussels, oysters, octopus, red mullet and swordfish are all popular in Apulian cuisine. Vegetables include fava beans, artichokes and chicory. Eggplants, peppers, cauliflower, olives and olive oil are Apulian staples. The most famous Apulian pasta is Orecchiette, but Bucatini is also popular, both served with tomato sauce or with olive oil, garlic and cauliflower. Ricotta and Mozzarella cheeses play an important role in Apulian cooking. The meat of choice is lamb that can be roasted, baked or grilled on skewers. Breads and sweets include Focaccia, Pizza, fritters filled with sweetened Ricotta, and sweet Ravioli.


Major cities:
Bari- The port of Bari is separated into the winding streets of La Citta Vecchia (old city) and the more modern plan of the Citta Nuova (new city). The old city is home to the famous Basilica of San Nicola. The Basilica is the oldest surviving building in Bari, since King William the Bad razed the entire city in 1156. The Norman Castle, enlarged by Frederick II, is an excellent place to get a view of the old city and the Adriatic. The new city is a grid of broad streets and avenues lined with shops and grand hotels.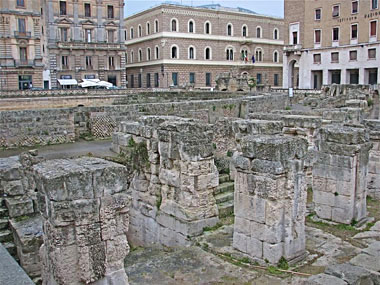 Lecce ruins
Lecce- The former Greek and Roman colony of Lecce is the home to some of the best Baroque stonework in Italy. There are over 70 historic buildings of the 17th and 18th century in Lecce. The facades of the church of Santa Croce and the Palazzo del Govorno are an entire block of ornate carving. Other Baroque masterpieces are the churches of Santa Chiara and the church of San Matteo. The Piazza San Oronzo is home to a Roman Amphitheater as well as a column once located in Brindisi to mark the end of the Via Appia.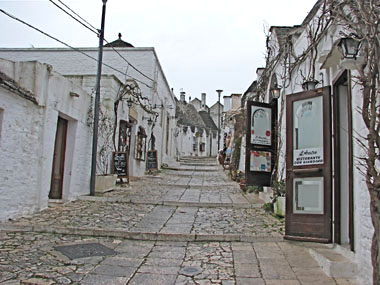 Alberobello

Alberobello- The city of Alberobello is home to over 1,000 of the traditional Apulian Trulli houses and is a UNESCO World Heritage Site. They are a beehive-shaped, whitewashed, mortarless structure made of stone. Some of the Trulli have been converted into shops but many are still private homes. There are other Trulli that have been restored to their original condition that you can visit and some Trulli can be rented.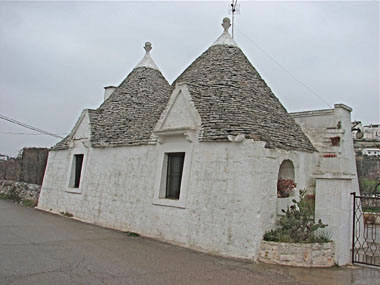 Trulli stone house
Brindisi- The capital of the province of Brindisi, off the coast of the Adriatic Sea. Historically, the city has played an important role in commerce and culture due to its position on the Italian peninsula and its natural port on the Adriatic Sea. The city is a major port for trade with Greece and the Middle East. The Cathedral is dedicated to St. John the Baptist and dates to the 12th century. The colonna Romana (Roman Column) is located at the entrance of the inner port and is the symbol of the city. In 1944 the city functioned as the temporary capital of Italy.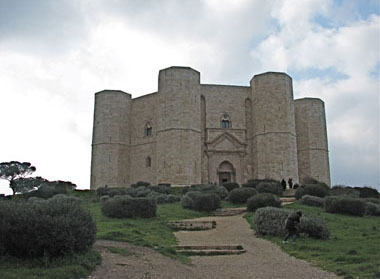 Castel del Monte
Castel del Monte- A 13th-century castle situated in Andria. The Holy Roman Emperor Frederick II built it sometime between 1240 and 1250. All of its interior marbles and furnishings have been removed in subsequent centuries. Today, the location is a World Heritage Site.

While in Apulia, stay at Masseria Torre Coccaro, with its neighboring Masserie Torre Maizza (same ownership). Torre Coccaro is a masseria (Apulian farm) a few steps from the sea, dating back to the 16th century and surrounded by olive, almond and carob trees. This tower, once a place of defense, is now a luxury 5-star resort with a spa carved in stone, outdoor pool and nine-hole golf course (Torre Maizza).

Vineyard in Puglia
Wines of Puglia
Apulia was once known as "Europe's wine cellar", producing 10% of all the wine consumed in Europe. It vies for first place each year in wine production with the regions of Sicily and the Veneto. For a long time, much of the wine made here was shipped north to Turin where it was used to make Vermouth, or to France where it gave structure to French wines. That is no longer true, and Puglian wine producers are determined to prove it. Apulia is now producing wines of quality over quantity, yet they are still reasonably priced. Winemakers are reducing yields and increasing the use of new oak for their wines. Oenological consultants and flying winemakers are here in force, and there has been investment into the area from such well-known names as the Antonori family (Tuscany).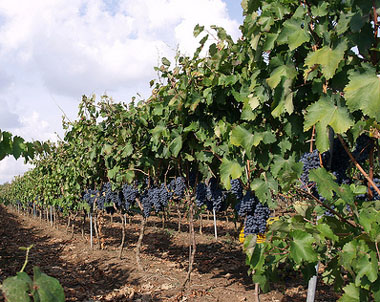 Negroamaro grape harvest
There are 26 DOC's and soon there will be two DOCG's, the highest level for wines in Italy. Castel del Monte (DOC) is well known for a full-bodied red wine and a pleasing rosé. Primitivo di Manduria (DOC) is a strong, alcoholic red that has the same DNA as Zinfandel. Salice Salentino (DOC) is primarily made with the Negroamaro grape variety and is also used to make sweeter reds, dessert and even sparkling wines. I also enjoyed wines made with the Nero di Troia grape, the third of the big Puglia red wine varieties. There are pockets of Aglianico (much more popular in the neighboring Campania and Basilatica provinces) as well as Montepulciano and Malvasia Nero. White wines of Apulia (over 43% of production) are undergoing modernization, and international grape varieties (Chardonnay) are being introduced. Bombino is the most planted variety, and is thought to be related to Trebbiano. There is some impressive Fiano beginning to emerge, this being the grape also found in nearby Avellino. Locorotondo (DOC) is straw yellow and a bit fruity. Martina Franca (DOC) is another dry white. Besides dessert wines and Grappa, Apulia also is home to a number of herbal and citrus infused spirits making use of local walnuts, carcade flowers, rhubarb, myrtle, anise, lemons and oranges.

Some recommended Puglian wines that are imported into the U.S.:
Agrinatura (Martin Scott), Tormaresca (Chateau Ste. Michelle Importers), Botromagno (Winebow), L'Astore Masseria (USA Imports), Vigneti Reale (Bacchanal Wine Imports).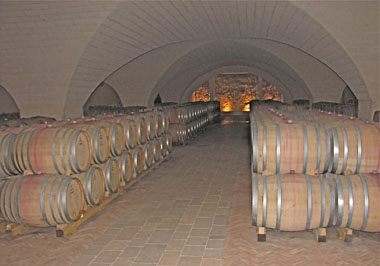 Torrevento wine cellars
Many in the Puglian wine industry have realized that contributing cheap wine for distillation or to help fill the European wine lake was a flawed strategy. There is a new emphasis on quality throughout Puglia's regions, and both DOC and IGT appellations are attempting to compete with wines from other countries. They are on the right track.

For More Information:

Wines of Puglia
Movimento Turismo del Vino Puglia
Apuglia Tourism





Disclaimer: This section of the website is intended for visitors 21 years of age and older.
If you are not of legal drinking age, please exit by clicking here.

Please drink responsibly!
Comments or questions welcome, please e-mail to: Ron@TheFiftyBest.com