Getting the Most For Your Money
With Australian Wine
by Geoff Kalish
As opposed to the real estate market where its "location, location, location" with a bit of "price-point" thrown in, the wine market usually trends to "price-point, price-point, price-point'" with a bit of "location" thrown in. Numerous surveys have shown that many consumers purchase wine based solely on price and perhaps a bit of location and brand-name/label recognition – especially Australian so-called "critter wines," (because of labels adorned with cute little critters like penguins and wallabies). However, based on the results of a number of tastings, the lowest priced and/or easiest to identify bottles from Australia may not be affording shoppers the best value for their money. Just a little knowledge can often lead buyers to a number of sensibly-priced Australian brands offering very high quality-to-cost ratios.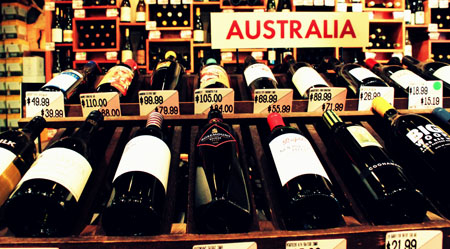 Labeling
Apart from the "critters", identifying the Australian wine you want from what's on the label is a lot easier than choosing bottles from many countries – where the wine can be named for the varietal, the location of the producer or vineyard, the type of soil or even the winemaker's mother or children. First, like most American wines, those of Australia generally take the name of the main varietal from which they are produced. And by law, the wine must be composed of at least 85% of that varietal to be named as such. When a place name is provided, at least 85% of the grapes must be from that location. As a boon to "sensitive" and/or allergic consumers, the label must state if sulfite is present (greater than 10ppm) and if even traces of processing aids like eggs used for fining or milk products are present.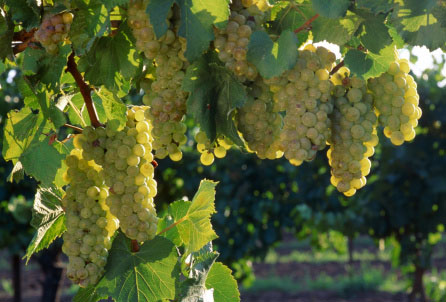 Australian chardonnay grapes
Types of Wine
Although a wide range of varietals are produced in Australia, Shiraz (Syrah) and Chardonnay lead the pack in availability outside the country. It's been my experience that while the country produces some excellent Cabernet Sauvignons, Sauvignon Blancs and Rieslings, the best value can be found in the Shiraz and Chardonnay categories, especially as compared to what's available in the US marketplace from domestic or other international producers.

History
Briefly, Chardonnay and Syrah (which is known as Shiraz in Australia) were introduced into the country in 1831 by James Busby, who took cuttings from vines in the France's Rhone Valley (Syrah) and Burgundy (Chardonnay) and brought them to the Sydney Botanic Gardens. Initially Chardonnay functioned as a "secondary" grape varietal used to produce "neutral" rather tasteless wines. However, beginning in the 1980's export sales of "robust," usually quite "manipulated" Chardonnay outstripped supply – with varietals like Semillon (termed "semichard") once added in considerable amounts to "true" Chardonnay. And (as discussed in more detail below), the Syrah (Shiraz) that has evolved in a number of areas of Australia is mainly a very robust product, without the elegance of many wines produced from this grape in other parts of the world.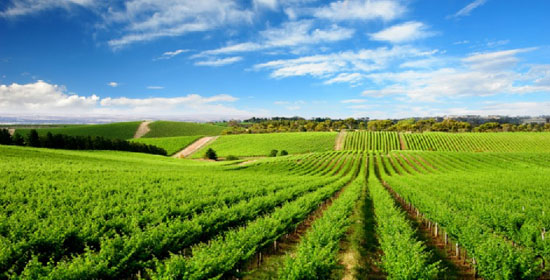 Barossa Valley, Australia
Regions
While wine production takes place in 63 designated regions in Australia, seven of these account for the majority of wine that leaves the country. And, although there are exceptions to the rule, some notable differences can be found in the style of wine produced in these seven regions. In general, Barossa Valley (accounting for approximately 20% of Australia's wine export market) produces mouth-filling, jammy Shiraz, with bottles from McLaren Vale and Hunter Valley showing less intensity. As compared to bottles from Barossa Valley, Shiraz from the cooler Margaret River and Great Southern regions of Western Australia also seems somewhat lighter in style -- usually showing at least a touch of spice in the finish, similar in aesthetics to many of the wines from France's northern Rhone Valley. As for Chardonnay, Hunter Valley and Riverina are known for ripe tasting, full-bodied, oaky wines, with those of Margaret River and Yarra Valley tamer and often compared to top bottles from California.

Vintages
Based on comments from a number of US retail shop owners and managers, customers rarely inquire about vintage when purchasing Australian wine. In fact, even sophisticated consumers rarely take the vintage of Australian wine into consideration, feeling that the country is almost always hot and dry during the growing season. Not surprisingly, when I asked over a dozen Australian winemakers from different regions about variation in vintage quantity and quality for the past five years, I received a range of answers. In general and as expected, grape yields tend to be a function of rainfall and temperature – with low rainfall and high temperature producing a small than usual crop. On the other hand, grape quality was usually quite poor in areas that experienced higher rainfall and lower temperatures than average in a particular year. Importantly, almost all areas reported that conditions in 2015 were ideal, with average to above quantity and excellent quality fruit – with more than adequate amounts of outstanding wine predicted.

Price
Yes, there is wide market availability of inexpensive bottles of Australian wine appealing to those favoring big, fruity, almost over-ripe Shiraz, and high alcohol Chardonnays redolent of butterscotch and oaky enough for beavers to enjoy. And these styles are quite popular with many individuals – particularly younger "newbies" to wine. But more serious efforts, with lean flavors, interesting fruit and vibrant acidity are also available, albeit at a higher price. And to some degree the higher price is a function of processing techniques employed and vineyard practices, like the oak in the Chardonnay coming from barrel aging – not the addition of wood chips after fermentation, and the Shiraz grapes vines being carefully pruned and hand picked earlier than when sugars outbalance acidity. Moreover, adequate quantities of the best wines can only be made in years like 2015 when the weather cooperates.

Conclusions
Overall, an immediate major shift in consumer buying habits concerning Australian wine is not foreseen (especially in the US). However, with the increased knowledge of consumers as well as professionals, some new trends are to be expected: In particular, more higher-priced, better value-for-money wines will be sold; a number of outstanding bottles from previously little-known areas like Adelaide Hills, Edna Valley and even Coonawara and Bendigo will be discovered; and vintage will become a more important consideration in purchasing. Once there is increased familiarity with particular high-value-for-the money brands, it is expected that there will be a shift to these labels. Only time will tell.