Bourbon - The True American Whiskey


"Most people who know anything about bourbon distilling know the story of the Baptist minister Elijah Craig who established a distillery in Bourbon County, thus giving a name to his whiskey. It's a good story, but it's not exactly true. In 1780, as the Ohio Territory was cut into smaller units, the Virginians claimed a piece of it. They named it Bourbon County after the then-current French ruling family to honor the support of the French during the American Revolution. In 1792, when Kentucky became a state, Bourbon County was divided into 34 of the present existing Kentucky counties. One of which, was Bourbon, with its famous whiskey." – Perry Luntz (author of Whiskey & Spirits For Dummies).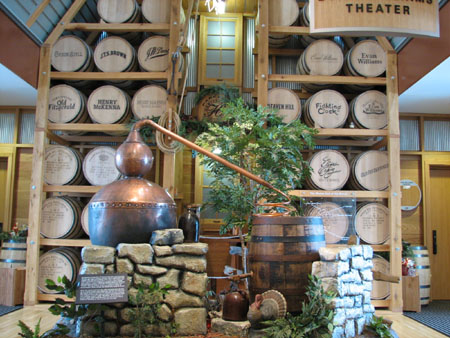 Heaven Hill brands and still
By law bourbon whiskey can be produced anywhere in the United States where it is legal to distill spirits. True, 95% of the world's bourbon is distilled and aged in Kentucky and bourbon production has increased by 315% since 1999. In 1964, Congress declared bourbon America's only native spirit. It must be produced from a grain mixture containing a minimum of 51% corn. It must be 100% natural with nothing besides water added. It must be aged in new, charred oak barrels for at least two years. Any bourbon aged less than four years must list its age on the label. Bourbon must be distilled at less than 160 proof (80% alcohol by volume). If all the above requirements are met the bourbon may be called Straight Bourbon (but it is not required to be so labeled). In real life almost all bourbons sold today are made from more than 2/3 corn (the remainder being wheat and/or rye) and have been aged at least four years. This mixture, called the mash, is fermented using the sour mash method. This means the mash saved from a previous distillation is added to ensure consistency from year to year and batch to batch. The fermented mash is then distilled which produces a clear liquid. When placed in charred oak barrels, at no more than 125 proof, the clear liquid soon imparts color. After aging the bourbon is removed from the barrels, diluted with water and bottled.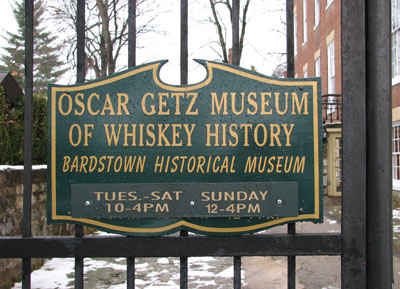 Entrance to the Oscar Getz Museum
The Kentucky soil is rich in phosphates, perfect for growing grain. The rivers are filled with calcium and the water is very pure. Underground springs contain traces of limestone, adding minerals like calcium, which filters out impurities (e.g. iron) that gives liquor a bad aftertaste. Kentucky's hot summers and cold winters are ideal for aging whiskey in cask and the nearby oak forests provide the wood for the casks. Most whiskey is sold at 80 proof but there are 86, 90, 94 and 100 proof examples. Higher proofs than these are often called "barrel proof" and have not been diluted when removed from the barrels. The term Bottled-in-Bond used to refer to bourbons kept under federal government supervision in bonded warehouses for the four-year minimum aging period. Now, any 100 proof bourbon can carry that designation. Small Batch Bourbon refers to craft distilling. It is similar to the wine term Reserve. The term originated in the 1980's by the Jim Beam Company, but every distiller has his or her own interpretation of what constitutes a "small batch." I received answers of less than 100 barrels to more than one barrel. Single Barrel Bourbon is bottled from one particular cask. The term Vintage Bourbon means the whiskies are older than four years. Look for hints of banana, burnt sugar, caramel, honey, butterscotch, hazelnuts, leather, hay, cedar, tobacco leaf, and tar. Remember, all bourbon is whiskey but not all whiskey is bourbon.

Ninety-five percent of the world's supply of bourbon is made in the Bluegrass State. In fact, the current 7.5 million barrels of aging bourbon outnumbers Kentucky's population of 4.5 million. More than 9,000 jobs in Kentucky are connected to distillery-related enterprise. One of the ways the world knows Kentucky is through its bourbon.

Since 2013, whiskey sales increased faster than those of vodka, gin, tequila and other spirits. According to the Distilled Spirits Council of the United States, the alcohol industry trade group, bourbon began its current resurgence in 2013, with the biggest increase in 30 years (11.9%).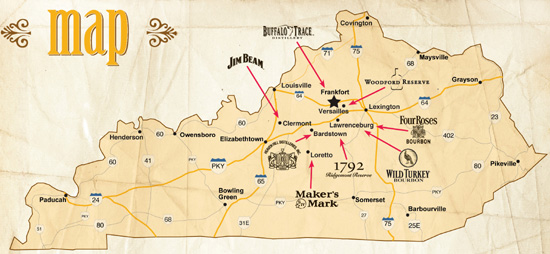 Kentucky Bourbon Trail Map
The Bourbon Trail

You can use Louisville, Bardstown or Lexington as your headquarters while visiting the 14 signature distilleries (producing 98% of all the bourbon) that make up The Bourbon Trail. Bardstown is about 40 miles south of Louisville & 54 miles west of Lexington. Louisville is the home of the Kentucky Derby & Churchill Downs, Louisville Slugger and Mohammad Ali. In 2017, distilleries along the Bourbon Trail reported a record 1 million+ visitors for the second year in a row. Liquor Barn boasts the largest allocation of bourbons in the world, with 3 stores in Lexington and 3 in Louisville.

Best Bourbon Bars

Six locally owned and operated bars have been members of The Urban Bourbon Trail since its inception in 2008, including:
Maker's Mark Bourbon House & Lounge pours 70+ bourbons
Bourbons Bistro- boasts 123 bourbons
Proof on Main- with 87 on their list
Blu Italian Grille- has 72
The winner is Jockey Silks Bourbon Bar with 150+ bourbons.

Bourbon Distilleries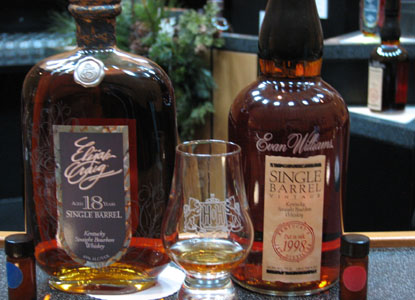 Heaven Hill bourbon tasting
Heaven Hill is located in Bardstown. Fire destroyed the distillery in 1996. They purchased the Bernheim Distillery in Louisville where their products are now distilled. This is America's largest independent family-owned distillery. The aging warehouses located here hold the second largest supply of Bourbon (Beam in #1). The Bourbon Heritage Center has interactive exhibits of the birth of Bourbon and the distillation process. Their gift shop is very large and worth a visit. Some of their brands include: Evan Williams, Elijah Craig, Henry McKenna and Old Fitzgerald.

While in Bardstown make time to see the Oscar Getz Museum of Whiskey History. It houses a collection of rare artifacts and documents dealing with the American whiskey industry dating from pre-Colonial times to the post-Prohibition years. There are rare antique bottles, advertising art and moonshine still. The Oscar Getz collection has been supplemented by private and corporate donations. A must visit. If time allows stop at My Old Kentucky Home. This was where Stephen Foster was inspired to write of course "My Old Kentucky Home". The Old Talbott Tavern, built in 1779 pours 40 Bourbons. The third weekend of September there is a 5-day Kentucky Bourbon Festival with over 20 events scheduled.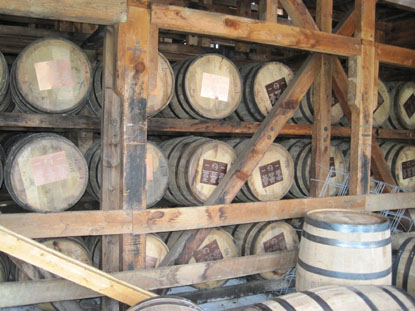 Maker's Mark bourbon casks
About 1/2 hour from Bardstown is Maker's Mark Distillery in the town of Loretto. It is the oldest working Bourbon distillery on its original site (1805) in the nation and is a National Historic Landmark. If you need lunch, the tiny Toll Gate Café is right outside the distillery. Make sure to try the bourbon cookies. To die for. This is a small distillery producing only one brand- Maker's Mark. Founder Bill Samuels, Sr. (bought the site in 1953) is still involved although the company has been sold to Beam Global. His son Bill Samuels, Jr. is the CEO. They draw over 80,000 visitors and sell 840,000 cases, including 70,000 internationally. They still hand-dip every bottle in that distinctive red wax. It is not a misprint but they spell whisky without the E, as do the Scots and Irish. They use more winter wheat (16%) that adds sweetness, instead of rye, plus 70% corn and 14% malted barley. The tour takes visitors through every step of the distilling process. You are so close to the actual process that it might seem the visitors are actually the workers. Known for its iconic red wax seal, Maker's Mark recently undertook a $70 million expansion to boost production, expand bottling capacity and make visitor center improvements.


Barton 1792 Distillery is located in Bardstown. It is the home of the 1792 Ridgemont Reserve, named for the year Kentucky gained statehood. Owned by Sazerac, it was the former Barton Brands, once owned by Oscar Getz who founded the distillery in 1879. Brands include Kentucky Gentlemen, Very Old Bartons and Kentucky Tavern.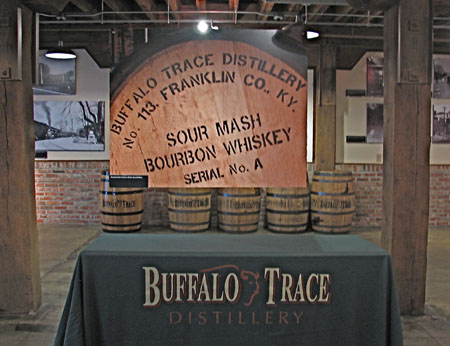 Buffalo Trace warehouse


Buffalo Trace is located in Frankfort, the state capitol, where the Kentucky River intersected one of the trails, known as the Great Buffalo Trace where herds of buffalo led America westward. During prohibition they continued to operate producing alcohol for medicinal purposes. They draw 45,000 visitors and produced the first Single Barrel Bourbon in 1984- Blanton's. Other brands include: Elmer T. Lee (he is still active into his 80's), George T. Stagg, E. H. Taylor, Jr., Eagle Rare, Pappy Van Winkle, W.L. Weller, and Old Charter. The distillery has been around for 235 years, but the name dates to 1998.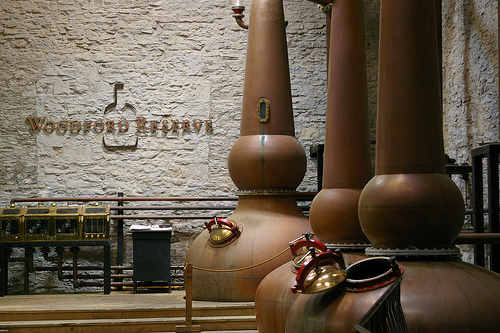 Woodford Reserve distillery
Three more distilleries are all within 1/2 hour of Lexington.
Woodford Reserve is in Versailles and boasts two restaurants, right next to each other, that carries over 50 bourbons. Woodford Reserve is owned by Brown-Forman (Jack Daniels, Early Times, Old Forester) and receives over 80,000 visitors annually. It is the oldest and smallest distillery in America, and started using copper pot stills in 1812. It's a National Historic Landmark and uses the only surviving stone aging warehouse in the US. Their blend is 72% corn, 18% rye and 10% malted barley. If you want to learn more about bourbon, why not sign up for the Woodford Reserve Bourbon Academy? The cost is $150 and it includes a bourbon inspired lunch. Spend a day (10AM-3PM) with Chris Morris their Master Distiller learning the art of production. There is an interactive behind-the-scenes production tour and a series of tastings.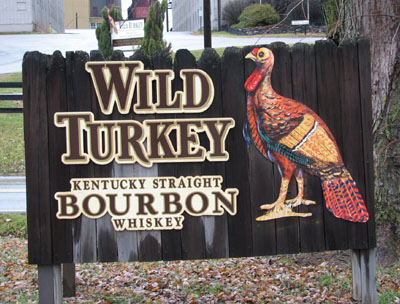 Entrance to Wild Turkey distillery
Wild Turkey and Four Roses are both in Lawrenceburg, and each is unique. The legendary Master Distiller Jimmy Russell has worked at Wild Turkey for 57 years. He took us on a tour of this distillery overlooking the Kentucky River. Jimmy told me his formula for Wild Turkey is less corn and more rye and barley malt. Wild Turkey is distilled and bottled by the Austin, Nichols division of Campari Group (SKYY Spirits). Austin, Nichols also produces Russell's Reserve, named after Jimmy Russell.
Four Roses has an interesting history. Most Easterners know it as a blended whiskey that Seagram's bought in 1943. Master Distiller Jim Rutledge has worked here for 42 years (distillery built in 1910) and told me that they always produced bourbon that was not sold in America due to Seagram's push to sell the less expensive blend. Owned by Kirin Brewery Company of Japan since 2002, they are reintroducing the Four Roses Bourbon slowly to the U.S. On the National Register of Historic Places, they use spring-fed Salt River famed for its limestone water. They have had the same grain source for over 50 years.

Jim Beam is located in Clermont, about 25 miles south of Louisville. It is the world's largest Bourbon distiller with its eponymous Jim Beam, the world's number one selling Kentucky straight bourbon, and the 14th-best selling spirit in the world. Fred Booker Noe III is the seventh generation member of the Beam family and has taken over as master distiller after the recent passing of his father Booker Noe, a direct descendent of founder Jacob Beam. Beam draws over 100,000 visitors who also come for the 1800 Cooperage Museum and to visit the Jeremiah Beam home. Fortune Brands' Jim Beam recently spent $18 million to upgrade its visitor center and make other improvements at its Clermont plant to accommodate the increasing visitor traffic to the six distilleries on the Kentucky Bourbon Trail. The company invested another $28 million to expand its bottling operation in Frankfort. Their Small Batch Collection includes: Booker's, Baker's, Knob Creek, Basil Hayden's, and Old Grand-Dad.
Additional distilleries in Louisville include:
Angel's Envy Distillery
Bulleit at Stitzel-Weller Distillery
Old Forester Distillery
Michter's Fort Nelson Distillery

In Bardstown:
Lux Row Distillers
Willet Distillery

In Lexington:
Town Branch Distillery

Before you go, visit:
Lexington Convention and Visitors Bureau
Bourbon Country
Visit Frankfort
Kentucky Bourbon Trail
Bardstown-Nelson County Tourist & Convention Commission
Kentucky Distillers' Association
Straight Bourbon
Disclaimer: This section of the website is intended for visitors 21 years of age and older.
If you are not of legal drinking age, please exit by clicking here.


Comments or questions welcome, please e-mail to: Ron@TheFiftyBest.com