When a River Wines Through-
The Russian River Valley, Sonoma, California
by JoAnn Actis-Grande
In the heart of Sonoma Valley in California, the Russian River flows south through acres of highly sought-out vineyards. The Russian River Valley is an American Viticulture Area (AVA), or appellation, one of many sub-appellations within the broader North Coast appellation. An AVA is a geographical area of wine grape growing legally determined by the Alcohol Tobacco Tax and Trade Bureau. The region became an official AVA in 1983, expanded its boundaries in 2005 and again in 2011, and now has more than 15,000 acres of vineyards, 200 grape growers, and 75 wineries. Many wineries in California and beyond produce wines from grapes sourced from this area.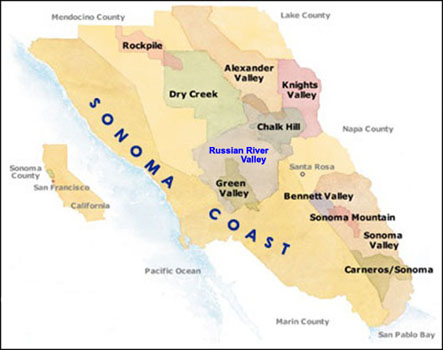 Wine making in the Russian River Valley goes way back. It was the first northern location to be planted with wine vineyards, nearly 200 years ago, and is home to more old vines than any other region in California. The name itself is a nod to the Russian heritage of immigrants who began settling in the area during the first decades of the 19th century. The relative proximity to Alaskan colonies of compatriots, along with the abundance of sea otters (hunted for their furs) and fertile farmland, made the location ideal.

The Russians planted grapes, but later European settlers more fully developed wine production. By the end of the 1800s, several larger wineries were established here, including Foppiano Winery, Korbel Champagne Cellars, and Martini & Prati Winery. Despite a significant decline of wine production during prohibition, some of these earlier wineries survived, and are still in operation today.

A wine resurgence began in the 1960s when Bob Sisson, an expert on agriculture from the University of California, advised farmers in Sonoma to plant cooler climate grapes, such as Pinot Noir and Chardonnay, in the Russian River Valley. Growers took note and new wineries emerged.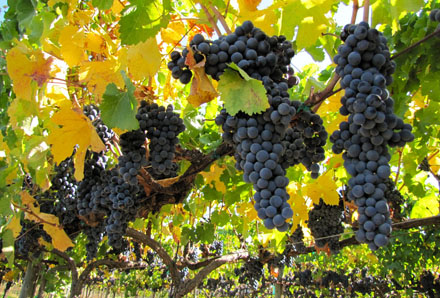 Russian River pinot noir grapes
Climate variations are typical in Sonoma—especially in the Russian River Valley. Dense fog layers roll into the valley each night, cooling the air around the grapevines. Today most of the best-structured Pinot Noir comes from vineyards in this area.

The Chardonnay produced here is refreshing, full-bodied, yet not over oaked. Cabernet Sauvignon, Syrah, and Zinfandel grapes have made large inroads in the warmer pockets of the Russian River Valley. Oenophiles love this area, which produces world-class wines, and many of the finest wines in California. The following is a selection of notable Russian River Valley wineries.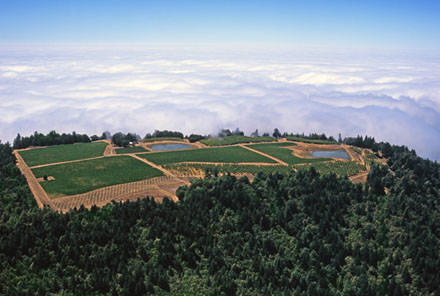 Berridge Wine Company

As a master landscape architect, owner Richard Berridge believes that great wines are true expressions of place. His main focus is Pinot Noir, which he cultivates here and at his second winery, Drystone, in New Zealand. He notes that there are inherent differences in cool climate locations, microclimates, and soils. These factors together with viticultural practices result in producing distinctive Pinot Noir. The desirable Dunah vineyard fruit is used in his gold medal 2009 Sonoma Coast Pinot Noir.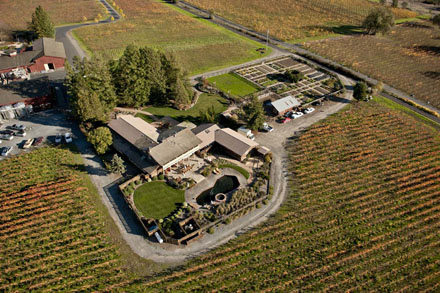 DeLoach Vineyards

This winery is one of the original modern day Russian River Valley icons, founded by Cecil DeLoach in 1973. Thirty years later, Jean-Charles Boisset of Boisset Family Estates in France fell in love with the Russian River Valley and purchased the winery. Winemaker Brian Maloney remains true to Boisset's Burgundian roots, producing wines from grapes grown at the winery's certified organic and Biodynamic estate vineyards. The vineyard also purchases grapes, but only from local growers who share the organic philosophy. Many of the wines are from small lots and vineyard designates creating recognizable characteristics in their wines. DeLoach offers a large selection of notable Pinot Noir, Chardonnay, Zinfandel, and Merlot, plus a late harvest Gewürztraminer and a Tawny Port.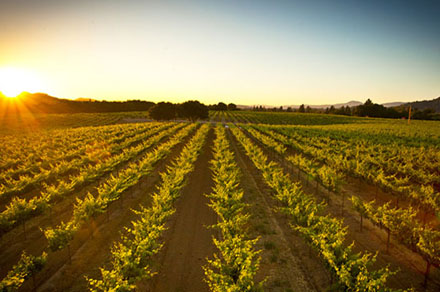 Foppiano Vineyards

This historic vineyard is one of the original famed Russian River Valley wineries. Founder Giovanni Foppiano immigrated from Genoa, Italy, in 1855. He purchased what would become Foppiano Winery in 1896. The winery survived prohibition by selling grapes to home winemakers (and by illegally producing wine). Giovanni's grandson, Louis J. (who died last year at age 101) helped found the Wine Institute of California in 1941. Today, the fifth generations of Foppianos remain dedicated to their Italian heritage and winemaking methods. The estate vineyards produce sustainably farmed, award-winning Petite Syrah, Pinot Noir, Sauvignon Blanc, and Chardonnay.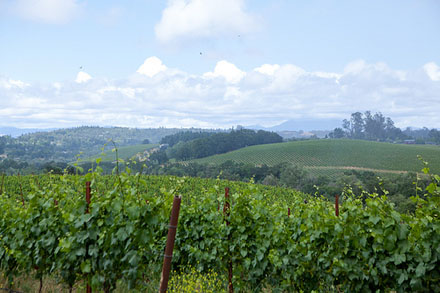 Iron Horse Vineyards

Audrey and Barry Sterling dreamed of owning a family vineyard. After years of searching in France (where Barry had worked as a lawyer), they returned to their native California in the mid-1970s and found their ideal property at the western edge of the Russian River Valley. Wine, food, decorating, and entertaining were their passions, and remarkable wines soon followed. Iron Horse wines have been served at the White House since the Reagan-Gorbachev summit meetings. Daughter Joy is now CEO, and son Laurence is operations manager. They're known for exceptional sparkling wines that consistently get ratings in the 90s from Wine Spectator, as well as excellent Chardonnays and Pinot Noirs.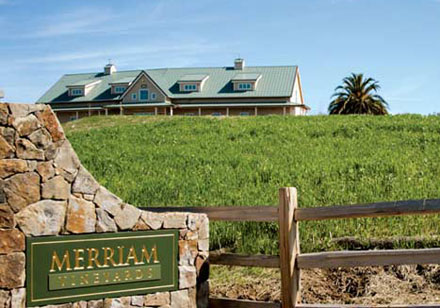 Merriam Vineyards

Maine native Peter Merriam and his wife, Diana, purchased their first vineyard in 2000: Windacre. In 2008 they opened Los Amigos, a new state-of-the-art winery. The vineyards are on the edge of the Russian River Valley where climate and soil conditions are perfect for growing Merlot and other Bordeaux-style grapes. The Windacre Merlot and Cabernet Franc have won awards and high scores from the San Francisco Chronicle and Wine Enthusiast, and received Best of Class at the prestigious American Fine Wine Competition.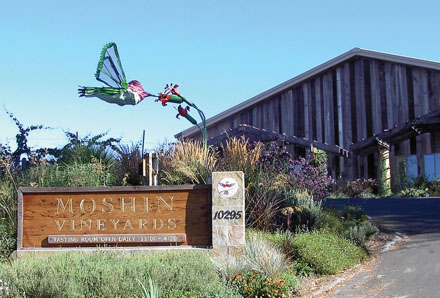 Moshin Vineyards

The property at Moshin, both outside and in, is charming and intimate. In 1989 Rick Moshin purchased a 10-acre Pinot Noir vineyard. Since then it has grown to feature a unique four-tier gravity flow winery. Moshin produces their wines from 28 acres, most of it Pinot Noir. Their farming methods are sustainable and minimalistic. Using solar energy and gravity flow proves their commitment to the environment. They produce several Pinot Noirs, most of them vineyard designates. Each is deep and luscious, with distinctive tastes and styles. Standouts are the 2008 Moshin Estate and the 2010 Halo's Hill. They also produce Petite Syrah and highly recommended Chardonnay from the acclaimed Foppoli and Bacigalupi vineyards.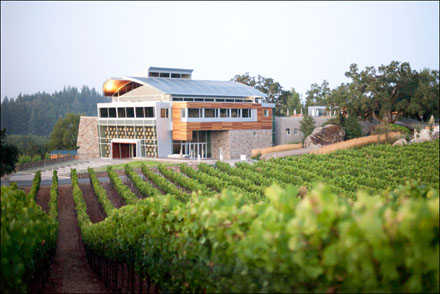 Williams-Selyem

What began as a hobby for Burt Williams (publisher of the San Francisco Chronicle and Examiner) and Ed Selyem (an accountant and wine buyer for a market) evolved into a standard-setting winery in 1981. The pair created a devoted following for their exceptional Pinot Noir, sourced from the best fruit—harvested by hand with grapes and skins hand pressed. In 1985 they received a Winery of the Year award. In 1998, John and Kathe Dyson (owners of Millbrook Winery in New York and Villa Pilla in Tuscany) bought the winery, and have maintained the founders' handcrafted style of winemaking. Together with winemaker Bob Cabral, awarded 2011 winemaker of the year by Wine Enthusiast, they produce several Pinot Noirs, as well as a Zinfandel and a few Chardonnays.
Touring the Area

The Russian River Valley encompasses a large area of Sonoma. There are several stunning small towns, all worth a visit or overnight stay. You can drive along peaceful roads leading you through landscapes of rolling hills, ancient redwoods, apple orchards, horse farms, and sections dotted with wine vineyards and wineries. The river runs through many points of the valley where you can stop for a swim or even a kayak adventure. The extensity of the redwood trees may stop you in your tracks, and there are several camping grounds if you enjoy sleeping in the open air.

Depending on the amount of time you have, plan a course either beginning in Bodega Bay– the place where Alfred Hitchcock's movie "The Birds" was filmed. There's nothing scary about the area, in fact it looks much like the coast of Maine– marinas parked with fishing boats and sailing vessels. This is a serene visit before you head north towards Jenner, and then you can decide on various courses taking you northeast to complete your tour. Be sure to make stops in Forestville, Guerneville, Healdsburg, Sebastopol, and Windsor. Wherever you go in the Russian River Valley, the journeys will be fun and memorable adventures.
Attractions:

Armstrong Redwoods State Park
Burke's Canoe Trips
Kozlowski Farms
Osmosis
Up & Away Ballooning
Lodgings:

Farmhouse Inn
Healdsburg Inn
Inn at the Tides
The Timber Cove Inn
Restaurants:

Farmhouse
Partake
Scopa
White Tail