Best Wines 2004



Best Spirits of 2005



Toronto Restaurants



Epicurean Links


Homepage



Advertrade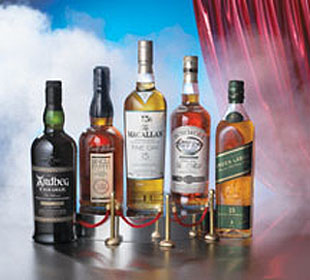 In this annual summary, we have the gratifying, responsibility of selecting the year's finest distilled spirits.

In order to qualify, a spirit must have been reviewed in the fourteen Spirits Buying Guides of 2004 and it must have earned at the minimum a rating of Superb (90-95)/Highly Recommended.

The spirits that garnered Classic (96-10)/Highest Recommendation status are no-brainers. The tricky part is in deciding which of the Superb (90-95)/Highly Recommended items are to be included in order to make the total fifty. Twenty-three of the products were scored the highest rating bestowed by Wine Enthusiast for spirits, Classic. The balance was rated Superb.

We needed to be sure to cover the four major categories of distilled spirits: brandies, whiskeys, white spirits and liqueurs. To say that tasting and evaluating hundreds of spirits over the course of a year is "exhilarating," as one friend describes the typical morning routine, overstates the situation.

Critiquing beverages whose alcohol-by-volume content averages from 30 percent to 60 percent is most of the time daunting, tiring and monotonous. The irregular moments that make the career choice worthwhile come when a product suddenly speaks with clarity, flair, individuality, elegance and harmony.

We present to you, then, the 50 best magic elixirs of the spirit world for 2004.
Disclaimer: This website is intended for visitors 21 years of age and older.
If you are not of legal drinking age, please exit this section by clicking here.


Begin tour of the 50 best spirits
Cognac / Armagnac | Single Malt Whisky | Whiskey / Bourbon

Rum / Tequila | Vodka / Gin | Liqueurs
Please drink responsibly!
---
Revised: 04/01/06.
Webpage layout, design, background and revisions - ©2004-05, Doorways To Cyberspace Ltd.
webmaster@thefiftybest.com
Photos, Text - Copyright ©2004, Wine Enthusiast. All Rights Reserved.
URL: http://www.thefiftybest.com/index.htm